Rising Stars: From Club To College Softball
Rising Star: How Taylor Tinsley Handled A Crash Course In Challenges
Rising Star: How Taylor Tinsley Handled A Crash Course In Challenges
Get to know Taylor Tinsley, one of the top class of 2022 pitchers in the nation.
Jul 21, 2020
by Stephen Kerr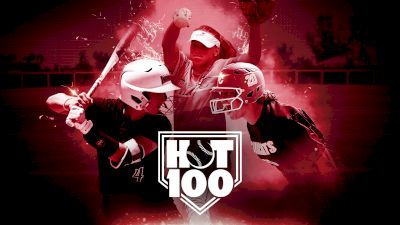 If life lessons are taught through challenges, Taylor Tinsley has gotten a crash course the past few months both on and off the field.
Over Memorial Day weekend, the 5-foot-8 right-handed pitcher for Georgia Impact-Lewis 18U suffered a lower-body injury while jet skiing. She underwent surgery and was out for several weeks.
"I would be lying in bed trying to recover," she said. "But I always tried to have a ball in my hand or do some simple drills to make sure I didn't lose too much muscle memory during downtime. I was sad I couldn't do much, but I got through it."
Fortunately, Taylor was cleared to play just before the Top Club Nationals tournament in Shawnee, Oklahoma last month, leading Impact-Lewis to the championship game against Athletics Mercado. She faced Stevie Hansen in what turned out to be an epic pitcher's duel.
What a great weekend at TCN tournament out in OKC! Championship game didn't go our way, but still was great to play all out with my talented teammates!!

Thanks Lacey for the video and for cheering me on from home❤️ @TPMAtlanta pic.twitter.com/W3EvBta5xu

— Taylor Tinsley (@TaylorTinsley7) June 28, 2020
The game was scoreless until the bottom of the eighth inning when Taylor yielded the winning run on a single up the middle.
The team bounced back to win the PGF Independence Day Invitational in Florida earlier this month. The tournament was a substitute for the IDT event in Boulder, Colorado, which was canceled due to COVID-19.
Once again, Taylor found herself in a 1-0 championship outcome against Gainesville Gold, a team loaded with college-bound talent. But this time she was on the winning end. In fact, she helped her cause by singling in what proved to be the winning run.
"The competition honestly makes me love the game more than I already do," Taylor explained. "It makes me want to work harder and perfect each pitch and each play, so I can come back and get better when in hard situations."
But tough softball losses and even an injury felt small compared to the challenges posed by COVID-19, which has been especially difficult for the Tinsley family. Taylor's mother Denise suffers from lupus and multiple sclerosis. Both conditions have compromised her immune system, putting her in a high-risk category.
Denise, who is from Jamaica, couldn't be prouder of the way Taylor has handled the crisis.
"It's been stressful for her," Denise said. "I haven't left the house since April. (She's) the one who's traveling and has to stay away from me. Mentally, she's developed so much. I'm in awe of her."
Taylor's ability to navigate through the coronavirus pandemic and other challenges has drawn the admiration of her coaches as well.
Practicing social distancing -43ft. pic.twitter.com/0xCcTxt3cX

— Keith Tinsley (@KeithTinsley23) March 16, 2020
"Taylor's handled this way above her years," Impact 18U coach Patrick Lewis said. "We had conversations with (the family) before the summer started whether this is something they need to be doing. They've done a good job being adult about it. The other kids on the team are being mindful of the things they do because they understand one of their teammates could be affected more than them."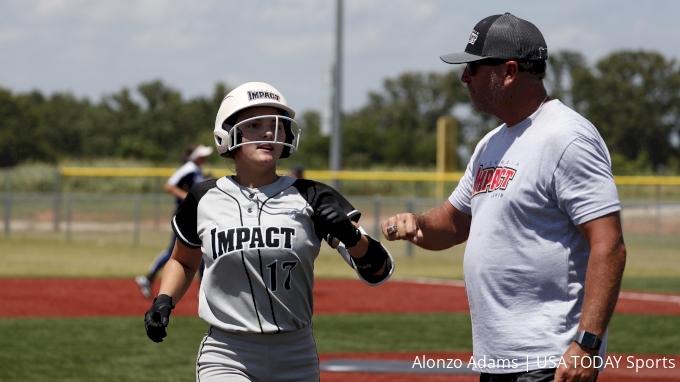 Softball became a serious pastime for Taylor when she was about six. Like many aspiring players, she idolized Jennie Finch and took up pitching at age seven.
"I (decided) I'm going to be just like her, go to college, be an Olympian, all that," Taylor said.
Taylor was demonstrating above-average skills in the circle as early as 12U. Her father Keith, who played slow-pitch softball and coached Taylor for several years, recalls one 12U tournament he believed was the turning point in her becoming an ace pitcher.
"People couldn't touch her," recalled Keith, a sales and marketing rep. "She had a two-seam fastball that moved like a curveball. At that age, she could throw that every pitch, and nobody could hit it. Mix in a changeup, and she was just killing people."
Last season, Taylor helped Impact 16U O'Neal get as far as third at PGF Premier Nationals. She didn't give up an earned run in six appearances, striking out 23 and earning an All-Tournament Team selection. Just before PGF, she filled in for a game on Lewis's 18U team and pitched well.
"I could see that he believed in me," Taylor said of Lewis. "He doesn't sugar-coat anything. He'll tell you how it is. I like that."
Since the state of Georgia plays softball during the fall, Taylor was fortunate enough to complete her entire sophomore season before the COVID-19 shutdown. She led George Walton Academy to a third-place finish in the Class A-Private state tournament, posting a 0.54 ERA and 214 strikeouts. In a game against Tattnall Square Academy that sent Walton to the Final Four, Taylor had 21 strikeouts in a thrilling 11-inning victory.
"It was a midnight game, and we were playing down in Columbus (Georgia)," she recalled. "It was a back-and-forth battle. We would hit their pitcher, they would get some hits off me, but I would strike some girls out and we'd get out of it. That was probably the most exciting game of my life."
Congrats @TaylorTinsley7 on a great school ball season!!
-1st Team All State
- Region Pitcher of the Year
- 1st Team All Region
- 1st Team All County
- Team Defensive MVP
- @thewaltontribune Player of the Year.
Proud of you young lady.
Stay humble and keep working hard! pic.twitter.com/7lw6CaTWWY

— Keith Tinsley (@KeithTinsley23) December 13, 2019
Taylor has broadened her pitching arsenal under the guidance of Lacey Ingram, lead pitching instructor for the Pitching Mound Fastpitch Academy. The spin rate of Taylor's curve and rise ball is above-average, as is her changeup. She's just as thrilled when her defense makes a great play as she is making a batter look foolish on a strikeout.
It's not unusual to see Taylor grab a handful of dirt and throw it to the side when she gets in a pitching jam. That's just her way of refocusing.
"She's a competitor," Lewis said. "She understands what she's supposed to do. When it doesn't go right, she knows how to fix it."
Taylor brings that same focus and intensity to practice. She and her teammates constantly hold each other accountable, and she's not afraid to show emotion on a play, good or bad.
"We try to have fun, be serious but not too serious," Taylor explained. "If you're making a silly mistake, we're like, "Hey, come on; you're better than that. Pick it up"."
Taylor, who is currently uncommitted, hopes to achieve 500 strikeouts during her junior season at Walton. But she's also wise enough to understand the importance of life beyond softball. If the turmoil of the past few months has taught her anything, it's to not be afraid of failure and never doubt yourself.
"When you think you're not up to a challenge, not ready or prepared, just go for it," Taylor said. "You never know the outcome until you try it. Hard work goes a long way."
---
Would you like to recommend a player for a Rising Star feature? Email flosoftball@flosports.tv