Club Softball Spotlights
Club Spotlight: Ohio Outlaws Premier 04 Garroway
Club Spotlight: Ohio Outlaws Premier 04 Garroway
Get to know Ohio Outlaws Premier 04 Garroway.
Sep 2, 2020
by Chez Sievers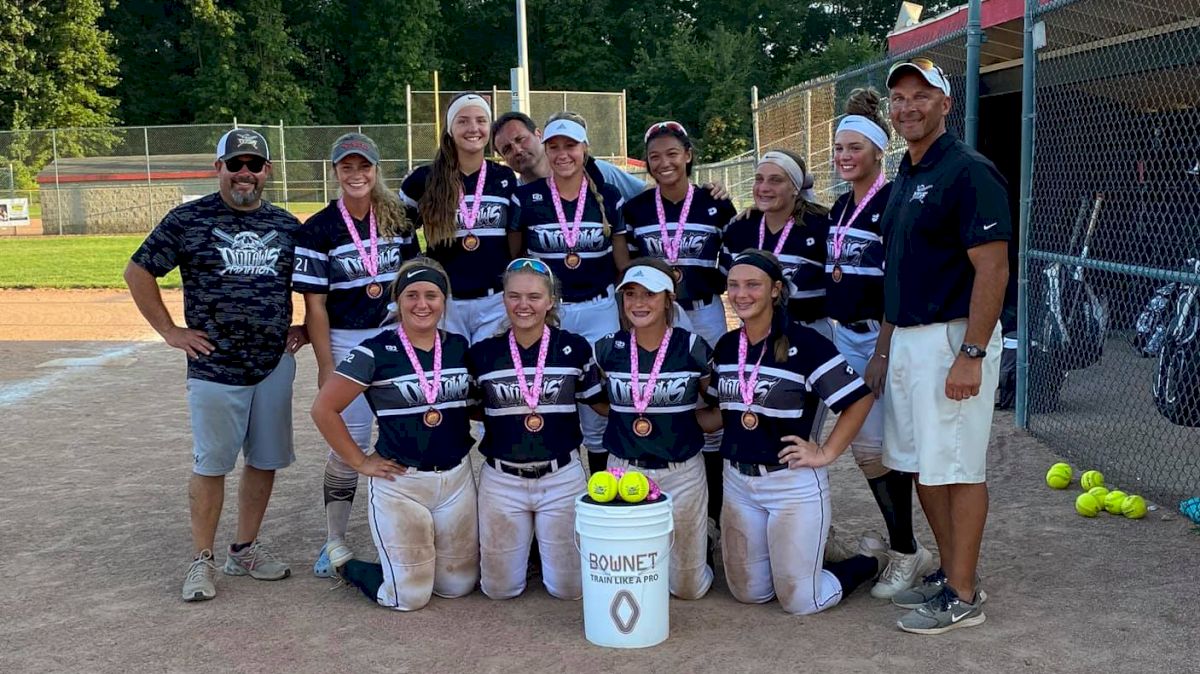 Unlock this article, live events, and more with a subscription!
Get Started
Already a subscriber? Log In
Coach Bill Garroway of Outlaws Premier 04 is very excited about his 16U club that has been one of the most followed teams on GameChanger. He goes into detail about the history of the team and gives his scouting report on each of his players.
---
This Premier team traces its roots back to the summer of 2017. Warren Wolff and the Ohio Outlaws organization wanted to build a premier 14U softball team based out of western Pennsylvania comprised of elite athletes who shared a common goal to compete and play softball at the highest level.
In the fall of 2017, Outlaws Premier 04 Garroway was born with the core of the team from three local travel teams to compete as a 13U team. Bill Garroway, a former standout collegiate baseball player, and heavily involved in the Pennsylvania softball community was selected to be the head coach. Tony McKay, who had eight years of softball coaching experience while also serving as the president of a local youth softball league in the Ohio Valley, was named as the Assistant Coach/Team Manager. From there, Outlaws Garroway 04 competed as a 13U team and has blossomed over the last three years into one of the best 16U teams in the Ohio/Pennsylvania/West Virginia region.
The team is currently ranked No. 1 by Game Changer as the most followed team in terms of popularity. Outlaws Garroway also has a strong following of DI and DII coaches tracking the team's performance.
Most of the girls are from western Pennsylvania (Pittsburgh metro area) along with three girls from Ohio and one from West Virginia. The team trains out of Ellwood City, Pennsylvania in the fall/summer and out of RAW Athletics indoor facility in Edinburg, Pennsylvania during the winter.
There are 21 teams in three states (Ohio/Pennsylvania/West Virginia).
What was the purpose of creating the team (showcase players, win titles, develop skills, etc.)?
To put together a team of talented "athletes" (many who are multi-sport standouts) who shared a common vision of wanting to play softball at the highest level while pushing each other to elevate their skills. The team is comprised of all 2022 graduates and one 2023 grad so the focus now is on showcasing the elite talent for collegiate coaches while also having fun!
What have been some of your successes in terms of winning or placing at events?
Over the last three years, this team has comprised a .765 winning percentage winning 12 championships while competing all over the country. The current team just finished the 2020 summer season on a 26 game unbeaten streak and 52-8-2 overall (.839 winning %) with three championships (Great Lakes Showcase 16U, Outlaws Summer II Showcase 18U/16U division, Perfect Storm 16U), and Finalists of the PGF Midwest Firecracker in Westfield, IN placing 2nd out of 108 teams.
Other notable tournaments include the 2018 USA Elite Select Nationals (Viera, Florida, 5-2 record), 2018 America's Premier Showcase (Columbus, Ohio, Champions), 2019 IDT in Boulder, Colorado; 2019 Scenic City Showcase in Chattanooga, Tennessee (6-1 record), and 2019 Team NJ Summer Showcase (2nd Place, 7-1) in Bridgewater, New Jersey.
What makes the organization unique?
We are very fortunate to be a part of the Ohio Outlaws which has established itself as the premier travel softball organization in our area ranked in the top 5 in the country for DI recruited athletes. What makes it unique is the family atmosphere starting at the top and trickling throughout the organization where everyone is trying to help each other. There is a very strong bond and relationship between the teams, coaches, and players.
What's your softball background and how did you get to the point of leading the team?
After high school and college baseball career, I started my softball coaching in 2009 as I began to develop fastpitch players in our local community of Ellwood City, Pennsylvania. Travel ball coaching started in 2012 and my tenure as a coach in the Outlaws organization began in 2017. Sports were a big part of my upbringing and played a major role in getting a college education. I believe strongly in giving back to the community and helping others. Coaching softball gives me the platform to accomplish those goals while also developing leaders off the field.
Has there been a key moment or defining experience in the team's history?
In our first season as a 13U team, we struggled early on to beat an older experienced team. During a semifinal game, we got down 2-1 and came down to our last out. We always preach to the girls to have grit and to never give up no matter the scenario. Two batters later, we win the game on a walk-off single and it propelled us to the championship game where we went back and forth and won it. You could tell from that point on the team had confidence it could beat anyone.
What is your primary focus or goal with this team?
With most of the girls being 2022 grads, we are focused solely on getting them recruited while finetuning their skills. We tell the girls that softball is an avenue they can use to help them get ahead in the real world while teaching life lessons and how to deal with adversity.
What do you think are the strengths of the team?
There are many strengths on this team and it all starts with our pitching staff which has been very dominant. Another strength of our team is our hitting as our team has the right mix of speed and power to attack the opposing defenses. The entire roster can hit the ball out of the park while we have speed at the top led by McKenna Calahan, Ali Sniegocki, and newcomer Kearston Lunsford. Finally, I would be remiss if I didn't mention that our team plays strong defense which gives our pitchers the confidence to attack hitters.
2022 right-handed-pitcher Payton List (Beaver, PA) and 2022 right-handed-pitcher Maddie McKay (Chester, West Virginia) are both strikeout pitchers and complement each other very well. List (23-8 record, 244 K, 3.13 ERA, 12.48 K/G, 41% K/BF) is a power pitcher that mixes gas (67 mph) with a filthy change-up and curve to get batters out and garnering a lot of interest from ACC/BIG schools.
McKay (22-2 record, 180 K, 1.92 ERA, 9.7 K/G, 32% K/BF) relies on her crazy movement pitches (screwball 60+, rise, curve) to get girls to swing and miss and also drawing interest from DI schools. We are also excited about the addition of 2022 right-handed-pitcher Sydnee Koosh (North Canton, Ohio) to the pitching staff for the upcoming season. Sydnee is another power pitcher who will eat up innings in the circle.
We like to stay humble and let our results speak for themselves while constantly trying to improve. We're considered the 16U flagship premier team for the Outlaws organization for the 2020-21 season and that comes with high expectations.
Our team is very popular and known in our region as we always get a lot of compliments from umpires that work our games. Our team culture is to keep things loose and have fun as I believe that allows the girls to compete at the highest level. Yes, we demand high performance and we also believe the girls must enjoy the journey which is why we draw a lot of interest from others to play with our team.
Meet Ohio Outlaws Premier 04 Garroway
#8 | Payton List, RHP/1B | 2022



Payton is a superb athlete and a standout in three sports: volleyball, basketball, and softball. She is a dominant hard-throwing right-handed pitcher who has been clocked at 67mph while mixing an effective change and curveball. Payton stands 5-foot-10 and is a towering presence in the circle. She also plays a very strong first base when not in the circle. Payton's softball IQ is off the charts being the daughter of a former DI pitcher. Payton had a breakout year batting (.410, 18 doubles, 3 triples, 60 RBIs, 1.13 OPS) where she led the team with 15 home runs and usually bats out of the four or five-hole because of her power. Payton even went 2-3 from the left side (third base, second base) and missed a switch-hit home run by 10 feet. Not only can Payton hit for power but she will sneak a bunt down if the corners are playing back and turn it into an infield single.
23-8 Record | 244 K | 3.13 ERA | 12.48 K/G | 41% K/BF

#44 | Maddie McKay , RHP/2B | 2022



Maddie "Maddog" McKay is a talented athlete and standout in three sports: soccer, basketball, and softball. In the circle, Maddie is a dominant pitcher who gets girls to swing and miss thanks to her crazy array of movement pitches (screw, curve, rise). In 2019, Maddie set a school record as a freshman with 246 strikeouts and was named to the West Virginia All-State team. Maddie possesses an elite softball IQ, is a fierce competitor, and a wonderful teammate always cheering on her team. Maddie also plays a very strong second base with quick hands and finished the season with five double plays and a .942 fielding percentage. Offensively, Maddie (.443 avg, 15 doubles, 8 triples, 7 home runs, 70 RBIs, 1.190 OPS) was second on the team with 70 RBIs as she is a power hitter that bats out of the four or five-hole because of her ability to put the ball in gaps, hit the long ball, and come up clutch when the team needs her. Maddie is a contact hitter that rarely strikes out and will lay down a bunt when needed to squeeze or sacrifice for the team.
22-2 Record | 180 K |1.92 ERA | 9.7 K/G | 32% K/BF

#15 | McKenna Calahan, OF | 2022



Kenna is truly a five-tool player that possesses all the major physical attributes (speed, throwing velocity, fielding range, hitting for average, and hitting for power) that is rare for a lead-off hitter and why she usually bats out of the one hole. Kenna roams the outfield and has deceptive speed and a cannon for an arm making her an ideal centerfielder. Offensively, Kenna can lay down a sneaky bunt for a single or is powerful enough to hit the ball over the fence.
.419 BA | 18 Doubles | 4 Triples | 4 Home Runs | 25 Stolen Bases | 1.07 OPS

#24 | Ali Sniegocki, OF | 2022



Ali is a very fast and athletic outfielder who usually splits time between centerfield and left field. Defensively, Ali covers a lot of ground tracking down balls while providing solid help for her pitching staff. Offensively, Ali is a dual-threat as she combines power with speed and led the team with 75 RBIs and 40 stolen bases while hitting out of the three-hole.
.392 BA | 22 Doubles | 7 Triples | 4 Home Runs | 75 RBI | 40 SB | 10.3 OPS

#11 | Aliya Garroway, 3B/C | 2023



Aliya is a lockdown third baseman who is known for making "ESPN" highlight plays on the hot corner. Aliya led the infield with a sparkling .977 fielding percentage and is considered the swiss army knife of the team as she can literally play most defensive positions well including her secondary position as a catcher. Aliya possesses a very high softball IQ and does a great job making her pitchers look good no matter where she is at on the diamond. Aliya's awareness on the field and ability to remain calm in stressful situations is what separates her game.
.305 BA | 15 Doubles | 2 Home Runs | 45 RBI

#58 | Amelia Herzer, SS/C | 2022



Amelia "Lambert" is a smooth fielding shortstop with soft, quick hands who makes all the routine plays from her shortstop position. Amelia's versatility allows her to catch while also playing some outfield for the team.
.355 BA | 13 Doubles | 1 Home Run | 26 RBI

#45 | Cam Murphy, OF/MIF | 2022



Cam is an athletic kid that possesses a strong overhand throw that allows her to gun girls out from right field. Cam's versatility allows her to play some middle infield and back-up catcher for the team. Offensively, Cam "Bam" is a power hitter that hits absolute tape measure home runs when she connects. Cam led the team with 32 bases on balls and was second in home runs.
.293 BA | 12 Doubles | 2 Triples | 40 RBI

#13 | Mallory Wensel, 3B/1B | 2022



Mallory possesses a high softball IQ and mainly plays on the corners for the team. Offensively, Mallory "Big Papi" packs some "pop" as she hit .356 including 12 doubles, 5 triples, 6 home runs, and 45 RBIs.
.356 BA | 12 Doubles | 5 Triples | 6 Home Runs | 45 RBI

#4 | Sydnee Koosh, RHP/1B | 2022



Sydnee is a hard-throwing pitcher who is a new addition for the team and looking to split circle duties with List and McKay. Sydnee mixes a screwball with a rise and change up to keep hitters off balance. Offensively, Sydnee adds more power to the lineup as she hit nine home runs this summer including two grand slams while batting .385.

#14 | Faith Kiko, C/3B | 2022



Faith is a new addition to the team and will play primarily as a catcher. Faith has a quick release (1.67 pop time home to second), solid blocking skills, and plays third base when not behind the dish. Faith also brings more power to the lineup as she hit .445 and 10 home runs this past summer.

#17 | Kearston Lunsford, OF/MIF | 2022



Speed kills and that's exactly what this new addition brings to the lineup as a lefty slapper. Kearston wreaks havoc on the defense with her speed (2.67 home to first) and is a thief on the base paths with 45 stolen bases this past summer. Kearston can put down a drag bunt or slap the ball through the five-six hole or over an infielder's head into the gap. Defensively, Kearston uses her speed to track down balls in the outfield to go along with a strong overhand throw. Kearston will also see some playing time in the middle infield.