NCAA
Inside The Fight To Keep UC Riverside Athletics Alive
Inside The Fight To Keep UC Riverside Athletics Alive
Four ideas for permanent cuts to UC Riverside's budget were presented and one was the complete elimination of the athletics department.
Sep 28, 2020
by Christopher Girandola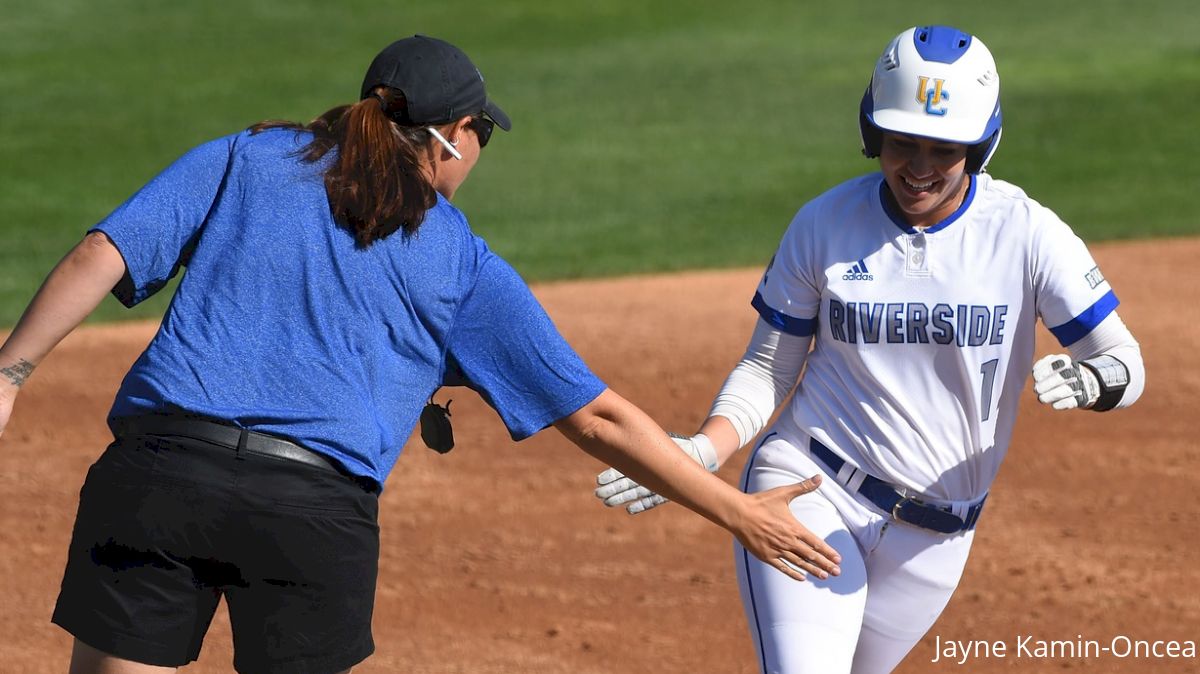 Midway through the summer, the University of California, Riverside Athletics Department revealed new marks and logos in advance of the 2020-21 season. The newly-designed UCR Athletics logo, wordmarks, and visual identity system, which were announced July 1 in a splashy highlight video, are the result of a year-long collaborative effort that included a creative development process involving coaches, staff, student-athletes, and donors in discovery sessions and concept presentations. as the institution continues to make strides toward becoming a top-tier Division I program.
A classic redefined.

Introducing the new look of UC Riverside Athletics.#GoHighlanders pic.twitter.com/zyjKIQ8YiV

— Highlander Athletics (@UCR_Athletics) July 1, 2020
Little did anyone in the process know that Chancellor Kim A. Wilcox was working behind closed doors with a budget advisory committee (BAC) to address a cut in spending that amounts to $32 million this year with more reductions expected in the fiscal year that begins next July. The committee released its report on August 10 and it revealed that revenue from housing, dining, parking, and other services on campus has plummeted and enrollment has fallen even as operating expenses are rising.
UCR spokesman John Warren said in a statement that the "core" budget is about $575 million, and comprised of state dollars (44%), student tuition (50%), and non-resident tuition (6%).
According to his statement, the pandemic has affected each of those sources and as a result, this year's budget is down $46 million, or about 8%.
The most glaring recommendation among the four ideas for permanent cuts was the complete elimination of the athletics department.
In its place? "A more robust intramural sports program."
UC Riverside competes in NCAA Division I, the highest level of intercollegiate athletics, and is a member of the Big West Conference. The university moved from Division II to Division I in the 2000-01 school year.
The university competes in 15 sports: men's and women's basketball, men's and women's soccer, men's and women's golf, men's and women's cross country, men's and women's tennis, men's and women's track, and field, baseball, softball and women's volleyball.
UCR had 304 athletes during the 2018-19 school year, according to the U.S. Department of Education's Equity in Athletics Data Analysis website.
UCR would be the first Division I institution that would eliminate an entire athletics department. Wright State terminated three Division I sports programs in the spring including softball along with men's and women's tennis as a result of the financial implications due to the COVID pandemic.
Big support for #KeepUCRAthletics from @Inland_Sports on their latest episode.

Here are some highlights from some of our very own.#GoHighlanders pic.twitter.com/XPeg0j3iTT

— Highlander Athletics (@UCR_Athletics) September 18, 2020
"It's definitely a shock," said UC Riverside softball coach Nikki Palmer, who is in her fifth year as the Highlanders' head coach. "It's hard to believe they could do that but as we've learned during this pandemic, anything is possible. We are taking it very seriously. It's quite shocking but it's a fluid situation that keeps changing."
While some in the UCR community are fearful that the athletics program could suffer a similar demise as UCR football, which was played from 1955 through 1975 but subsequently dropped due to financial concerns, UC Riverside Director of Athletics Tamica Smith Jones is optimistic that sports at UC Riverside will continue long into the future. The athletics department already has made "painful" cuts, laying off several employees when teams' seasons were postponed due to the coronavirus pandemic.
Athletic Director, Tamica Smith Jones, sat down on the @Inland_Sports show and talked about the ongoing support for #KeepUCRAthletics. #GoHighlanders pic.twitter.com/iBslzbi0mU

— Highlander Athletics (@UCR_Athletics) September 24, 2020
"This once in a century pandemic that is COVID-19 and the significant impact it has had on all of us, has presented everyone across our collegiate landscape with challenges none of us have ever encountered," UCR athletics director Tamica Smith Jones said in a statement. "We clearly want Athletics to be here as we believe we bring tremendous value to our university. As good campus partners, our focus is on taking the most responsible approach to adjusting our program accordingly based on the impact of COVID-19 and we have already made initial and painful reductions due to the impact of COVID-19."
The budget advisory committee also recommended officials consider asking each college and administrative department to come up with plans to trim expenses 10% to 15% and to consider eliminating the School of Public Policy and support for a campaign to boost private financial investment in the campus, among other ideas. The committee, though, suggested protecting the university's prestigious academic and research programs.
"To me, this would be an absolutely catastrophic decision," said Amy Harrison, a former multi-sport athlete and major donor for whom the university's softball stadium is named.
"If you take away athletics, you truly are taking away a quality of life issue. You're erasing a part of UCR that is embedded within its character. Athletics is a part of the fabric of all of the great universities in our country and it has a strong history at UCR. UCR has a long legacy of athletics that have turned out a ton of professionals, Olympians, All Americans. Their connection to the university doesn't end when they move on after their collegiate careers. Many of them still have a strong relationship with the university."
- Amy Harrison, UC Riverside Hall Of Fame
Since the school was founded in 1954, UC Riverside has won five team National Championships at the Division II level (4 NCAA, 1 AIAW) and 12 Individual National Championships (1 Division I and 11 Division II). Some notable alumni include current professional athletes such as golfer Brendan Steele, baseball's Cole Percival, Joe Kelly, and Matt Andriese, Aaron Long in Major League Soccer and Brenda Martinez in track and field as well as former Los Angeles Angels reliever and current Highlanders baseball head coach Troy Percival, who is ninth on Major League Baseball's all-time saves list and was an integral part of the Angels 2002 postseason run, including Game 7 of the Angels' World Series victory over the San Francisco Giants.
Support for athletics runs in the $12-million-to-$14-million range per year, according to the UC Riverside athletics department.
Interestingly enough, the student body has essentially been maintaining the athletic department's footing since a student referendum was enacted in the 1990s that mandated a student fee of $35 per quarter to help UC Riverside transition into a Division I status. Despite the university's move from Division II 20 years ago, the student fee has continually been assessed, which amounts to approximately $2 million each year raised from student fees.
UCR's athletic budget for 2018-19 was $24,204,996, according to a USA Today database of Division I athletic expenses. UCR ranks 130th for both total revenue and expenses but it received 90.71 percent of its budget in institutional and government support and student fees, No. 1 in the country, and .14 of a percentage point ahead of New Jersey Institute of Technology.
The university could possibly face legal repercussions if it decides to eliminate sports due to this fee assessment. UCR Athletics Association Board of Directors addressed this issue in a letter sent September 11 to Wilcox and specifically noted that the student body "holds an ownership interest apparently requiring their input on the topic."
"The attorneys we are working with took the information that we have discovered one step further and we don't think from a legal point of view that (the Chancellor's office) can do this without a student vote," said Harrison, who is a chairperson on board of the UCR Athletics Association.
"The student body played a major role in the university's move to Division I and it appears they should have a say in what happens with this decision."
- Amy Harrison, UC Riverside Hall Of Fame
The chancellor's office did not respond when reached for comment but UCR spokesman John Warren emphasized in a previous statement that no cuts have been made yet. Warren said the Chancellor's office hopes to make a decision by the end of October, with cuts to be spread over two years.
"The committee presented considerations for budget reductions across the campus, given the serious nature of the financial challenges," Warren said in an emailed statement. "No final decisions on budget reductions have been made for any unit on campus, including Athletics."
Although a firm deadline has not been released, it is expected that Wilcox will meet with deans, vice-chancellors, and other leaders to present the strategy for trimming costs to the Budget Advisory Committee in mid or late September. About that time, the university should have more details about fall enrollment, federal relief money, and other factors that affect budgeting, he said.
Palmer said that each program has met with Michael Boele, who is the Senior Associate Athletics Director/Chief Financial and Administrative Officer responsible for overseeing the Athletics Business Office, and devised tiers of budgetary cuts that will be presented to the Chancellor's office in October.
Harrison said that several Zoom calls with Wilcox have resulted in more confusion than anything else although Wilcox has informed the Athletics Association several times that the administration would not make a final decision until meeting with the Athletics Association and the athletics department in October.
"It's shortsighted," Harrison said. "Make the decision and move on. If he waits this long, then student-athletes are in a quandary. They've already committed to playing here so scholarships are granted. Student-athletes and their families have made a decision to be here. Many of them are the first in their families to attend college and this is affecting everyone, not just the student. Also, scholarships are being granted by other programs to other student-athletes so not only does this inaction affect student-athletes currently here but it has a huge effect on recruits considering UCR and it has an effect on other programs, not to mention all the coaches, trainers, and other staff associated with the (UCR) program."
UCR has been growing in enrollment and prestige, rapidly climbing the ladder of the nation's top-ranked institutions of higher learning. There were 22,055 undergraduate and 3,493 graduate students in 2019, according to the UCR Institutional report.
At the same time, it is one of the nation's most ethnically diverse schools and a favorite choice for students trying to become the first in their families to earn four-year degrees with 56.3% of first-generation students during the 2019-20 academic calendar.
Palmer said the UCR community has taken it upon itself to effect change. UCR coaches, athletes, and supporters have used the #KeepUCRAthletics hashtag on social media over the past month, and a change.org petition to "Keep UCR Athletics" launched two weeks ago has been signed by 14,200 as of September 23.
Some words from Coach Palmer@UCR_CoachPalmer #keepUCRathletics pic.twitter.com/kJcqjurtgy

— UC Riverside Softball (@UCRSoftball) September 8, 2020
Perhaps the most poignant comment was made by Brian Clark, who stated:
"The notion of displacing 300+ athletes and 80+ coaches weeks before the start of the school year when it is too late for them to transfer to a different school is abominable and the committee should be ashamed of themselves for even suggesting it. They clearly didn't take the timing of this maneuver into account when coming up with this horrible recommendation."
Palmer and her staff have been in constant contact with the Big West Conference and the other coaches as to the progress being made. More so, she has communicated as often as possible with her current players as well as the recruits and their parents.
"It's been important to make sure players and recruits are comfortable and knowledgeable about what's happening," Palmer said. "My staff and I talk often with the parents of our current players and the recruits so everyone understands what's going on. We've had zoom calls with alumni which has been good for our current players to connect with them. While this has been difficult for everyone, it has also given the chance for our players to rally together. They've done an incredible job of making their voices heard and it's given them a chance to be empowered as strong women."