Big 12
Texas' Miranda Elish Forgoes 2021 Softball Season Due To COVID Concerns
Texas' Miranda Elish Forgoes 2021 Softball Season Due To COVID Concerns
Texas senior pitcher Miranda Elish announces that she will not participate in the 2021 season due to COVID-19 concerns.
Jan 16, 2021
by Chez Sievers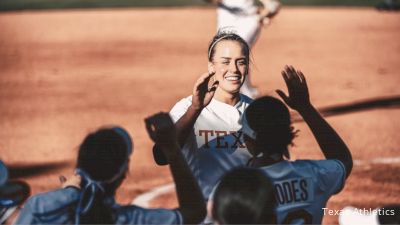 Texas senior pitcher/outfielder Miranda Elish announced that she will take the field in the 2021 season because of concerns about the ongoing pandemic. This news comes as a shock to many Longhorns fans who expected to see Elish this season.
Statement from Texas' Miranda Elish on the difficult decision to not participate in the 2021 season because of her concerns over the on-going COVID-19 pandemic. pic.twitter.com/i2ozwk3C5n

— Texas Softball (@TexasSoftball) January 15, 2021
Last season, Elish banked a 1.25 ERA with 96 strikeouts and an 11-3 record. On offense, she batted .370 with 7 doubles, 4 home runs, and 19 RBIs. Elish was First Team All-Pac 12 Conference in 2018 and First Team All-Big 12 Conference in 2019.
Before transferring to Texas, she competed in the Pac-12 wearing the Oregon Ducks uniform. She helped the Ducks reach the WCWS her sophomore year with a 37-2 record, 1.42 ERA, 17 shutouts, and 347 strikeouts.
In 2015, FloSoftball named Elish as the 2016 Hot 100 No. 1 overall player in the class.
We are definitely going to miss seeing Elish on the field this season and we wish her all the best.