2021 PGF National Championships 18U Premier
The Story Of Kami Kortokrax's Verbal Commitment To Ohio State
The Story Of Kami Kortokrax's Verbal Commitment To Ohio State
Why Beverly Bandit DeMarini middle infielder Kami Kortokrax decided to verbally commit to Ohio State.
Mar 9, 2021
by FloSoftball Staff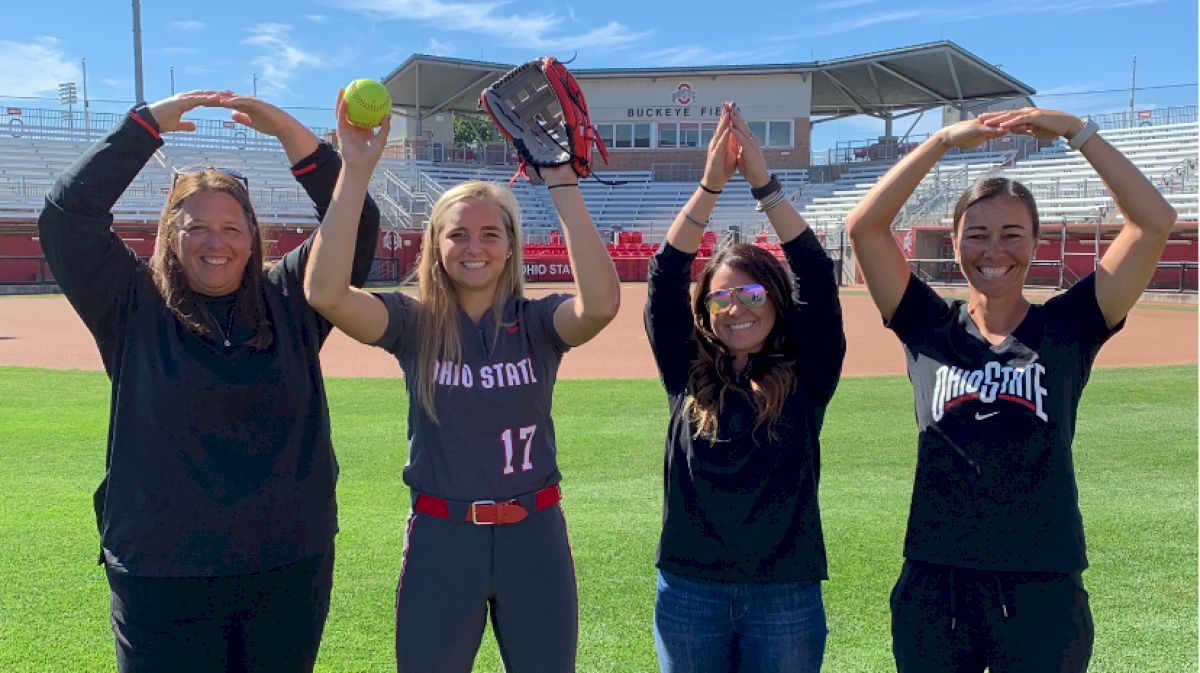 Committing is a time that all hard-working athletes look forward to, but it can also be one of the hardest decisions we have to make. My name is Kami Kortokrax and I am a senior at Bishop Hartley High School in Columbus, Ohio. I was blessed to be a part of the Beverly Bandits that are nationally known for the level of softball they play at.
September 1st was an exciting day where I got to hear from potential schools from a variety of conferences. After many grateful conversations, I had an idea of what I wanted, and the conversations turned into opportunities to take visits. I loved every school I visited. The coaches were all genuine and amazing people. The universities were stunning. The girls on the team were welcoming.
Each school I loved for different reasons, but after I took my official visit to The Ohio State University, I knew where I wanted to be. This was home. I live in Ohio, and getting to play for the state I was raised in is something special. Coach Kelly, Coach Jordan, and Coach Mack bring an energy that gets me excited every single phone call to soon finally get to play for them. The girls on the team now are not only amazing athletes but some of the kindest people I've gotten to meet.
I am beyond excited to announce that I have committed to The Ohio State University ❤️ God has truly blessed me with amazing friends, teammates, coaches, and family. #gobucks pic.twitter.com/3sP0wlQLtN

— kami kortokrax (@KamiKortokrax) October 21, 2019
Becoming a buckeye wasn't just about joining a team or even a school. It was about becoming a part of a family. The Ohio State fan base is noticed everywhere I go. Every time I proudly wear Ohio State, people are quick to express their liking towards the big scarlet O.
I got to go to the Michigan game last time it was played at Ohio State and they sold out the seating. The school then proceeded to stream the game on the big board on the baseball field. I remember thinking about how amazing that instead of turning away all the fans, they welcomed them into the baseball field. I can not wait to be on the field where fans of every age gather to watch our team.
My parents were obviously super excited when I chose Ohio State. They played a big role in my decision because I knew they wouldn't miss a game due to the field being only 30 minutes away from home. I truly cannot wait to get to Ohio State.
My biggest piece of advice to other girls on a similar journey would be to simply enjoy the process. All the lifting, running, hitting, fielding, throwing, and practicing have earned you the opportunity to play at the next level regardless of the division. It is rare for athletes to get invited to tour schools so, just recognize that you are where you are because you worked hard to get there. Always make sure to be grateful to everyone who helped you along the way. A "thank you" goes a long way and can mean so much. I have to constantly tell my coach Chad Moran how thankful I am for him… or else he'll sit me.
Softball is a passion that has given me so much to work for and look forward to. I am grateful for how this sport has played a huge role in my life and I am eager for the day when I finally get to step onto the field wearing a scarlet and gray jersey.
---
Do you have a verbal commitment story that you'd like to share? Email flosoftball@flosports.tv for more info.