2022 PGF Nationals 18U Premier
Loyalty A Key Ingredient To Arizona Storm's Success
Loyalty A Key Ingredient To Arizona Storm's Success
Coach Corey Mathis shares the history of the Arizona Storm program and why they continue to be one of the top teams in the country.
Jun 17, 2021
by Stephen Kerr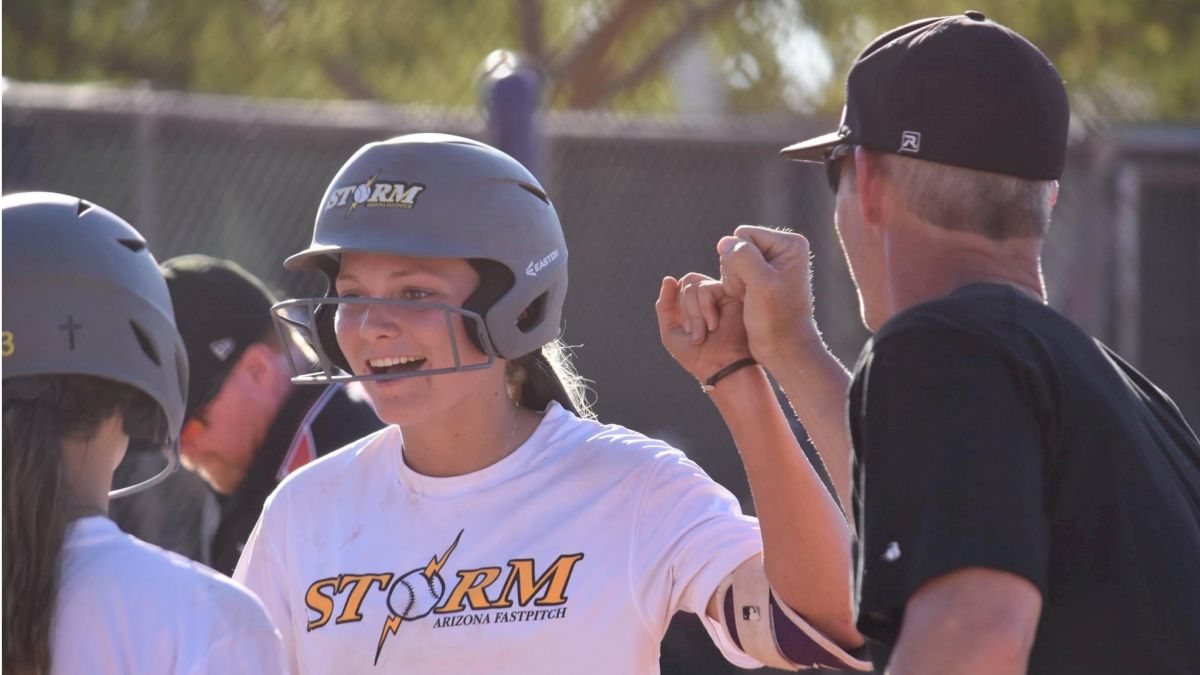 It's not unusual for a travel team to consistently change its roster from year to year. Coaches are often on the lookout for talent as players enter college or move to another organization.
But Arizona Storm 18U coach Corey Mathis doesn't subscribe to that philosophy unless he has to. At least five players on his current squad have played for him since 12U, and loyalty has always been a high priority for both him and the players.
"We're not one to be hunting down kids for a different team for summer versus the fall," said Mathis, who previously formed the Arizona Cougars before merging with Rick Beach's Storm organization. "When I make a commitment to somebody, it's year-long. I think that goes a long way with them. They're obviously being pushed because they're getting better. I think a lot of times people leave because they're either not being pushed or it's too much. There (needs to be) a nice balance."
That loyalty has reaped rewards for Mathis and the Storm. Two years after Beach formed the organization in 1990, they became the first non-California team to win the ASA 12U National Championship. It currently fields 15 teams and is the only travel program in Arizona with returning and invited berths to PGF Premier Nationals in most age groups.
Mathis is in his seventh season with the organization and has served as its active president for six years. In 2017, his 14U team finished third at PGF, the same year it captured the Sparkler/Fireworks Power Pool Championship in Colorado.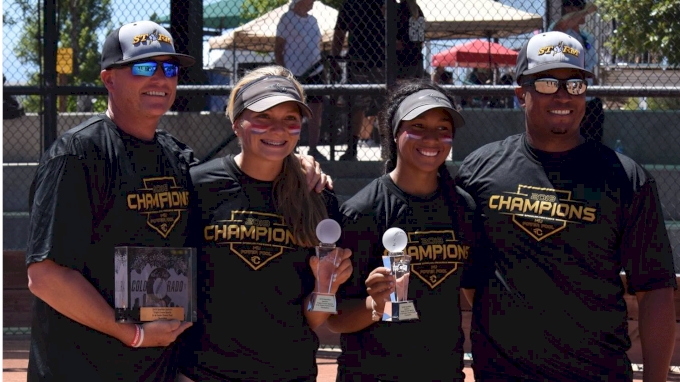 Mathis became a coach almost immediately after graduating from Brighton (Colorado) High School, where he coached baseball for nearly 15 years before turning to softball. He developed his coaching style by watching the mistakes of others as much as their success.
"One of the things we always talked about from the beginning was we want to be different from everybody else," Mathis explained. "We want these kids to love the game and still be competitive."
There's a time to take care of business on the field, but Mathis also believes players need breathing room to experience everyday life away from it. If a prom, homecoming, or other event conflicts with practice, players aren't penalized for attending.
"Corey has a lot of faith in us," said shortstop Viviana Martinez, a 2022 University of Texas commit. "We're always working on the side, taking grounders, conditioning, or hitting off the tee. He lets us live our lives too as high schoolers. He knows we're doing the things we have to do."
Teams are often an extension of the coach's personality. While Mathis pushes his players to achieve their greatest potential, he doesn't raise his voice or spend time arguing with umpires and coaches. He expects the same integrity of his players.
"If (players) are looking our way, they know we're talented," Mathis said. "There's a certain fit of what it takes to be on this team. I want somebody high academic, that's coachable, and not afraid to learn different things from what they've been taught even at the gold level."
Allowing players to make mistakes is hard for some coaches. But Mathis isn't one to pull a player out of the lineup after a tough at-bat or pitching performance.
"We're going to get beat by a good pitcher," Mathis explained. "It's not the end of the world. It's how you bounce back and how you recover."
Like most teams, the Storm kept in close communication with players and their families when the coronavirus pandemic began to shut down sports. They closely followed PGF and government guidelines. Arizona was one of the first states to open back up, which allowed the Storm to host a few tournaments featuring teams from other states.
"I think it was a good break, but it also made me so excited to get back on the field and be back with my teammates," said middle infielder Rylee Holtorf, a 2021 University of Washington signee who Mathis believes could coach one day because of her above-average softball IQ.
Rylee has the same first name as four other Storm players, which makes things interesting when someone is trying to get their attention.
Riley Lauffer (2022) is a talented pitcher considering multiple college offers. Riley Valentine (2022) is one of the best in the country behind the plate and is also considering several offers.
Rylee Crane, a 2022 Wisconsin commit, is a true utility player who slaps and hits for power from the left side. Riley Flynn (2022) is a newcomer to the Storm but is already making her presence felt in the circle.
Viviana, a triple threat who also has slapping ability, power, and speed, is one of seven left-handed hitters on the team. McKenna 'Bub' Feringa is a pitcher/first baseman who provides power from the left side of the plate. She will play for [t;Marshall] University this fall.
Bridget Donahey, a catcher/third baseman and 2022 Northwestern Commit, hits for power and has keen intelligence on the field and in the classroom. Reis Beuerlein (2022, Mississippi State) pitches and can also hit for power.
"She's my goofball," Mathis said of Beuerlein. "She takes care of business in the circle, but keeps everybody lighthearted around her."
Alli Scharf (2022) is another utility player who hits left-handed and is improving each game. Aracely Morales (2021) is a solid hitter and outfielder. Her younger sister Reyna (2022) is a catcher and middle infielder who is currently uncommitted. Baie Ensio (2021) can play center and right field and is coming back from several injuries. She provides another left-handed option in the Storm's batting lineup.
Brynn-Jordan Smythe (2022) plays center, bats left and is the team's leadoff hitter. Harper Schoeneweis (2022) is a catcher/infielder and daughter of major league pitcher Scott Schoeneweis. She hits for power and is being recruited by schools in three of the Power Five conferences.
Savannah Groshong-Kirk is the only 2023 member of the squad. She can play the infield and outfield, bats left-handed, and can slap and hit for power.
The Storm has a packed summer schedule that includes Zoom into June, the Sparkler Power Pool, DeMarini Invitational, USA Nationals, and PGF Premier Nationals. The intense competition goes a long way in preparing players to perform at the next level.
"We've had the opportunity to play at this level for so long, it's not new to us and we know what we need to do in order to be successful," Bridget Donahey explained. "That's definitely an asset for our team."
For Mathis, an eventual return to normalcy is particularly beneficial in planning practices and games.
"I feel really good where we're going," he said. "It's going to really make up for the lack of games we got in last summer."