2021 Colorado 4th of July
High Standard Of Excellence Makes Lady Dukes A Top Team In 2021
High Standard Of Excellence Makes Lady Dukes A Top Team In 2021
Lady Dukes softball on the rise with a talented roster of Division I commits led by James Lamar.
Jun 23, 2021
by Stephen Kerr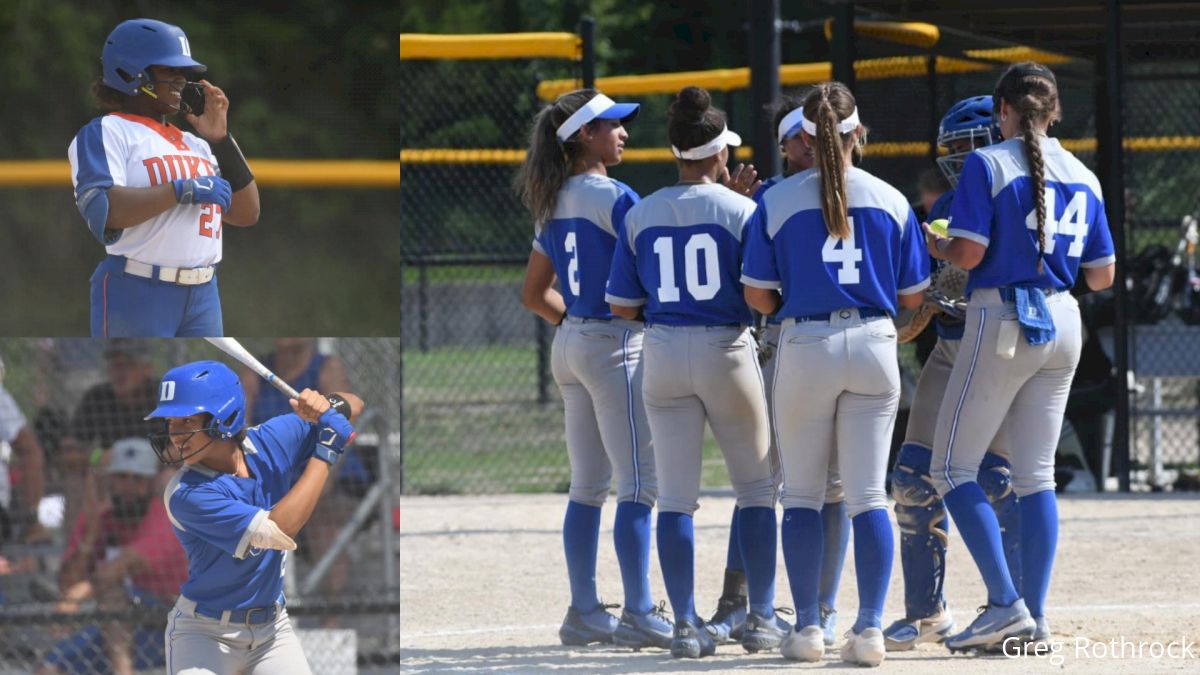 There's an intensity required of everyone fortunate enough to play for James Lamar's Lady Dukes club few others can match. Whether it's a practice, scrimmage or game, Lamar insists on creating an environment that will prepare players for the big moments.
Aminah Vega discovered this after joining the Lady Dukes 18U team last fall. The 2022 Central Florida commit wanted to be pushed and challenged beyond what she had experienced with other teams, and she got her wish right out of the gate.
On her first day of practice, Aminah was put in the batting cage against one of Lamar's best pitchers.
"Let's see what you got," he told her.
This was no ordinary batting practice. It was a cold day in Durham, North Carolina, so the players were not on the field. Everyone was around the batting cages, and all eyes were on the new girl. The atmosphere was electric, almost akin to the last inning of a tie game in a national championship.
"Everybody was screaming, cheering me on," recalled Aminah, whose father Tony coaches the infielders. "I was the only one hitting, all the pressure was on me, and it was my first practice. After I got home, I was like, 'I think this is the move we're going to make, Dad'."
Aminah, a shortstop/second baseman, had a strikeout and a line drive up the middle. But it was more about how she and other players handle those situations than the actual results.
"We all learn from failure," explained Lamar, a former football and baseball player at Indiana. "If you don't have failure, you don't have success."
Such expectations wouldn't be possible to achieve without a strong support system. For the Lady Dukes, that comes in the form of family involvement. Laura Rothrock, a pitching instructor in Indianapolis, began working with the Lady Dukes pitching staff this season after her daughter Keagan came over from Tennessee Mojo.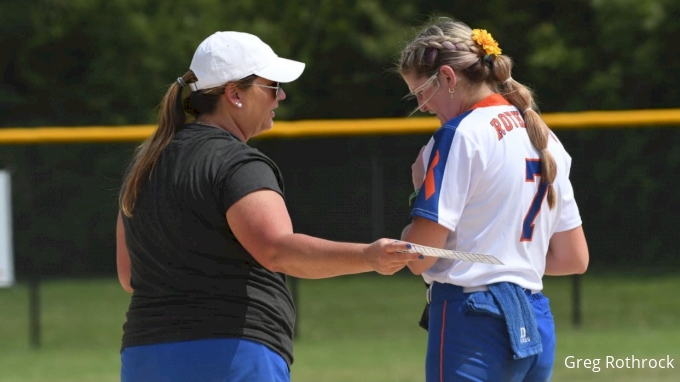 Even Lamar's family has ties to the club. Two of his daughters, Layla and Jolyna, are on the roster. His wife, Marissa Young, is the head softball coach at Duke, which inspired the team name. Marissa's father Robert coached travel ball for over 30 years in California, winning several national championships.
"It's been an awesome ride," Lamar said of watching Marissa's success with the Blue Devils and relating it to his own experience with the Lady Dukes. "I've always tried to find a way to be there as a coach, as a person, a listener. All these things I've learned by sitting and watching, seeing the success (Marissa) has had, taking some of those things and bringing them to my own program."
Opportunity sometimes comes through disappointment. The Lady Dukes started in 2016 as a 10U team after a travel coach promised Marissa to give their youngest daughter a chance. Later that same day, Marissa discovered the coach had added three other players to that same position.
Furious, she turned to her husband.
"We're done," she announced. "It's time to put your boots on, get a hat, whistle, whatever you need. You're going to coach."
Lamar knew baseball from his days as a player. But softball has its own set of nuances. Never one to back down from a challenge, he studied film daily on calling pitches, attacking hitters, and finding holes in a player's swing. The first season in 10U was a struggle, but the team steadily improved. By 12U, they were winning consistently.
Lamar believes his job as a sales rep for a medical device company played a major role in the club's success and growth.
"Some of the things I've learned from my job," Lamar explained. "There's always an opportunity, but you have to see it where others don't. My ability to see those opportunities is why I think we have grown."
The Lady Dukes have mushroomed to 90 teams in 13 states. This past year, Lamar's first class saw every player commit to a college. His standards go beyond physical talent. Every player must maintain a minimum 3.5 grade point average to play, no exceptions.
"If you're not maintaining grades at that next level and focusing on improving at the sport, you're not going to play," catcher Kairi Rodriguez said. "It provides us that experience at a younger age, which will help us overall once we get there."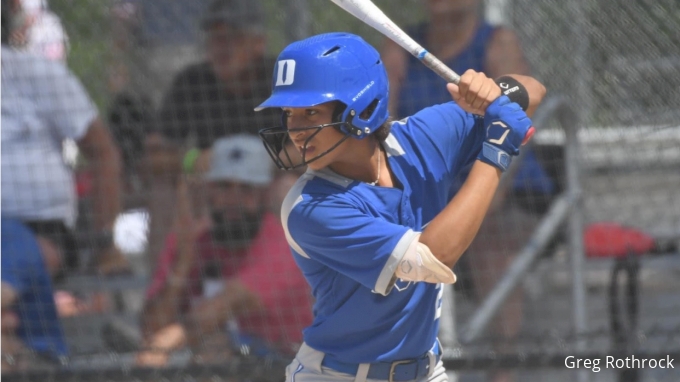 Lamar finds ways to inject fun into the toughest practices. In early June, he took several of his teams to Florida for two days of practices and scrimmages. The players sweated in the sweltering heat and humidity, and the scrimmages were competitive seven-inning contests. Lamar rode around the field in a golf cart with a megaphone, pretending to be a ring announcer while music blared in the background.
"We made it fun, and created an environment where it was highly competitive, nobody wanted to lose, and they got after it," Lamar said.
One of the reasons Keagan joined the Lady Dukes this past winter was the depth of the team's rotation. Lamar calls her "the queen" of the circle.
"I wouldn't have to throw as many innings in the big tournaments," explained Keagan, a 2023 Florida commit whose confidence and maturity belie her age. "I would be able to save my arm for other games. I'm playing with girls two years older than me. By default, that will make me better."
The rotation also features Cassidy Curd, a hard-throwing lefthander and 2022 Duke commit with great movement and spin. Olivia Duncan (2023) is another lefty who consistently throws in the 65-67 mph range. Kairi (2022, Duke) and Lillian Vallimont (2022 Northwestern verbal) will split the catching duties. Both are tough to run against and hit for power.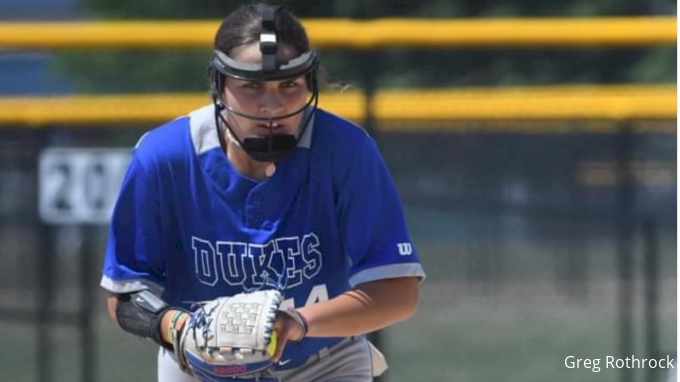 Along with her versatility, Aminah is the team's leadoff hitter with the ability to hit for power. In just four events last fall, she smacked 21 homers. Other key infielders include Ana Gold (2021, Duke) at third base and middle infielder Jada Baker (2021, Duke).
The outfield is anchored by Breezy Burnett (2022, Duke), and Kyye Ricks (2022, Duke), a high school track champion in Georgia whose speed makes her an above-average center fielder.
The X factor, according to Lamar, is the return of his daughter Layla, an infielder and 2024 Florida commit coming off an injury last season.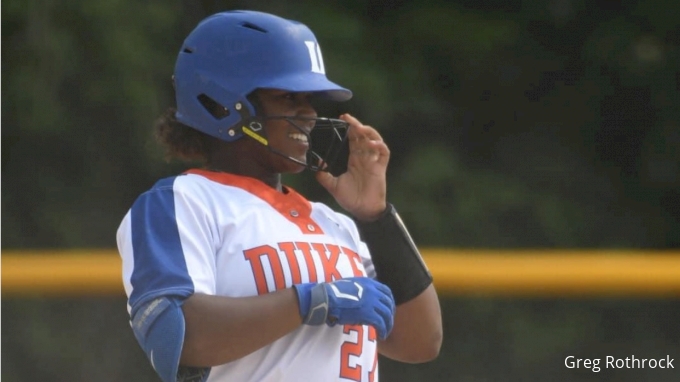 "Speaking as her coach, not her father, she gives us that patience at the plate," Lamar said. "She has the same power to the opposite field that she does to right field. She's a lefty, and she can hit foul pole to foul pole with power."
With the return of a regular summer schedule and new players complementing an already deep roster, the Lady Dukes will be in the conversation for high finishes in the major tournaments, including PGF Premier Nationals.
"This summer is going to be more relaxed, but it's about getting our team ready," Lamar explained. "It's more about us being the best version of ourselves, and I think everything will take care of itself when we get on the field."