2021 Purdue vs Iowa State
Purdue vs Iowa State Is More Than A Dual Meet
Purdue vs Iowa State Is More Than A Dual Meet
History is on the line when Purdue takes on Iowa State in Humboldt, Iowa.
Dec 18, 2021
by Kyle Klingman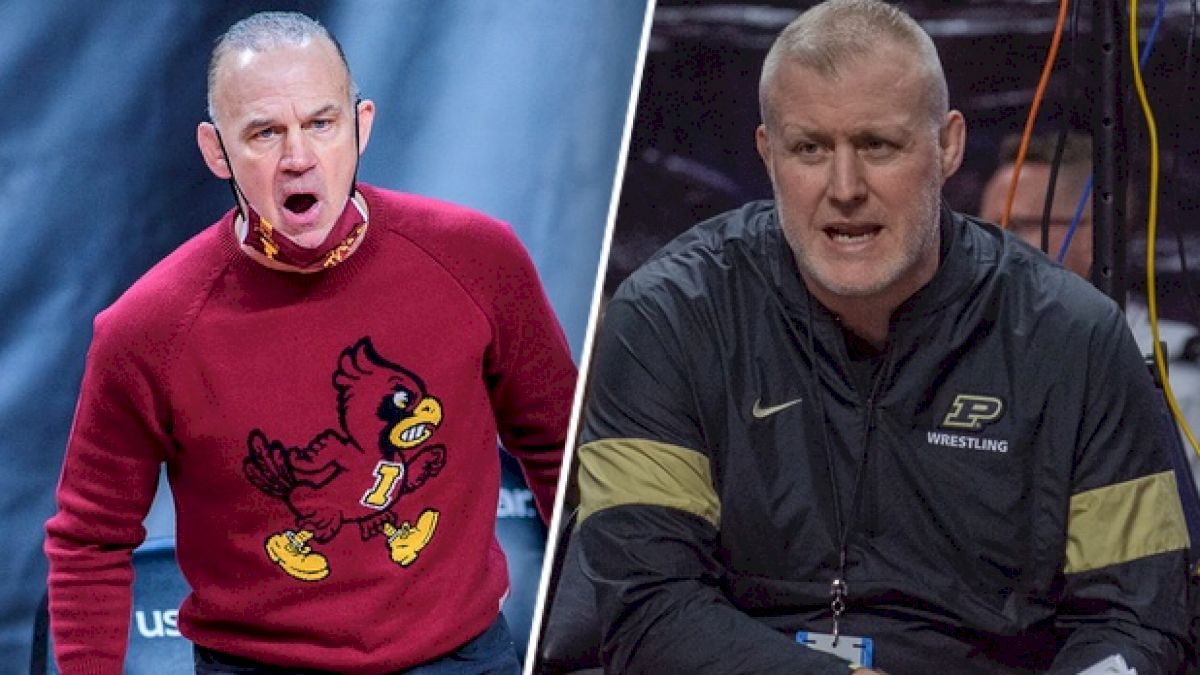 Dan Gable needed to be resurrected. He was still reeling from his historic 13-11 loss to Larry Owings when he arrived in Humboldt, Iowa, during the fall of 1970.
This was not a run-of-the-mill setback. This was the loss that, in many ways, continues to define college wrestling. Gable won 181 matches in a row — a period of seven years — before he lost his last match in college to Owings at the 1970 NCAA Championships.
Later that year, Gable had to complete his student-teaching to graduate from Iowa State University. He was sent to a small town in Central Iowa to teach physical education at the high school.
"Humboldt brought me back from the dead," Gable said. "I was dead.
"Humboldt was the first place that I ever went to away from my immediate family. I didn't know that I would have another support system that would help nurture me back to life."
Gable's workload as a teacher wasn't all that heavy. The police department gave him a key to the station so he could train in the basement. His coaching responsibilities included throwing practice dummies on the football field and teaching soccer.
"I had to go to the Humboldt library and check out a book on soccer so I could learn the rules," Gable said. "It was a pretty amazing experience."
Those months in rural Iowa led to a World title in 1971 and a gold medal at the 1972 Munich Olympics. Gable wasn't the only World champion wrestler from Humboldt, either. Frank Gotch was the world heavyweight champion from 1908 to 1915 and is considered a reason that Iowa has such a deep wrestling tradition.
That tradition extends to college wrestling.
There are currently 78 Division I wrestling programs. Two head coaches were raised in a small Iowa town with a population of less than 5,000.
Iowa State coach Kevin Dresser won state titles for Humboldt in 1980 and 1981.
Purdue coach Tony Erlsand won state titles for Humboldt in 1991 and 1992.
Both wrestled for Gable at the University of Iowa and are from the place that Gotch made famous.
All that tradition will be on display when Purdue takes on Iowa State at Humboldt High School Gym on Sunday, December 19 at 5 p.m.
Good luck getting a ticket. The gym seats 1,500 people and it sold out in less than a day. There were over 4,000 requests so organizers had to use a lottery system to narrow it down.
Fortunately, the event is being streamed live on FloWrestling so everyone can witness history. Local eating and drinking establishments will stream the meet live for those unable to get a ticket.

"Humboldt is a sports town," Dresser said. "It's always been a sports town. The one thing about growing up in Humboldt was that they followed every sport. It wasn't just wrestling. If the golf team won, everyone showed up for the golf team. It's just a sports town.
"I think you have to give credit to Chad Beaman from Humboldt High School and Coach Ersland from Purdue for making this happen. Somebody in Humboldt approached Tony about it and he and Coach Beaman got together. They reached out to me and immediately I thought it was a great idea."
It's easy to forget that there will be a competitive college wrestling meet with all the novelty surrounding the event. Dresser said that the hardest part was getting a date that would work for both teams. His only worry now is getting 10 Cyclone wrestlers weighed in to take on the Boilermakers.
"I expect it to be a very tough dual," Ersland said. "I think it's going to be competitive up and down the line-up. The team that makes its own breaks is the team that's going to get it done. I wouldn't expect anything less.
"They have a lot of pride and tradition and Dresser's been around a long time. I feel really good about my group. I have a good group of kids that are confident and are fighters, too. I expect a very tough, competitive dual up and down the line-up."
You can also expect the Purdue wrestling team to make the eight-hour drive from West Lafayette, Indiana, on Saturday so they can stay overnight in Humboldt prior to the meet.
"We're staying at the AmericInn," Ersland said. "There ain't many inns in Humboldt."