2022 THE Spring Games
THE Spring Games DI Preview: Mizzou, UNC Look For Strong Start
THE Spring Games DI Preview: Mizzou, UNC Look For Strong Start
Here's a look at some of the top matchups that you should be watching at THE Spring Games and what to expect.
Feb 9, 2022
by Cori Kennedy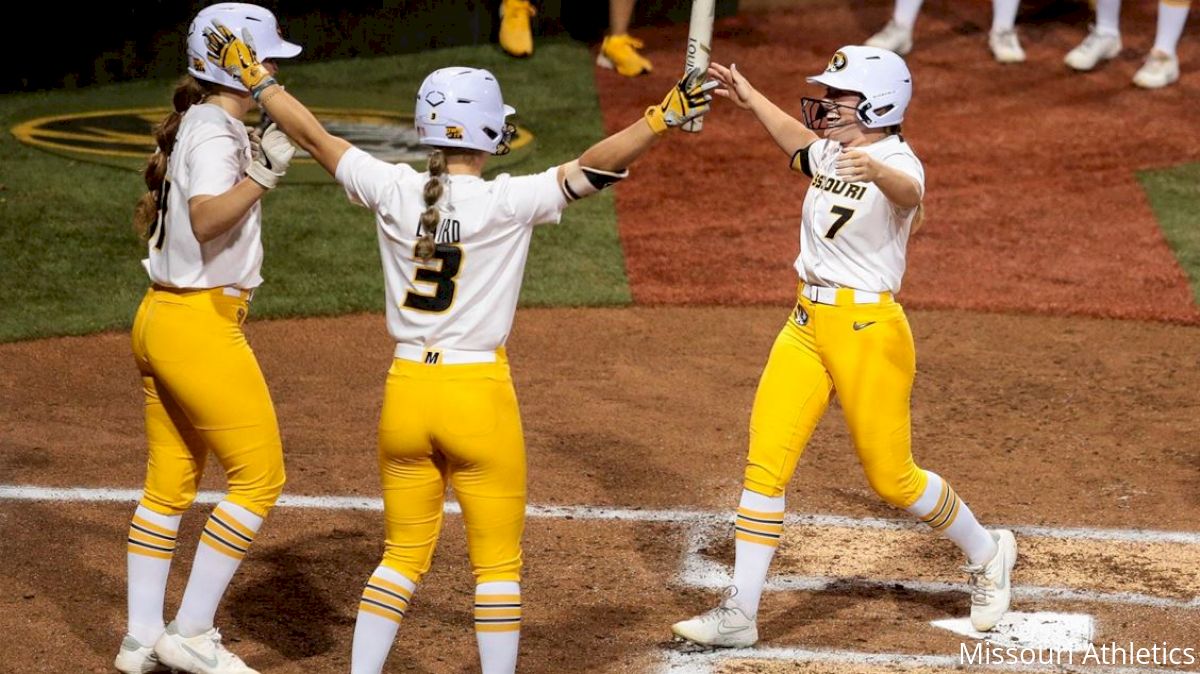 In just a few days, NCAA Division I softball will be underway at THE Spring Games. Starting Friday, February 18, we'll see 37 DI teams hit the dirt in Clermont, FL.
Here's a look at some of the top matchups that you should be watching at THE Spring Games and what to expect.
FRIDAY, FEB. 18
Missouri Vs. South Alabama
Missouri has high expectations for this squad in 2022. The team was picked No. 5 in the SEC preseason poll and No. 11 in the NFCA preseason poll. One of the biggest factors for this squad is the experience they return as nearly all its starters from 2021 will be on the field in 2022. Firepower on the offensive side is complemented by a dominant pitching staff led by Jordan Weber and Laurin Krings.
But, South Alabama is a capable foe. Coming from the Sun Belt Conference, the team has an ace up its sleeve in the form of Olivia Lackie, who had a dominant true freshman season in 2021. When these teams faced one another last season, Missouri took the W with an 8-3 victory. That history should create even more incentive to watch this early matchup at THE Spring Games.
North Carolina Vs. Missouri
An SEC vs. Big Ten bout. It's been a few years since these squads faced eachother, the last time in 2018 when Missouri won in shutout fashion, 9-0. While last season Missouri fell short to James Madison at the NCAA Columbia Super Regional, the team expects a dominant 2022.
North Carolina may be the underdog in this pairing, but the program has a strong history of success. Leading the Tarheels is veteran head coach, Donna Papa, who enters her 37th season at North Carolina. During her time with the Tarheels Papa has led the team to 15 NCAA Tournament berths.
SATURDAY, FEB. 19
Ohio State Vs. Liberty
Liberty, the No. 24-ranked team in the country, is coming off a historic 2021 season. Liberty Head Coach is Dot Richardson, a national champion and 2x Olympic Gold medalist. Richardson is also the founder of THE Spring Games.
Ohio State will return most of its offensive talent, but having Allison Smith on the mound makes a big difference for the Buckeyes. Last season, as a freshman, Smith led the team in strikeouts and wins, with a 2.95 ERA.
Liberty Vs. Maryland
It's been over 20 years since Liberty and Maryland last ran into one another. The last time these squads battled was back in 2000. During the 2021 season, Liberty produced a record of 45-11, one of its winningest seasons to date and also why this team is ranked in the Top 25.
Maryland is returning an offensive group that put up 90 RBIs last season. The program also returns two big hitters who batted above .400, Okada Taylor and returning Big Ten Freshman of the Year, Jaeda McFarland. McFarland hit .479 with 19 RBIs.
SUNDAY, FEB. 20
Ohio State Vs. North Carolina
A rematch is well overdue between Ohio State and North Carolina. The last time these two teams went head-to-head was back in 2019 at NCAA Regionals, where North Carolina put an end to the Buckeyes season after a 5-3 victory. Both teams return most of their offensive lineups but pitching will likely be the difference-maker in the matchup.
North Carolina has some big shoes to fill this season after losing veteran pitcher Brittany Pickett. Meanwhile, Ohio State returns Allison Smith, who picked up the most wins among freshman pitchers in the Big Ten with 12 victories. This one should be a fairly even matchup, don't be surprised if it comes right down to the wire.
Missouri Vs. Maryland
No. 11 Missouri will have a target on their back at THE Spring Games. Missouri, coming off a 42-17 season, is slated to make a lot of noise in 2022 after falling short of an NCAA Division I WCWS appearance. While the Tigers look for a WCWS berth this season, Maryland will have their work cut out for them at THE Spring Games as they face two Top 25 nationally ranked teams in the same weekend.
FRIDAY, FEB. 25
Notre Dame Vs. Iowa
Another Big Ten and ACC battle to watch out for is Iowa going up against Notre Dame. Iowa went 26-18 last season, missing a postseason berth. Despite last season's finish, the Hawkeyes return a young group led by a talented sophomore class on the offensive end.
The Irish made some noise in the preseason rankings, picked to finish fifth in the ACC this season and an honorable mention in the NFCA Preseason Top 25. Notre Dame will be an offensive threat this season, led by veteran All-American, Abby Sweet, one of the top players in the country.