Big 12
Jocelyn Alo Becomes The Home Run Queen
Jocelyn Alo Becomes The Home Run Queen
Oklahoma Sooners star Jocelyn Alo breaks the NCAA career home run record hitting her 96th home run on March 11 in her home state of Hawai'i.
Mar 12, 2022
by Kyle Kensing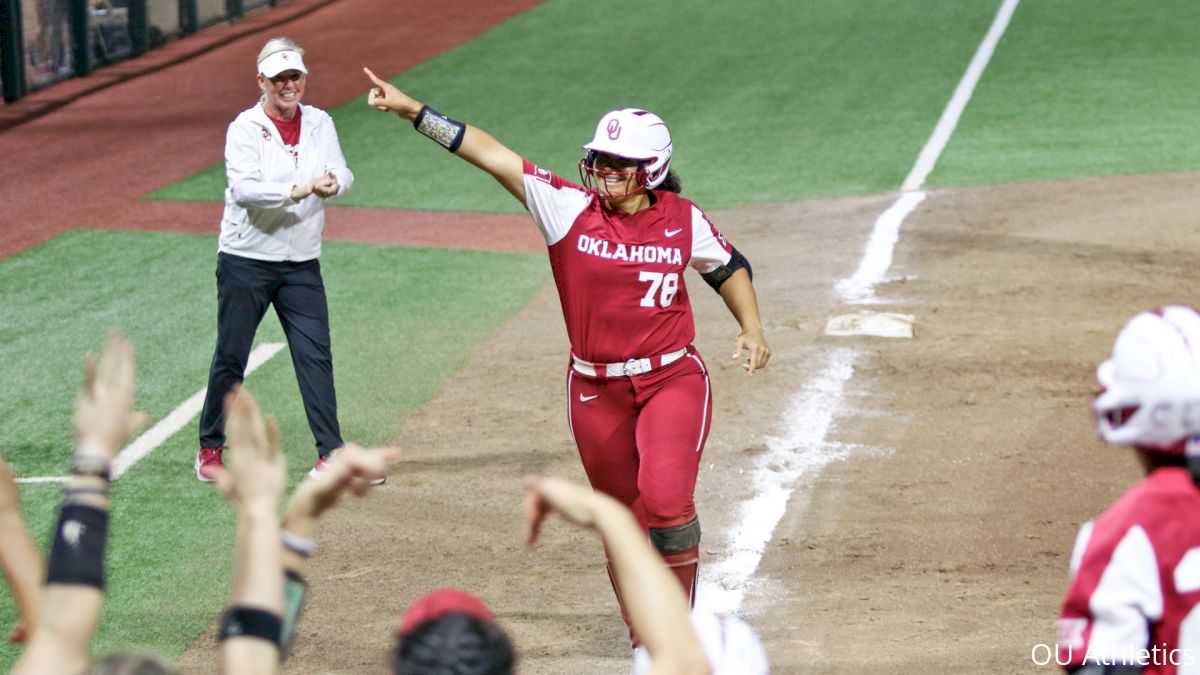 Aloha to history, Jocelyn Alo.
Oklahoma Sooners star Jocelyn Alo completed her pursuit of softball immortality on March 11, and she could not have done so in a more appropriate fashion than in her home state of Hawai'i.
In the sixth inning of Oklahoma's third game at the Rainbow Wahine Classic, facing the host University of Hawai'i, Alo belted a shot into centerfield for career round-tripper No. 96.
9️⃣6️⃣. 𝐉𝐎𝐂𝐄𝐋𝐘𝐍 𝐀𝐋𝐎𝐇𝐀 𝐏𝐔𝐌𝐄𝐇𝐀𝐍𝐀 𝐀𝐋𝐎 👑🤙 pic.twitter.com/sI22YeoCjv

— Oklahoma Softball (@OU_Softball) March 12, 2022
Alo had to wait a few weeks for her landmark moment. Like Major League Baseball home-run king Barry Bonds, whose jersey Alo said she wore growing up, intentional walks piled up as opponents sought to avoid the inevitable record-setter.
The 16 base-on-balls accrued in her chase for the record may have prolonged the build-up, but was just another challenge for Alo to overcome in a long road with plenty of hurdles.
"I do like challenges. I like when I'm being pushed, and I like overcoming certain things. Looking at this as another challenge, and I know I'm going to beat it," Alo said in February.
The delayed opportunity only made for a more perfect swing, as members of Alo's family attended the history-making game.
"It definitely was a surreal moment, everything coming full circle and getting to do this in front of my home crowd was super exciting," she said via SoonerSports.com.
No. 96 was hit with such power that the moment Alo's bat connected, her Sooners teammates rushed home plate for the ensuing celebration.
𝐒𝐨𝐨𝐧𝐞𝐫 𝐒𝐢𝐬𝐭𝐞𝐫𝐡𝐨𝐨𝐝 ❤️ pic.twitter.com/nIryzzU1Gz

— Oklahoma Softball (@OU_Softball) March 12, 2022
Current Oklahoma team members were not alone in their praise, either. Lauren Chamberlain, who held the mark previously, shared a literal passing of the crown moments after Alo crossed the plate.
What's understood doesn't need to be explained… it's your time now. Happy and proud. Love you and got you for life👑 #96 pic.twitter.com/7lNf7gFxJA

— Lauren Chamberlain (@LChamberlain44) March 12, 2022
Chamberlain spoke in February of the pressure Alo faced immediately upon joining the Sooners.
"It's cool because I remember those feelings as a freshman, I just have this whole blank slate. If [Alo]'s coming in, and she's being compared to me, that's tough. It's a completely different situation from me," she said.
Alo didn't just meet the heavy expectations before her; she crushed them like one of the 96 pitches sent over the wall in her career.
By the time she's done, Alo's total of home runs will likely exceed four miles when put together.
Putting perspective to Jocelyn Alo's career home run record ⬇️ pic.twitter.com/EtW4SKG9o0

— The Main Line Podcast (@TheMainLinePod) March 12, 2022