FloSoftball shares our in-depth coverage of Division 1 softball.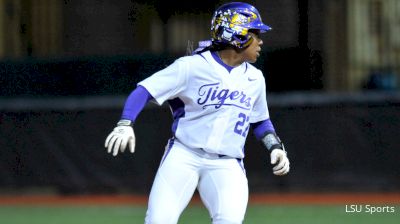 Why Bianka Bell Chose LSU
Jan 27, 2016
Bianka Bell, shortstop for the LSU Tigers started playing softball at age 4. Bianka began her travel ball experience when she was 10. She spent most of her travel ball career with the Tampa Mustangs. During that time, Bianka committed to LSU her sophomore year of high school. With multiple offers from SEC schools, LSU became her home. Joe Bell, Bianka's father is one of her biggest influencers in her softball career. Joe was really hard on Bianka growing, but now she's extremely grateful now for those challenging times.
Bianka talks about the difference between her freshmen and senior experience. What she's learned from the coaching staff? She shares a critical moment of failure last year that could have changed the trajectory of the Tigers' season. Listen to how she gathered the strength and courage to get to the next pitch.
Career Highlights:
2015 USA Softball Senior Women's National Team Selection
2015 First Team All-SEC2015 NFCA All-South Region First Team
2015 NFCA All-America First Team
2015 LSWA Louisiana Hitter of the Year
2015 LSWA All-Louisiana First Team2014 Purple and Gold Challenge All-Tournament Team
2014 NFCA All-South Region First Team
2014 LSWA All-Louisiana First Team
2013 NFCA All-South Region Second Team
2013 SEC Co-Freshman of the Year
2013 All-SEC Second Team



Take the LSU Tiger Park Tour
Related:
How Beth Torina Trains the T.I.G.E.R.S.
Top 3 Stadiums in College Softball