WBSC XV Women's World Softball Championship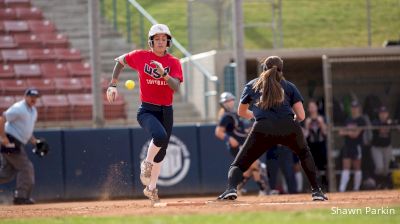 USA Softball Selection Camp: Day 1
Jan 4, 2016
Sunday, January 3, 2016


Fundamentals
It's a sunny 59 degree day in Irvine, California at Bill Barber Park. The coaches committee is comprised of Ken Eriksen, Howard Dobson, Ralph and Karen Weekly, Lisa Dodd, Kristie Fox, Lovie Jung, Taira Flowers, Trisha Ford, and Laura Berg. The first half of the day was spent on ground ball and fly ball reps, showcasing defense. Nerves were apparent with rushed transfers from glove to throwing hand and uncharacteristic overthrows. On the field, the coaches split up the pitchers, middles, corners, and outfielders.

The pitchers started with bunts and ground balls going to first. The best two fielding pitchers were Jessica Moore and Rainey Gaffin. Both athletic and strong with solid throwing mechanics. The weakest fielding pitchers were Kelly Barnhill and Sara Nevins. Barnhill had a couple errant throws. Nevins is one of the tallest and slowest pitchers off the mound.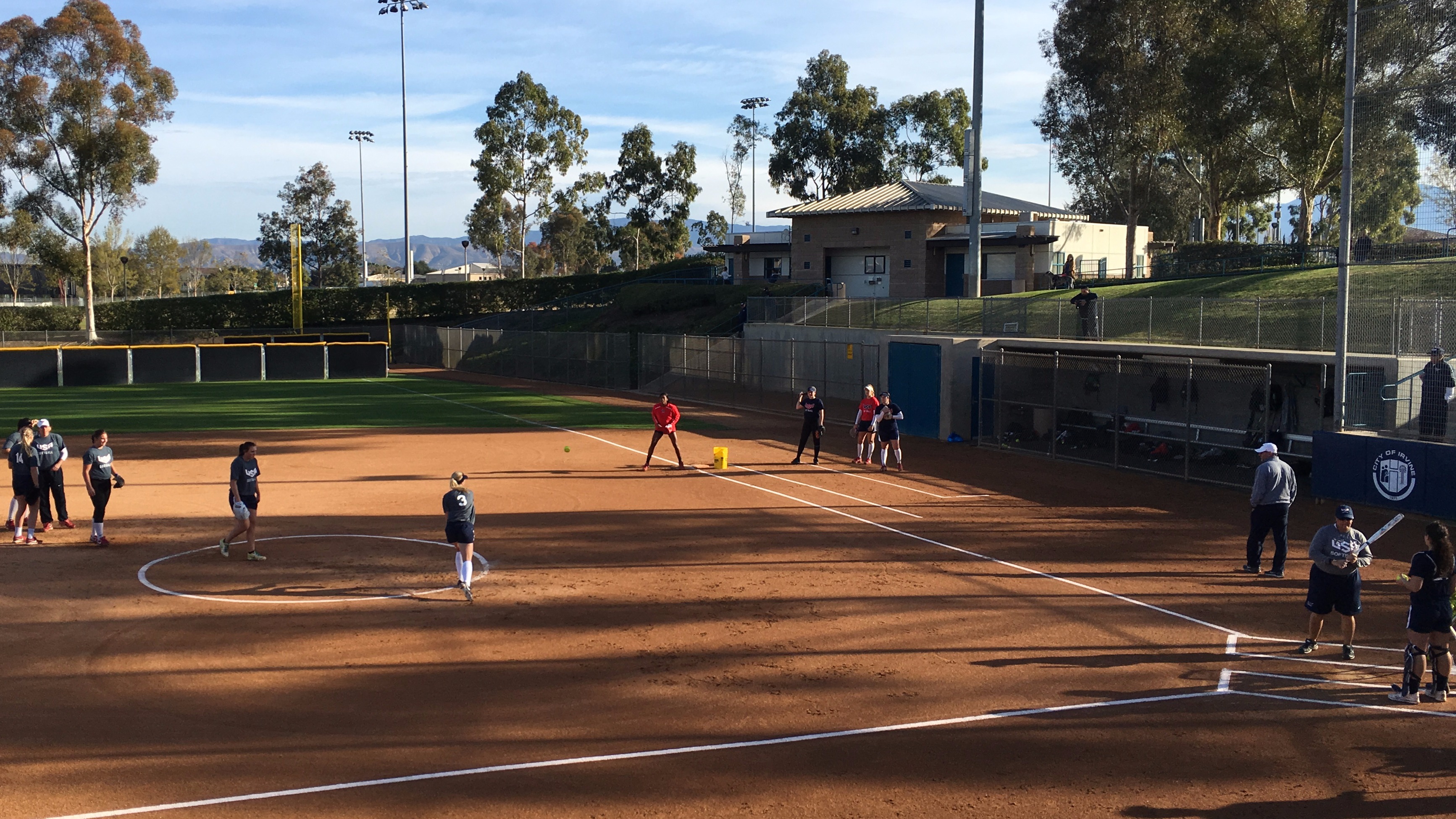 The middles were even in talent with the exception of Kelsey Stewart. She is a freak. I would imagine she has the highest vertical out of everyone on the field. Stewart showcased her around the back play with ease. Her footwork is nasty. I watched her overrun a backhand, switch directions to open up to her forehand side to catch the big hop. She's so athletic it's sickening.

Third base is up for grabs with Jenna Lilley, Kasey Cooper, Raven Chavanne, and Sam Fischer all competing for the corner. Lilley isn't the most polished player, however she operates at full speed 100% of the time. Lilley played third, second, and outfield. One word sums up Jenna Lilley, "Relentless." Sam Fischer has the framework to be solid at third with her long, lanky arms to snatch screamers in the 5-6 hole. Third base may come down to offensive production. Speed versus power.

In the outfield, there was a mixed bag of utility players. The strongest outfielder was Haylie "Halo" McCleney. She takes sharp and precise angles to the ball. The outfield did a number of throws to second, third, and home.


Red & Blue Scrimmage
Jessica Moore, Jackie Traina, and Cheridan Hawkins took the mound today throwing to both the red and blue team. Hawkins had many strikeouts on the day mixing her rise and change striking out Annie Aldrete, Astin Donovan, and Kristen Brown. However, Kasey Cooper and Bianka Bell both hit bombs off of Hawkins later in the scrimmage.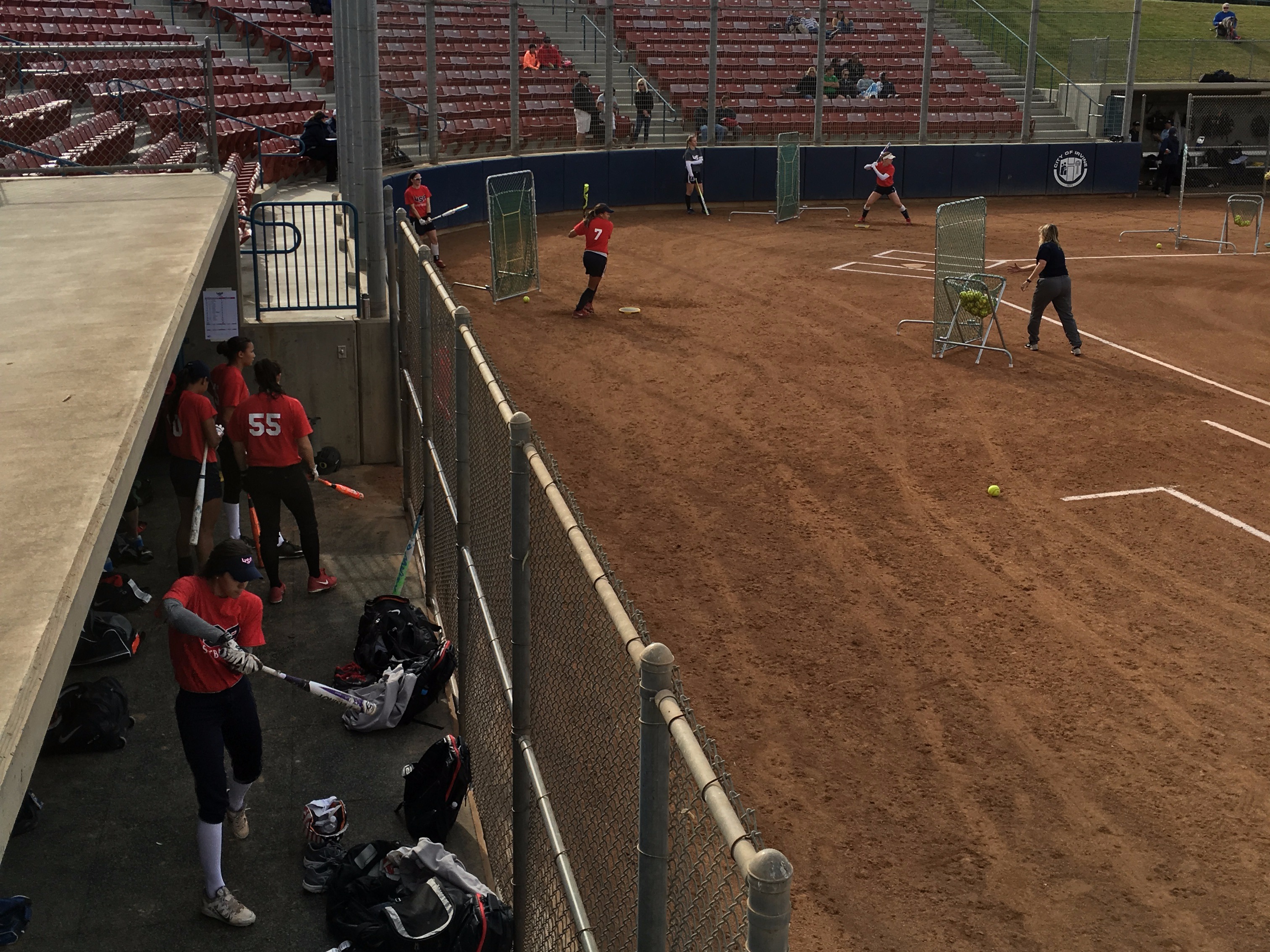 Jessica Moore had a good day striking out Aubree Munro, Brittany Cervantes, Brooke Vines, Amanda Chidester, and Annie Aldrete. Moore is not afraid to go hard in with her drop and then mixing in her change. She had some of the hitters guessing. Meghan Gregg had a stellar day hitting a three run homerun off of Moore and an RBI double off of Traina.

Jackie Traina did not give up any home runs, but she did issue the most walks out of the three pitchers.

Meghan Gregg, Michelle Moultrie, and Kasey Cooper were the biggest standouts on offense. Bailey Landry was also impressive using her speed to put pressure on the defense. Morgan Zerkle may be the fastest player at the tryout.