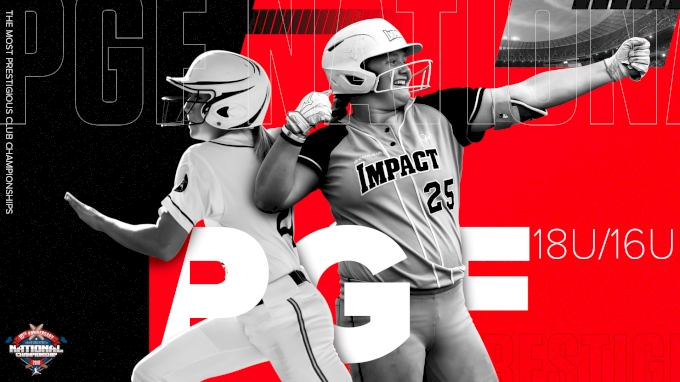 PGF 2019 National Championships 18U | 16U LIVE on FloSoftball.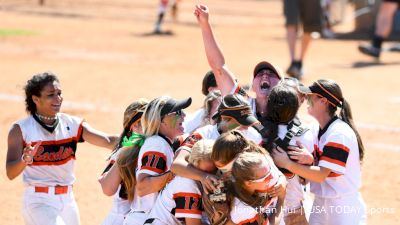 Unlock this video, live events, and more with a subscription!
Get Started
Already a subscriber? Log In
Beverly Bandits Conroy vs Texas Bombers Gold Jones | 2019 PGF Premier National Championship 16U
Aug 26, 2019
After 33 scoreless innings, Beverly Bandits-Conroy pitcher Regan Krause finally ran into some trouble.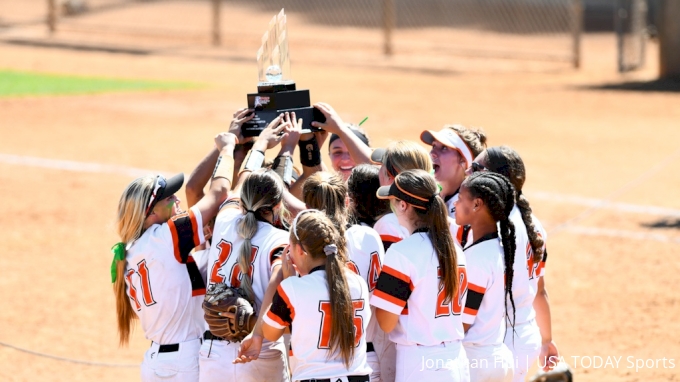 With the bases loaded, a full count and two outs in a one-run game, Avery Hodge grounded out to second baseman Easton Lotus, who tossed the ball to shortstop Anna Halloway at second base to end the threat and game in the Bandits 5-4 victory over Texas Bombers-Jones to take the PGF 16U Premier National Championship on Saturday morning at Bill Barber Park in Irvine, CA.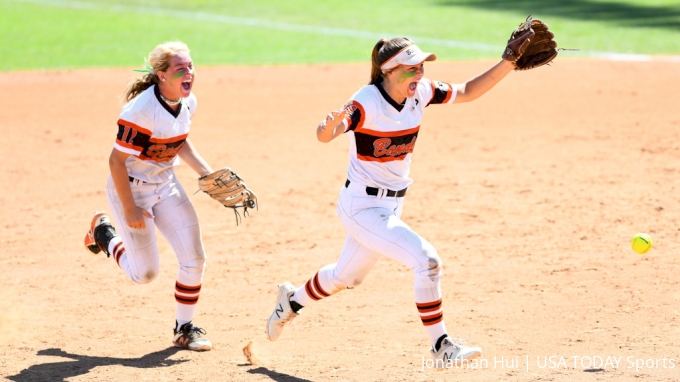 The Bandits got on the board first thanks to Tennessee-commit Taylor Minnick's inside-the-park home run in the second inning that curved down the first-base line all the way to the corner of the right-field fence.
"I didn't see it where I hit it," Minnick said. "I just kept running."
Krause, who is committed to Illinois, gave up her first run this week in the third inning when McNeese State-commit Aaliyah Ortiz drilled an RBI single to center field that scored Oklahoma-commit Avery Hodge.
Krause struck out 11 to throw a complete game.
The Bombers had 11 hits off of Krause, but also left 11 runners on base, including bases-loaded situations in the final two innings.
"My defense was unbelievable again," Krause said. "The Texas Bombers are a great team and they really made me work for it. They have great bats and they're a great team, but my defense really stepped up in key situations."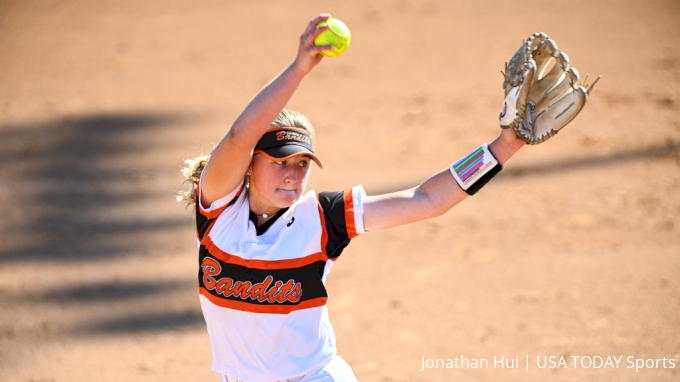 The Bandits added three more runs in the fourth inning thanks to a double to center field by Notre Dame-commit Anna Hallowaym who advanced to third base and scored thanks to two passed balls.
Northwestern-commit Lillian Vallimont and Charleston Southern commit-Haley Panfill each drew walks following Halloway.
Vallimont crossed home plate thanks to a passed ball and a wild pitch, while Panfill scored due to an infield error off the bat of Wisconsin-commit Gabby Altobelli.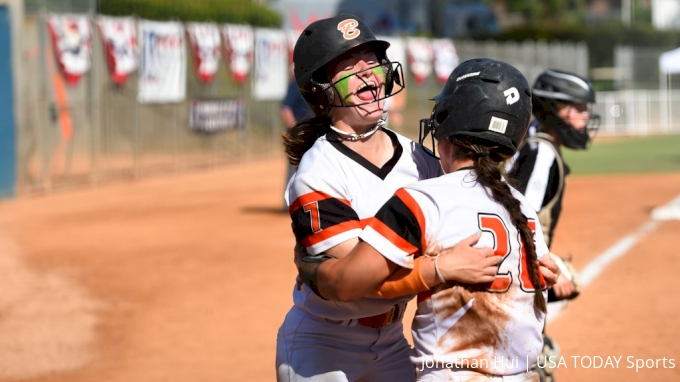 The Bombers evened the score up again in the sixth inning thanks in part by an infield single from McNeese State-commit Teagan Whitley and a double by Louisiana-Lafayette-commit Kramer Eschete. Both runners scored on a double to right field by pinch hitter Maggie Herdejurgen, who has committed to Oklahoma State. The Bombers had the bases loaded, but left them stranded.
The Bandits added the final run thanks to a one-out double to left field by Minnick, who scored on an RBI single from Altobelli.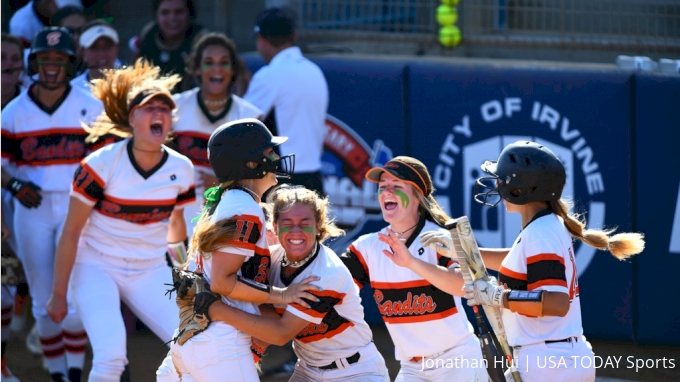 The Bombers got on base with a one-out single by Eschete and walks to Herdejurgen and Ball State-commit Emma Richards. With a full count, two outs and a couple of foul balls, Hodge grounded out for the final out.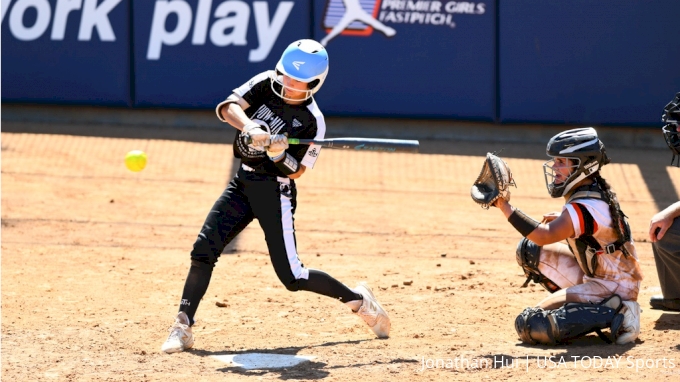 "It was a great game," Bandits coach Bill Conroy said. "I thought with a 4-1 lead, the game was over because Regan is such a shutdown pitcher. The bunt stayed on the line and that opened it up for the Bombers. Luckily, Taylor Minnick got things going with that double and she scored. She also had that inside the park home run, so she had a great game. The defense came through. Defense and pitching have been our bread and butter. We had enough speed that can cause havoc."
Hodge went 2 for 4, Mississippi-commit Ashlee Larue went 2 for 4 with an RBI, Eschete went 3 for 4 with a double and Grace Sparks threw 2.2 innings in relief to take the loss for the Bombers.
"We can't make any mistakes too early," Bombers coach Bill Jones said. "You can't do that against a great team. We had a good offensive strategy on her. We just made one more mistake than they did. That pitcher is unbelievable, she did a great job. Thanks be to God, these girls have had strong faith all year long."
Minnick went 2 for 3 with a double and an inside the park home run for the Beverly Bandits, who won the organization's ninth PGF National Championship, including all age groups.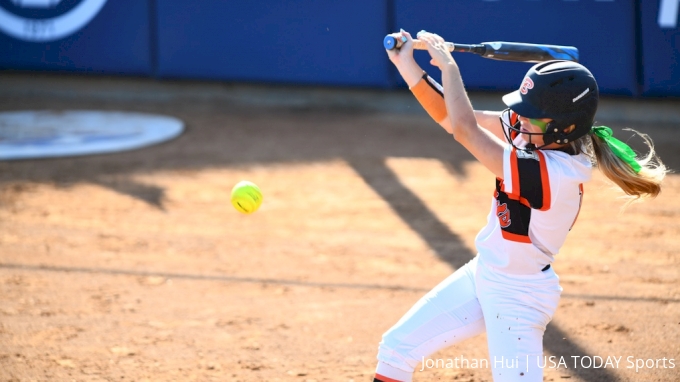 "This feels great," Conroy said. "I couldn't be happier. This is a great group. This group is different from any group. Most groups needs wins to make it fun and this groups needs fun to win. They're a great group. This is the most balanced team I've had."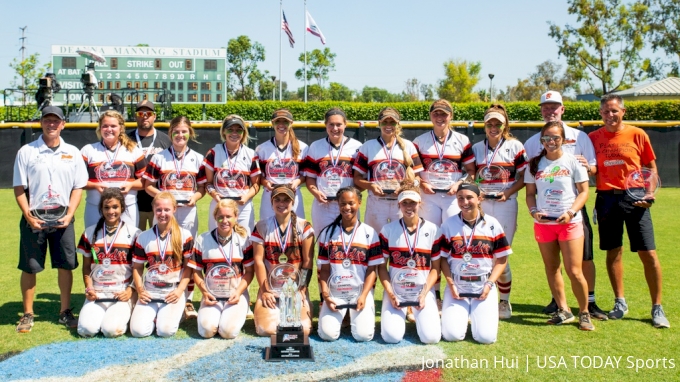 PGF NATIONALS SCOREBOARD NATIONAL CHAMPIONSHIP GAMES
AT BILL BARBER PARK, IRVINE, CA
16U PREMIER: Beverly Bandits-Conroy 5, Texas Bombers Gold-Jones 4
18U PREMIER: Athletics-Mercado/Smith 1, Georgia Impact-Lewis 0