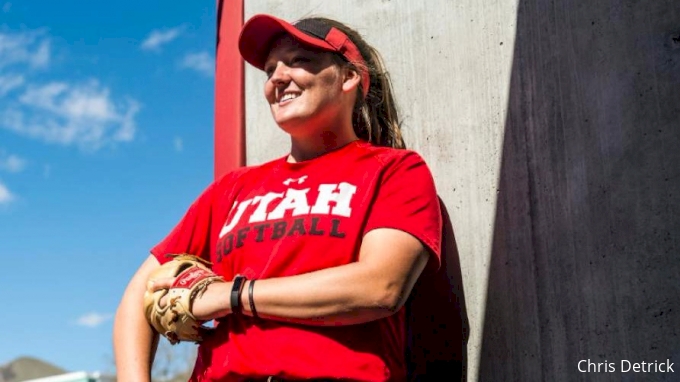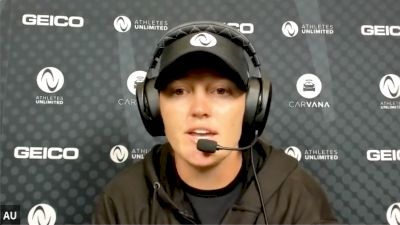 Game 24 Post Game Interviews | 2020 Athletes Unlimited
Sep 22, 2020
Written by Bruce Miles, Athletes Unlimited
Another Monday night, another Monday night master class taught by Cat Osterman.
The veteran left-hander outdid herself in the Week 4 finale of Athletes Unlimited Softball play by striking out a season-high high 16 batters in a 2-0 victory over Team Reed.
In doing so, Osterman assured herself the top captain's spot for Week 5 and the No. 1 overall pick in Tuesday's draft (6 p.m. ET/5 CT, Facebook Live).
Osterman has piled up 1,990 total points over four weeks of play. She'll be joined at the draft table by fellow captains Jessie Warren (1,580), Erika Piancastelli (1,510) and Aleshia Ocasio (1,508).
How dominant has Osterman been on Monday under the lights? In four games, she is 4-0, having allowed just two runs.
In Monday's game, played in cool, calm conditions at Parkway Bank Sports Complex, Osterman allowed five hits. She struck out five in a row from the end of the third inning through the first batter of the fifth.
For the season, Osterman has 84 strikeouts. After losing her first decision of the season this past Saturday, she (8-1) tweaked things just a bit Monday.
"Yeah, after Saturday's outing, just went back and kind of looked at what we've been doing, just to try to go with a little bit different game plan, mix quadrants a little bit, throw the rise ball a little bit more," she said. "I think sometimes people forget I have it. So I was trying to use that in my favor.
"Just did a good job of mixing pitches and trying to get ahead of hitters, really. I was trying to keep the pitch count down and get people to chase when we could. Just thought we did a really good job of mixing everything and not really staying in one place tonight."
Osterman's catcher from the beginning of the season has been Gwen Svekis, whom Osterman has grabbed with the top overall draft pick when she has been a captain in Weeks 2-4.
When Osterman pitches, Svekis has the best seat in the house.
"Oh, it's so fun," she said. "It's a hell of an easy job when she's on like that. I just get to call the game and catch the ball, really. It was fun. It was a fun game to watch Cat go to work."
Into the fifth inning, Osterman was locked in a scoreless duel with fellow lefty Danielle O'Toole, who fell to 3-4 but pitched a complete game, giving up four hits while walking one and striking out seven. As she usually does, O'Toole changed speeds well.
O'Toole was voted the game's MVP 3, with Osterman taking MVP 1 honors.
Team Osterman picked up both of their runs in the bottom of the fifth. With one out, O'Toole hit Nicole DeWitt with a pitch, and Michelle Moultrie singled to center, moving DeWitt to second.
Pinch hitter Sashel Palacios hit a high fly to right field. Caleigh Clifton gave chase, but the ball glanced off her glove. The play originally was scored an RBI double but was later changed to an error on Clifton.
The second run came home on Megan Wiggins' sacrifice fly.
Perhaps as a nod toward the tough error call, Palacios was voted the game's MVP 2.
About the only player to solve Osterman all night was Team Reed leadoff hitter Hannah Flippen. She singled in each of her first two at-bats and walked her third time up. She also stole two bases, giving her 50 stat points for the night.
"It's a challenge," Flippen said of facing Osterman. "Every at-bat's a challenge. I think that's what we all love about this, about facing Cat, is that every time you get in the box it's going to be a battle. That's what I love about it. Today I think I got the best of Cat. It doesn't mean that it's going to be any easier tomorrow."
It's become a bit monotonous to ask Osterman about her strategy as she gets set to draft first for the fourth time in a row for the final week of play in Athletes Unlimited.
"I'm keeping my cards close to my chest this week," she said. "We have one draft left, and I'm not letting any secrets out."
That brought some playful pushback from her batterymate.
"Come on," Svekis said. "Give the people what they want."
"Never," replied Osterman, who then teased: "I'm going to take Hannah Flippen because she got two hits today."
Don't bet on it.