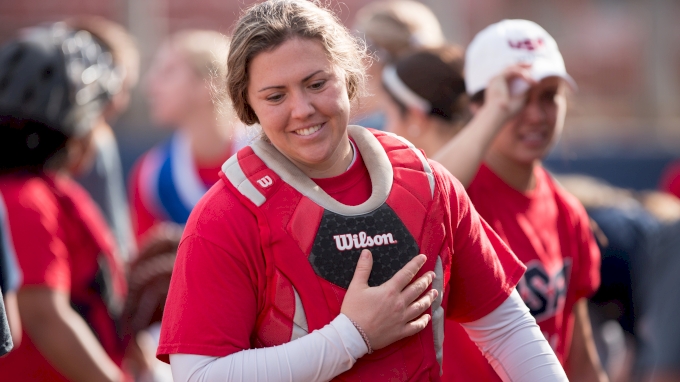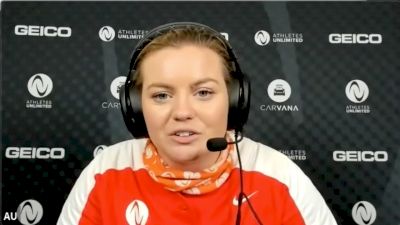 Game 27 Post Game Interviews | 2020 Athletes Unlimited
Sep 27, 2020
Written by Bruce Miles, Athletes Unlimited
Old-time baseball legend Yogi Berra used to talk about teams having "deep depth."
It certainly looks like Team Warren in Athletes Unlimited benefits from "deep depth."
How deep?
Well, before Sunday's bruising 15-9 victory over Team Piancastelli, slugger Katiyana Mauga spent several minutes in the pitching circle.
Turns out Warren's Team Orange got all it needed from Mauga in the batter's box as she cranked out two of five homers hit by the team on a breezy afternoon at the Parkway Bank Sports Complex.
"Tooly told me I might get a batter," Mauga said with a smile, referring to her teammate and ace pitcher Danielle O'Toole, who stood in the batter's box while Mauga practiced pitching. "But I told her no, not at all."
Teammate Amanda Chidester then cut to the chase.
"She's our secret weapon," said Chidester, who got things going in the bottom of the first inning with a two-run homer. Chidester tripled in three runs in a five-run fourth.
Team Warren got homers from Hannah Flippen and Warren in a four-run second inning. Mauga hit her homers, both to left-center, in the third and fourth innings.
"After the first at-bat (a strikeout in the first), I just wanted to make sure I settled down," she said. "I know I went first-pitch swinging the first at-bat so my next at-bat I was like, 'OK, I want to see more pitches. I'm going to stick to my plan an execute it."
The success of this team so far has been in part a tribute to Warren, who has been one of the most effective captains and players in Athletes Unlimited. As a captain, Warren's teams are 8-0 this season. Her team possesses power, speed and pitching.
Draft plans can go out the window if a team ahead of a captain takes a certain player, but Warren has made her drafts work.
"The majority of the girls that I have on my team were my picks," she said. "There were a few that were in my secondary plan just because they're so good. But the majority of them, I was going to take anyway. They've been crushing the ball. They've been playing defense so well. I'm really enjoying this squad a lot."
Warren was MVP 2 to Chidester's MVP 1 Sunday by adding two singles and a walk to her fifth home run of the season. She is 25-for-48 (.521) for the season. She also moved closer to Cat Osterman in the overall points standings with 1,980. Osterman entered Sunday's second game with 2,094 points.
Warren reiterated she is not concerned with that.
"Not really, to be honest," she said. "I'm here to play softball and create connections with people that I have never really met. And I think that's the best part of this whole experience, just getting to know these people on a deeper level. I'm just trying to enjoy these last few days."
Team Piancastelli hung in there, getting home runs from DJ Sanders, Haylie McCleney and captain Erika Piancastelli. It was Piancastelli's ninth home run of the season, putting her into the league lead. She took home 20 additional points as MVP 3 of the game.
Because Piancastelli's team also can hit, there was no letting up on the gas for Team Warren, who scored in every inning but the sixth and seventh.
"We all knew after that draft that they have a ton of great players," Chidester said. "Just do our best to keep it in the ballpark. How many home runs today, eight? When Hov (Karissa Hovinga) came on (in relief of starter Kelly Barnhill), she did a great job keeping the ball in the ballpark for us. At that point, that's what we need, to give our defense a chance to make plays. It was great the way we used our pitching staff today and keep scoring runs. It worked out great."