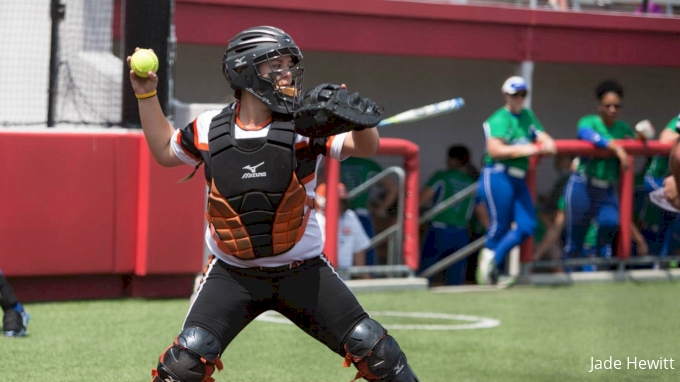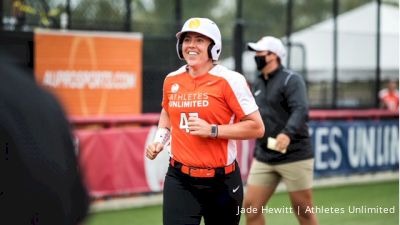 Game 25 Leaders Pack | 2020 Athletes Unlimited
Sep 26, 2020
Written by Bruce Miles, Athletes Unlimited
Talk about orange crushing it.
Captain Jessie Warren's Team Orange put some pop and fizz into the proceedings Saturday on a cloudy afternoon at Parkway Bank Sports Complex.
Team Warren hit four home runs during a 7-4 victory over Team Ocasio. While back-to-back homers have been in vogue during this Athletes Unlimited softball season, Team Warren batters went that 1-2-3 better with back-to-back-to-back shots in the bottom of the third inning to erase a 3-0 deficit and take a 4-3 lead.
Even better, the homers came on consecutive pitches.
Warren singled with one out in the third. Amanda Chidester launched her second homer of the season, a drive to center against Aleshia Ocasio. On the next two pitches, Taylor Edwards and Katiyana Mauga each went deep to left. Warren got in on the fun with a two-run homer in the fourth.
There was a little extra treat awaiting Team Warren long ball hitters on their way home: a can of orange soda to chug in celebration.
"It was super fun," said Warren, the game's MVP 1 for 60 additional points in addition to her 70 stat points and 80 win points. "There was Fanta soda, so we decided to go with the Fanta Girls this week. "We decided to get some sodas and then came up with the celebration at practice and kind of just went with it. We had four celebrations today and hopefully some more this weekend."
Chidester said she got enough just to wet her whistle.
"We didn't chug the whole thing, at least I didn't," she said.
But there was an art to the run, catch and chug.
"It was definitely fun," Edwards said. "You had to really focus on catching it first and not dropping it, and especially on stepping on home plate."
Team Ocasio got the early jump in the top of the third with three runs, all with two outs as Danielle O'Toole quickly retired Nadia Taylor and Caleigh Clifton.
Ocasio doubled on a ball that ticked off Warren's glove at third base and bounded into left field. Kelsey Jenkins singled Ocasio home. A single by Sashel Palacios, coupled with a throwing error, put runners on second and third for Nicole DeWitt, who drove both runners home with a single to center.
The four-run third and three-run fourth gave O'Toole and Team Warren some breathing room before Clifton hit a solo homer in the sixth.
O'Toole was the game's MVP 2 for an additional 40 points. She worked the first six innings before giving way to Trish Parks in the seventh. Parks gave up a walk, got a groundout and then walked another batter before O'Toole re-entered the game and got the final two outs as she improved to 4-4 for the season.
Chidester earned an additional 20 points for winning MVP 2 honors.
"One of things was Lele (Ocasio) was throwing strikes early in the count," Chidester said. "We were all aware of that. It was just stay patient, see the ball and go for it. That's exactly what I do. It was stay calm and find your pitch. And for everyone else to go first pitch for back-to-back-to-back home runs, that was awesome."
Teams that Warren has captained are 7-0, and she's the only player not to lose a game while serving as captain. She spread the credit around.
"It's really not all about me," she said. "I get input from everybody on the team about lineups and things and who we think should be on the mound. So it's kind of a collective thing. We're all one unit. It's nothing I'm doing individually. Pats on the backs to my teammates as well because they're also helping me with these decisions. I'm not doing it alone."