How Shannon Becker Tossed A Perfect-Perfect Game & Handled The Haters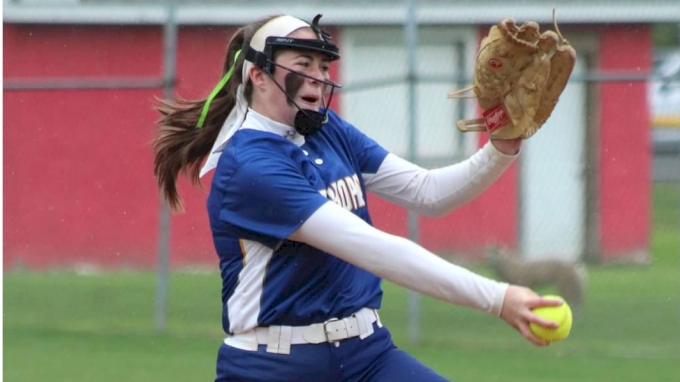 Create a free account to unlock this video!
Get Started
Already a subscriber? Log In
Pitching a perfect game is quite an accomplishment at any level. Throwing a perfect game while striking out all 21 batters faced is almost unheard of.
But that's exactly what Mahopac (New York) Indians sophomore pitcher Shannon Becker did May 8 in an 8-0 victory over Carmel. Seventeen of the 21 hitters went down swinging, and she threw 83 pitches.
"It was surreal," Becker said, recalling the moment after the final strikeout. "I couldn't do my homework when I got home. I was on too much of an emotional high. It was a feeling you can't describe. That is up there with the best moments and feelings in my life."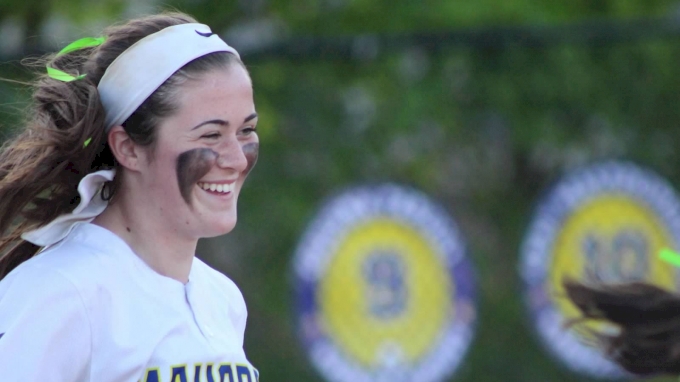 According to the New York State Public High School Association, it is the only known seven-inning perfect game with all strikeouts in state history. The national record was set by Kelly Holmes of Plymouth Canton (Michigan) in 1992 when she struck out 24 against Walled Lake Western.
Immediately after the last swing and miss, Becker ran to her catcher, Michelle Dellamura, and the entire team was yelling and giving each other high fives. Becker knew early in the game she was heading for something special; the red K sign in the outfield tracking her strikeouts was hard to miss. But it wasn't until the final inning that she realized she was on the verge of making history.
"It was in the back of my head," she admitted. "I got a little bit of nerves, but not bad."
Media Curveballs
Becker, a native of Putnam, New York, was born into a softball and baseball family. Both of her parents, brother and sister played at either the high school or college level. When she was 10, Becker competed in a tournament run by Jennie Finch and even posed for a picture with the softball icon. Finch praised the all-strikeout performance on social media. Becker was in bed, scrolling through her Instagram feed when she saw she had been tagged in a photo Finch had commented on.
"I jumped out of bed, my parents were still up," Becker recalled. "I was like, 'Oh, my gosh, Jennie Finch just commented on my photo.' I texted my coach right away. I thought it was a very fun moment."
Mahopac head coach Cristina Giansante fielded dozens of requests from local and national media outlets since Becker's amazing performance. Not all of the reaction has been positive. Some comments on Twitter ranged from extremely vulgar to questioning Becker's talent or her level of competition. But Becker has taken it all in stride, even finding humor in the negative attention.
THIS is one of the most frustrating parts of being a female athlete. This incredible young lady threw a PERFECT GAME striking out ALL 21 BATTERS! But yet, according to comments of these men, she should "stay in the kitchen" or "make a sandwich". We can be better than this. https://t.co/ENC8OdlVnb

— Cori Kennedy (@Corikenned) May 16, 2019
"I've just been making a joke out of them," she explained. "As much as they're rude, I feel it's not personal toward me, it's just toward the situation."
What those naysayers may not know is Becker has competed above her age level since eighth grade. That was the first time Giansante, an assistant at the time, first saw her pitch. Players that age had to obtain special permission before trying out for varsity or junior varsity.
"She came to tryouts, and I didn't realize it was her at first, because she was significantly taller than most of my (varsity players)," Giansante recalled. "Even in eighth grade, she was competing very well against every varsity team we played. Our league is pretty tough, and each year, she's held her own and gets better and better."
The six-foot Becker's fastball has been known to top over 60 mph. But Giansante says her changeup can often make hitters look especially silly at the plate.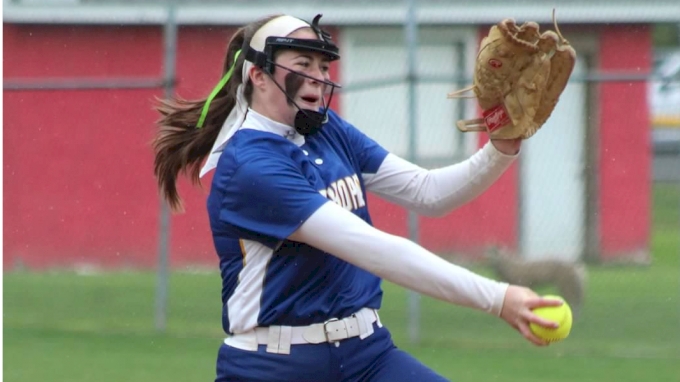 "There's one girl, a very good player, and every single time Shannon throws her a changeup, she swings out of her shoes and falls," Giansante said with a chuckle. "Her rise ball is a go-to (pitch) as well. It really depends on each batter and each team we play."
If Giansante had any concerns of a letdown by her ace following the double perfect outing, she needn't have worried. Becker won her final five starts of the regular season, posting 83 strikeouts and four shutouts. One of those victories was an 18-0 bout with Carmel, the same team who fell victim to Becker's 21-strikeout performance. Becker was almost as impressive as in the May 8 game, pitching a no-hitter with 18 strikeouts. If not for an error in the sixth inning, she would have pitched another perfect game.
ICYMI - Shannon Becker had another dominant outing in Mahopac's 1-0, 9-inning win over Suffern in the quarterfinals, finishing with 18 strikeouts: https://t.co/3OqK4B2l4x@Zacchio_LoHud @Szkolar_Lohud @shannonbeckerr @MahopacSoftball @MahopacManiacs @MahopacSchools pic.twitter.com/eiUOzlwTUJ

— lohud sports (@lohudsports) May 26, 2019
"She knows every inning is a new inning, every game is a new game," Giansante said. "We just go out there and do what we need to do."
Becker, who has pitched every game for the Indians this season, is 17-3 heading into sectionals with a 0.25 ERA, 332 strikeouts, and a .091 OBA. The memory of that magical performance will always stay with her, but she isn't one to dwell on success for too long.
"People are still obviously talking about it," Becker said. "That was a very cool moment for me. It's always been a goal of mine (to pitch a perfect game with all strikeouts). But I'm looking forward to focusing on the team … and do just as well in the future."
The future certainly looks bright for Becker, who also plays for national contenders East Cobb (EC) Bullets Biele/Heath. She has yet to commit to a college program but has already noticed more recruiters in the stands watching her pitch, even though they are not allowed to talk with her until September. While her historic accomplishment will be talked about for years to come, Becker still has a lot more she wants to accomplish.
"I'm not really focusing on the numbers for myself," she explained.
"I just look at every game like it's a new game, and just do what I do. If the numbers come, they come. I'm focusing on just winning the games, and I'm grateful to have these great achievements if they come."