Dominican Republic vs Mexico | 2019 WBSC Softball Americas Olympic Qualifier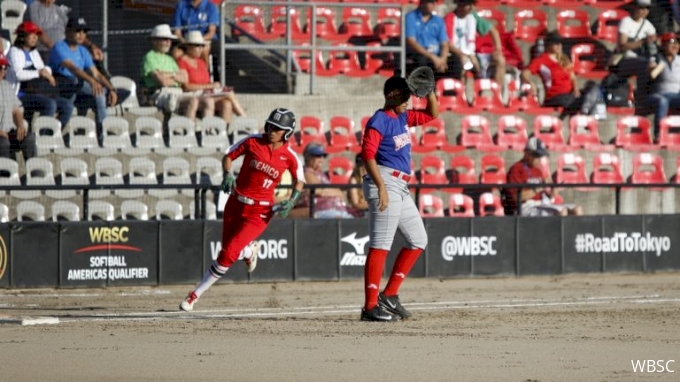 Unlock this video, live events, and more with a subscription!
Get Started
Already a subscriber? Log In
Dominican Republic 1–9 Mexico BOXSCORE
Mexico improved to 2-0 at Group B with a 9-1, fine-inning victory over Dominican Republic in the second day of the Olympic Qualifier. The Mexicans scored six runs in the third inning to take a decisive lead in the game.
Mexico used a pair of doubles in the bottom of the first to take the early lead in the game. Nicole Mendes drew a walk to lead off the game, and two pitches later Amanda Sanchez connected a high pitch in the outer zone of the plate to drive in the first run of the game with a stand-up double to the left-field fence. Then Victoria Vidales walked and cleanup hitter Anissa Urtez hit a laser to left field to plate two more for Mexico.
In the bottom of the third inning Mexico took a nine-runs lead to take control of the score. The first six hitters of the inning reached safely, including an RBI single by Sashel Palacios and an RBI double off the bat of Brittany Cervantes. Eduarda Rocha took the circle, but couldn't stop the bleeding. She walked Chelsea Gonzalez, surrendered a run-scoring single to Suzannah Brookshire and a 2-RBI single by Mendes
With the big difference, in the top of the fourth inning, Danielle O'Toole replaced Dallas Escobedo in the circle and the left-hander was received with two infield hits by Anabel Ulloa and Clari Saldaña, and then Geovanny Nuñez hit an RBI single up the middle for the only Dominican run of the game.
Escobedo earned her first win of the tournament, working 3 innings with 1 walk and 8 strikeouts. The right-hander has struck out 11 of the 14 batters she faced in the tournament. O'Toole (1.2 IP, 3 H, 1 R, 3 K) and Sierra Hyland pitched the last two innings for Mexico.
For the Dominican team, Angelina Pascual was charged with the loss. The 18-years old right-hander lasted 2 innings, allowing 7 hits, 7 runs and two walks.