How Does The NCAA Transfer Portal Work In Softball?
How Does The NCAA Transfer Portal Work In Softball?
Here's a breakdown on what goes on in the NCAA Transfer Portal and what softball's role is within it — along with how it's changing the sport:
Aug 28, 2023
by Briar Napier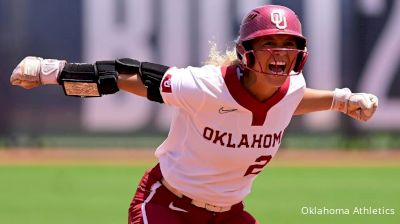 No NCAA ruling in decades has been more impactful on the landscape of college athletics than the addition of the Transfer Portal five years ago, leading to the phrase "I've entered the transfer portal" by athletes on social media getting their name out becoming commonplace.
It's really not as mysterious of a place as it may seem.
The act of a player transferring to a new school for a new opportunity is nothing new in college athletics, but the way that it's being done is. Softball is no exception, seeing some of the game's biggest stars and brightest names leave for new horizons even in just a few months since the season ended with Oklahoma standing on top for another Sooners national championship.
The portal isn't merely a tool, but a must for college athletic programs in order for them to build and restore teams on top of the act of high school recruiting. Its reach and application have changed the way coaches think about their rosters and how they can improve from year to year, and those who don't have a grip on how they can best take advantage of the portal, they're likely bound to fall behind.
And in college softball, where one of the most powerful dynasties ever in the sport's history is currently reigning supreme over all, that is definitely not want you want to be doing
College Softball Transfer Portal Roundup: Bahl, Maxwell & Others
Softball Gloves vs. Baseball Gloves: Here Are The Differences
Differences Between Recreational And Travel Softball: What's Right For You?
The 10 Best Games Of The 2023 College Softball Season
Here's a breakdown of what goes on in the NCAA Transfer Portal and what softball's role is within it — along with how it's changing the sport:
What is the transfer portal?
Though its frequent mention in college sports media spheres makes it easy to draw the conclusion that the NCAA Transfer Portal has been around as an important tool for building teams forever, the portal is actually a fairly new concept. Launched by the NCAA on Oct. 15, 2018, the portal — an application and compliance tool not visible to the public or media — essentially made easier the process of how athletes could opt to leave their schools to potentially seek new opportunities at other places within the NCAA across all three of its divisions.
What was previously often a tedious process of paperwork and logistical headaches has now been dramatically streamlined, and athletes in all of the NCAA's sports are taking advantage of the new simplicity of the procedure. Per ESPN reporting, a record 8,699 NCAA football players — including 3,284 at the sport's top level, the Division I Football Bowl Subdivision — entered the portal between Aug. 1, 2022, and May 1 of this year.
How does someone enter or exit the portal?
Athletes do not have access to the portal themselves, so if they wish to transfer from their current program, they instead give written notice to a school administrator to do it for them, which the school then has two business days to do so. Once their name is officially in the portal (of which athletes will receive a notice via an email that they are), coaches and staff from other schools who are interested in the player are then permitted to contact the player, or the player can directly reach out to schools themselves.
From there, the race really begins: some of the most highly coveted transfers on the market in a given sport may essentially have their choice about where they want to transfer to, and the fight to get players on campus for a visit and/or put pen to paper on a scholarship offer is just as (if not more) fierce than the always-hectic high school recruitment cycles. Players often exit the portal once they have found a fit and signed on with another program, enabling them to join the roster and continue playing at their new school.
In softball, when is the transfer portal open and closed?
Softball is a spring sport, and as of August 2022, the NCAA has designated two times of the year in which the portal for spring sports will be open.
The first is the winter window, which is open from Dec. 1-15 and often doesn't see as much action as those dates preceding an upcoming season which happens just weeks later and a faster turnover is required to make transfers work, though moves do happen during this period.
The 45-day window that opens the day after championship selections (a.k.a. the NCAA Tournament bracket) are made, however, is where things amp up and often the most talented names in the portal each year enter as they seek fresh starts, look for greater opportunities, follow a departing coach or leave for a variety of other reasons.
The open dates for which players can enter the portal have one exception regarding postgraduate transfers with remaining eligibility as the NCAA ruled last year that they can enter the portal at any time, provided they adhere to seasonal deadlines for their respective sport.
Can you return to your previous school after entering the portal?
For players who choose to enter the portal but instead opt to return to their prior programs, they are allowed to do so, but the situation can get complicated.
Schools are required to honor players on scholarship with financial aid through the end of the academic term going on at the time they enter the portal, but anything after that is fair game; with a scholarship now opened, coaches may opt to fill it with a portal addition right back, leaving no guarantee of financial aid left for the player who has second-guessed themselves and withdrawn their name from the portal.
What other NCAA rules are there regarding transfers?
The most notable other rule to know is probably the one-time transfer rule, allowing athletes who wish to transfer the ability to move schools once for any reason without missing a season. Softball in the NCAA (along with all D-II and D-III sports) has long had that policy, but only in 2021 was the policy extended in D-I to include football, men's and women's basketball, men's ice hockey, and baseball, unleashing — particularly in football and basketball — a new era of college athletics in which the offseason courting of players more closely resembles free agency seen in professional sports.
If a player who has already transferred once in their college career wishes to transfer again to another D-I program, however, they would under most circumstances be required to sit out a season of play before suiting up for their new team. An athlete can request a waiver to skip this requirement (such as if they're moving to be closer to an ill family member or if they're leaving a program riddled by a scandal), but if that waiver is denied, the sitting out a season rule comes into effect.
Who are some notable college softball transfers from this offseason?
Funny you should ask — FloSoftball posted a list of some of the most high-profile transfers of the sport's offseason in July. But even since that article, the landscape of the sport has continued to shift. It's been known for quite some time now that pitcher Jordy Bahl, the ace of the past two Oklahoma national title teams and leader on the mound during the greatest winning streak (53 games and counting) in college softball history, will be playing for her home-state program of Nebraska next year in a portal entry announcement which sent shockwaves through the sport.
But the portal allows teams to reload on talent about as quickly as they lose it, and the Sooners did just that by stunningly plucking All-American pitcher Kelly Maxwell from rival Oklahoma State earlier this month — a key addition for OU as it chases a fourth straight national championship in 2024. Loop in two-time All-Pac 12 First Team pitcher Alana Vawter's move from Stanford to South Carolina and Indiana star Taryn Kern's move to Stanford (along with many, many other moves across the country), and the portal was plenty active and created quite the shakeup in the college softball ranks for the quickly approaching 2024 season.