2021 THE Spring Games
Big Ten Softball: What To Watch For At 2021 THE Spring Games March 11-14
Big Ten Softball: What To Watch For At 2021 THE Spring Games March 11-14
Did you know that Big Ten softball is at THE Spring Games March 11-14, 2021? Here's what you need to know.
Mar 8, 2021
by Scott Schultz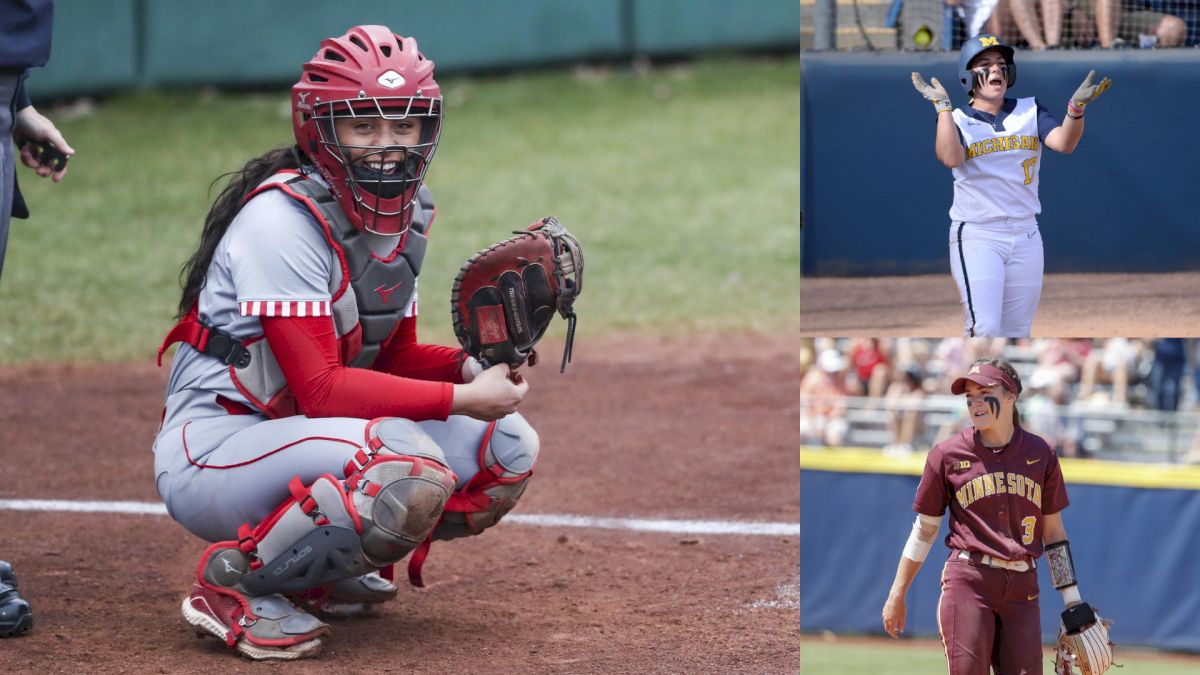 After a week off, the Big Ten "Bubble" returns to the Sleepy Hollow Sports Complex in Leesburg, Florida with a full weekend slate of conference games set to open on Thursday, March 11.
Michigan, Minnesota, Indiana, and Northwestern will headline the teams for the second week of conference action in Leesburg, and will be joined by Nebraska, Wisconsin, Rutgers, Michigan State and Ohio State.
Tournament director Alison Strange credits the Big Ten coaches and THE Spring Games DI Tournament Director Melissa "Skeeter" Gentile for pulling off the successful coordination of the tournament.
"[It was] them who approached Melissa "Skeeter" Gentile, my DI Tournament Director, to discuss possible venues in Florida to host Big Ten Conference games at a neutral site," said Strange.
"The Big Ten decision to limit the 2021 game schedule to 40 conference-only games, weather in the midwest and northeast, and the expanse of the Big Ten teams which would have required multiple flights and thereby increased exposure by the athletes to COVID over a limited period of time (with two-week quarantines required for contact tracing, this could wreak havoc on an already limited number of games over a limited period of time)," were factors Strange identified as the reason for the idea.
"I'd like to think that Skeeter's experience with Division I early season events and her personal relationships with these coaches as well as THE Spring Games' reputation in college softball for being able to achieve what others consider to be impossible."
Here's a preview of what to watch for as the Wolverines, Gophers, Hoosiers, and Wildcats take to the field next weekend, along with some highlights from that first weekend.
Record: 4-2 (15-8 in 2020)
The Wolverines are off to a 4-2 start in 2021 after opening their season with a pair of doubleheader sweeps over both Iowa and Purdue.
Grabbing the headlines for the Wolverines opening weekend was senior pitcher Meghan Beaubien. The lefty hurler was named Big Ten Co-Pitcher of the Week after posting a 0.67 ERA with 41 strikeouts over her 21 innings in the circle in Leesburg. Beaubien's 19 strikeouts during a one-hit shutout against Purdue in the season opener tied a Michigan record, and she followed it with a two-hit shutout against Iowa.
Senior first baseman Lou Allen is leading the Wolverine charge at the plate, hitting at a .375 clip. Junior Lexie Blair is hitting .350 with a home run and five RBIs, and sophomore Julia Jimenez boasts a .333 average.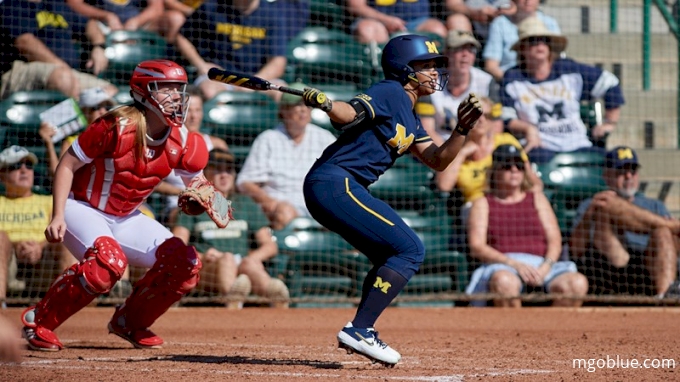 The Wolverines return 16 letterwinners from their 2020 squad, including seven starting position players. Beaubien is a returning All-American, while All-Region selections Blair and junior right-handed pitcher Alex Storako also return.
Michigan will open play for the weekend with a Thursday afternoon doubleheader with Nebraska, then a single game against the Huskers on Friday. Three games with Wisconsin follow — a Saturday doubleheader and a single game on Sunday.
After the weekend in Leesburg, the Wolverines will open their on-campus portion of their 2021 season the weekend of March 26-28 on the road at Indiana.
Record: 3-3 (15-9-1 in 2020)
Coach: Piper Ritter
The Golden Gophers opened the 2021 season with a trio of doubleheader splits with Maryland, Ohio State, and Indiana in Leesburg, to come away with an even 3-3 record.
Katie Kemmetmueler led the way for the Gophers during the two-game set with Indiana, putting up a 4-for-7 showing at the plate with three runs, a home run, and an RBI. In the opener, Kemmetmueller went 3-for-4, including the Gophers first home run of the season with a solo shot in the first inning.
In the circle, junior Autumn Pease has two of the three Gopher wins, with victories over Indiana and Ohio State, while senior Amber Fiser picked up the first win of the 2021 campaign with an eight-inning, four-hit performance in the opener against Ohio State.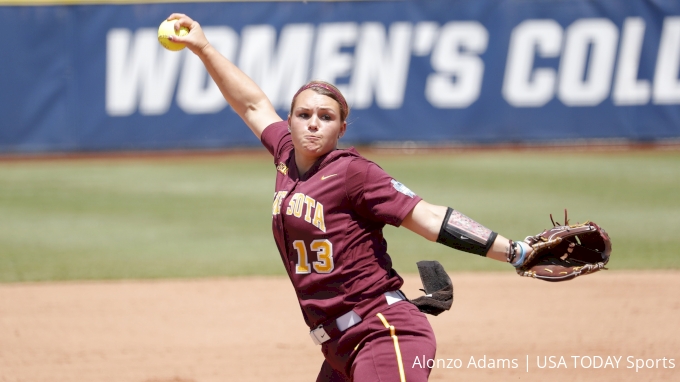 The Golden Gophers return super seniors Carlie Brandt, Amber Fisher, Katelyn Kemmetmueller, and MaKenna Partain. The four return after completing their bachelor's degrees last year. At the plate, the Gophers were led by junior Natalie DenHartog in 2020, with a .429 average in 77 at-bats.
After a Thursday doubleheader with Rutgers and a single game with the Scarlet Knights on Friday, the Gophers will play a pair with Michigan State on Saturday, closing the weekend with a single game with the Spartans on Sunday.
On-campus play for the Gophers will begin with a four-game set against Illinois in Champaign beginning on Friday, March 26.
Record: 4-2 (12-9 in 2020)
Coach: Shonda Stanton
The Hoosiers return all 10 starters from last season's roster and opened the 2021 season with a pair of doubleheader splits with Nebraska and Minnesota, along with a sweep of Wisconsin at the opening weekend of the Big Ten "bubble" in Leesburg to open 2021 play with a 4-2 record.
Freshman Amber Linton earned a pair of victories in the circle for the Hoosiers over the weekend, logging her second in the weekend finale with Minnesota after facing 15 batters, giving up two walks and one run. Senior Emily Goodin opened the season in the circle for the Hoosiers and fired a complete game against Nebraska, giving up one run on three hits and nine strikeouts. Goodin led the Hoosiers staff last season with a 1.76 ERA, 111 strikeouts over 107 innings of work.
At the plate through six games, junior Hannah Davis leads the Hoosiers attack hitting at an even .500 clip thanks to a 3-hit game, 2-RBI game against Minnesota. Senior catcher Bella Norton put up a four-hit showing against the Gophers in the same game with a double and a triple with two RBIs and is right behind Davis on the Hoosiers stat sheet with a .429 average.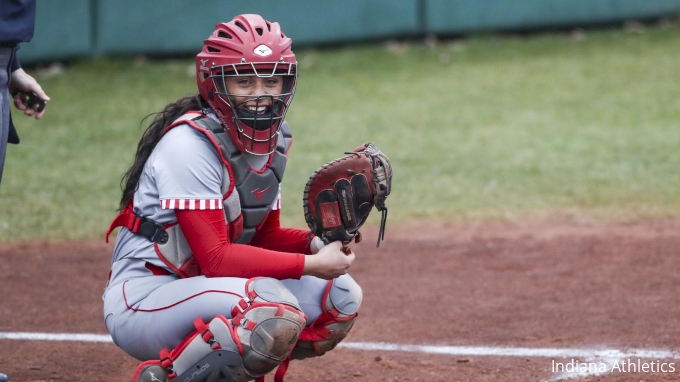 Indiana will play three games against Northwestern to open their second weekend of "bubble" play, followed by three games with Rutgers to close out their Florida action. On-campus action will open with a four-game set, hosting Michigan beginning Friday, March 26.
After the weekend, the Hoosiers will return to Bloomington to open on-campus play on Friday, March 26 when they host Michigan for a 4-game series.
2020 Record: 11-12
Coach: Kate Drohan
The Northwestern Wildcats return to Leesburg after a trio of sweeps over Michigan State, Rutgers, and Penn State during the opening weekend of the Big Ten "bubble" play. The 6-0 start is the best in Wildcat program history.
Wildcats ace Danielle Williams notched three of the victories from the circle, as the junior continued to dominate opponents without allowing a run in three appearances, including a complete game shutout over Michigan State in the season opener. Williams, the 2019 NFCA Freshman of the Year struck out 17 in 13 innings of work.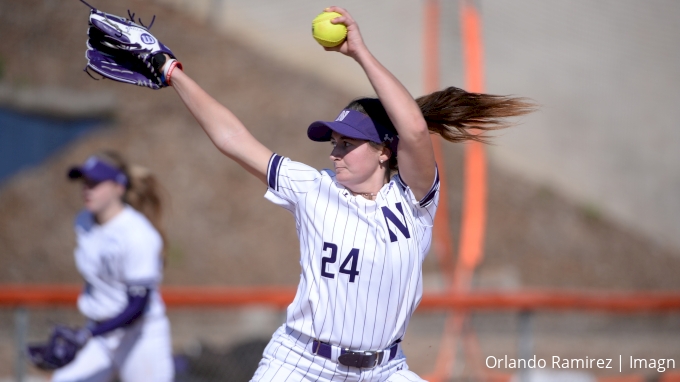 First-year Lauren Boyd has two wins, including a complete game shutout over Michigan State in her Wildcats debut, while sophomore Sydney Supple also logged a complete game shutout in a 5-inning run-rule in over Rutgers.
At the plate, junior outfielder Skylar Shellmyer lead the Cats offense hitting at a .667 clip with a 1.381 OPS, including a 3-for-3, two-RBI performance against Penn State.
Northwestern will take on Indiana and Ohio State over the weekend. The Cats open with a doubleheader against the Hoosiers on Thursday, followed by a single game on Friday. A three-game set with the Buckeyes starts with a DH on Saturday, followed by a closing, single-game matchup on Sunday.
On-campus action will start for the Wildcats at home in Evanston when they host Wisconsin for a 4-game series beginning on Friday, March 26.
According to Strange, THE Spring Games have taken significant measures to ensure the tournament will be a success, including:
Partnered with the City and Lake County to invest over $700,000 in facility improvements in a 3-month period of time.

Renovating the complex including: infield construction, backstop netting, backstop padding, bullpens, expanded dugouts, skinning baseball fields to create adequate practice spaces, expanding batting cages in a 3-month period of time.

Hiring sanitization crews to ensure the bubble is clean.

Creating systems and processes to allow fans to view the event without breaching "the bubble".

Working with local businesses to secure housing for teams and fans as well as catering options so teams do not have to go out in public.

Organizing the live stream of the games in less than 2 weeks.

Creating systems for "contact-less" entry - fans get their ticket packages (wristbands, face masks, parking passes) at their hotels or an off-site location so we do not have cash and ticket exchanges on site.

Creating individual communication platforms for teams to connect the fans with the coaching staff and our staff so questions about this unique event can be answered before they arrive on site.

Coordinating food trucks, concessions, beer garden, toilets with hand washing stations, and sanitization at the complex for fans since they do not have access to the quad where these services are normally managed and provided.

Coordinating testing services with a local medical provider for teams, umpires, and staff inside the bubble.
Games begin on Thursday, March 11 and continue through the weekend, finishing up on Sunday afternoon. Be sure to check out all the action with FloSoftball's coverage.