Rising Stars: From Club To College Softball
Rising Star Larissa Flores Can Do It All
Rising Star Larissa Flores Can Do It All
Coaches often talk about athletes in terms of their "tools." That can be taken a step further when describing his catcher/utility player Larissa Flores.
Sep 29, 2022
by Stephen Kerr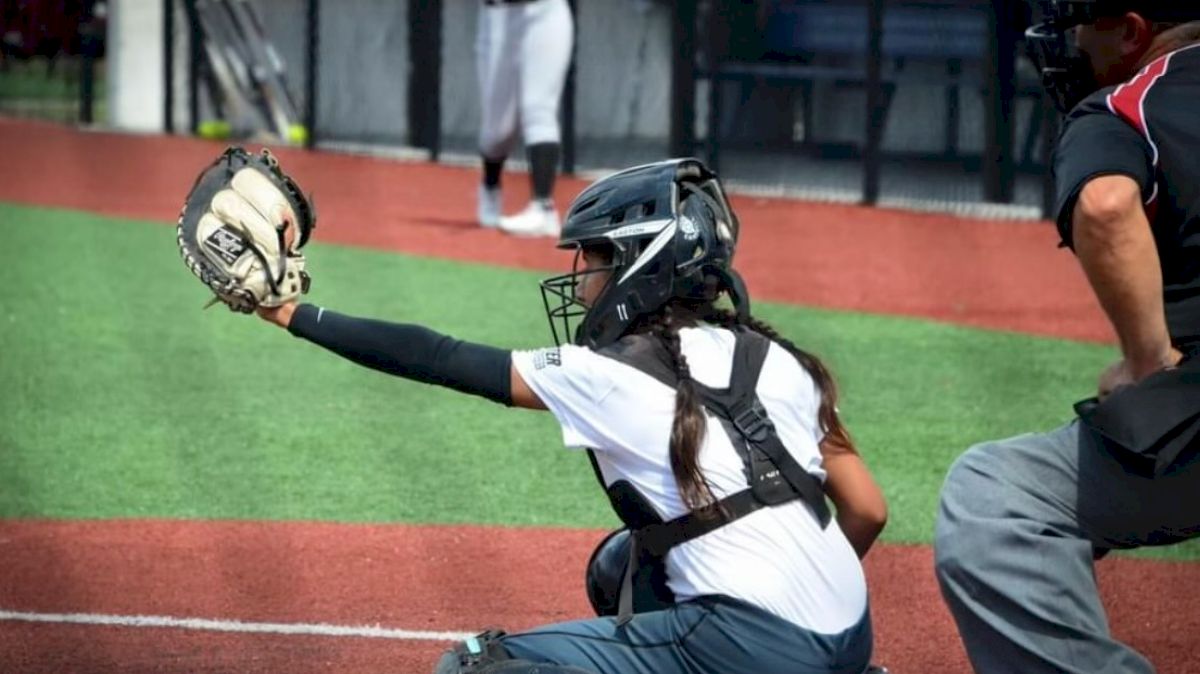 The Swiss Army knife first was used by soldiers in the late 1800s.
After initially being introduced in Germany, Swiss cutler Karl Elsener fashioned knives featuring a blade, reamer, screwdriver and can opener. Over the years, they have evolved to include scissors, pliers, tweezers and even a fish scaler.
Coaches often talk about athletes in terms of their "tools," referring to their skill set. However, 5 Star Play Makers 16U Siofele/Mulipola coach Neil Siofele takes that a step further when describing his catcher/utility player Larissa Flores.
"She is a true Swiss Army knife that can do it all," Siofele said. "She is one of those rare players that can play every spot on the field (except pitcher) and can do it at a high level."
Case in point: This past season, the Play Makers had a vacancy at shortstop. Flores, the No. 1 catcher, agreed to fill in and did well.
Siofele was impressed with her range, strong arm, lightning-quick release and an uncanny ability to anticipate plays before they happen. For the summer, she sported a .975 fielding percentage on 362 total chances, 73 assists and 276 putouts.
Asked how she came to learn the importance of being versatile in a sport like softball, Flores said simply, "I didn't really learn it that much. I just like playing every position. It's just fun in my own way."
Flores is a person of few words. She doesn't talk a lot about herself or her playing ability, choosing instead to do her talking in the batter's box or at whichever position she happens to be playing at a given moment.
Her mother Rosemary recalls when Larissa first began playing t-ball and how much her face would light up each time she went to practice or a game.
"She was always smiling," Rosemary said. "Now, it's a whole different thing."
It's not that Flores doesn't enjoy playing. She simply has taken a more businesslike approach to her craft as she has gotten older.
"I'm just mentally focused in the game," she explained.
Growing up around two brothers and a sister, Flores had no trouble gaining access to sports and having others to play with. She started out playing baseball, before turning to softball.
Her father, Saul, instilled in her to always love and respect the game, no matter what level she played, and that has stuck with her.
"At an early age, 6 and under, she just had an interest and love for (the game)," recalled Saul, a multisport athlete in high school who also served in the United States Marine Corps. "Her brothers were baseball players, so I guess that's where the love came from."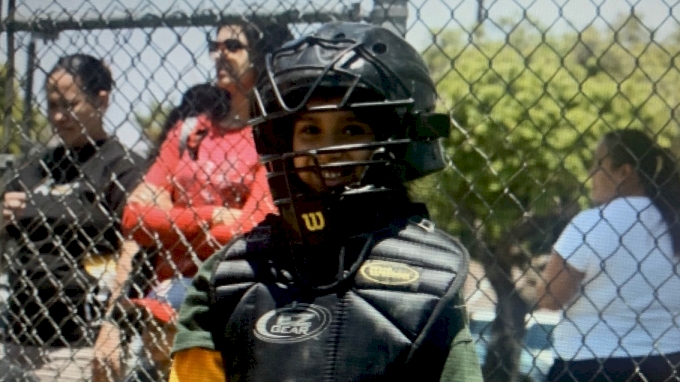 Saul, an assistant with the Play Makers, taught his daughter how to develop a solid swing, along with Ed Mulipola. While she occasionally can knock a ball over the fence, the biggest lesson she's learned from them is to be a complete hitter.
"I'm not meant to be a power hitter," Flores explained. "I'm a contact hitter. With my speed, it's very deadly on the field and on the bases."
A native of Artesia, California, Flores played for a local rec team, before joining Siofele and Mulipola when they were with SoCal Athletics. After the two coaches decided to branch out and form the Play Makers, Flores joined them. She has always felt a sense of belonging there.
"Their way of practicing, always exercising, they are so into the sport," she said. "I just wanted to be on that team and compete with them. They really make me feel at home."
The Play Makers turned a lot of heads this past season, capturing the Elite Fastpitch Toy Drive Tournament, TCS OC Coastal Classic and the inaugural Fastpitch Films Head-to-Head Challenge.
They finished third at the TCS Colorado 4th of July Fireworks Tournament, placed in the top 10 at TCS Nationals and fifth at this year's PGF Premier Nationals.
Flores batted .315 with a team-best 68 hits including 18 doubles, four triples, two home runs, 44 runs scored and 27 steals. She possesses gap-to-gap power that, combined with her speed, makes her especially dangerous at the top of the Play Makers' lineup.
"What really separates her from many others is her softball IQ," Siofele explained. "Her instincts and reads on the base paths are elite as well, allowing her to take extra bags at will."
Flores led her Gahr High School team to a 23-10 record and a berth in the semifinals of the CIF Southern Section playoffs last season. She enjoyed the camaraderie with her teammates and noted the difference in approach between high school and travel ball.
"High school is the preparation for travel (ball)," Flores said. "It really changed my game more. High school is where you have fun and travel is the business where you just make it all happen."

Travel ball may be a business, but there's also a strong bond that develops among teammates. Flores discovered this during the COVID-19 season in 2020, while she was with SoCal. One of her family members passed away from the virus, and the team was participating in a tournament over Christmas.
"We won that tournament, and I received the trophy from it," Flores recalled.
While playing for the Play makers in Colorado this summer, Flores was attempting to make a play at shortstop when the ball took a bad hop and struck her in the face, breaking her nose.
The fields were not in the best of shape, and there was a shortage of maintenance personnel on hand.
Flores was taken to a local hospital for treatment, but was back the next day. Despite having to wear a protective mask, she insisted on playing.
"The whole team was there for me," Flores recalled. "They were by my side the whole time, so I had to be there for them and help them win."
Flores is uncommitted but is taking her time to decide where she will play college softball. It isn't easy to wait, and the process sometimes can be painfully slow, but she is doing her best to maintain patience through the guidance of her parents.
"You have all these clubs and all these people putting money into their kids," said Saul, a former insurance estimator who is unemployed. "We've got to work twice as hard in the situation we're in and try to make sure she's healthy and safe, as well. I was never taught that back in the day."
Flores enjoys photography and the arts. Whichever school she eventually chooses needs to have a strong arts and design program. She loves taking pictures of nature and animals, so she wants a beautiful, scenic setting at, or near, campus.
This coming season, she'll play for the Play Makers' 16- and 18U squads. Meanwhile, she will continue to improve her game and work on keeping her grades up.
"Right now, I'm trying to accomplish my goal of getting bigger and stronger, getting my education level up," she explained.