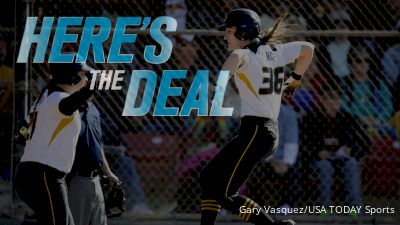 Here's The Deal Episode 2: Upset Central
Apr 17, 2017
This past weekend in NCAA college softball proved that no one is safe atop the mountain this season. And, the race to the Women's College World Series is wide open.
1. The Curse of No. 1 Returns
So, who wants to be No. 1 in the country this season? Last week, top-ranked Oregon saw their record-tying unbeaten streak snapped. This week, Arizona assumed the top spot and promptly lost their first game since February.
But that's not all from the Top 4 teams in the country.


No. 1 Arizona lost not once, but twice on the road against Utah. After winning the first game of the series on Thursday night, the Wildcats' bats suddenly went quiet in losses on Friday and Saturday.


No. 2 Florida State lost 1-0 to Florida in their epic Wednesday night showdown. Then, FSU shockingly lost their next game against unranked South Carolina 7-2 on Friday. There had to be hangover from losing the hyped game to in-state rival Florida, especially for star pitcher Jessica Burroughs, who uncharacteristically gave up four runs in only three innings. The Seminoles rebounded with a 3-1 win on Saturday to salvage a two-game series split against the SEC opponent, but the former No. 1 team suddenly looks vulnerable.


No. 3 Florida beat FSU on Wednesday, then shut out Kentucky on Friday. But, the Gators lost 5-1 to the Wildcats on Saturday. Florida followed with only two runs on Sunday, but it was good enough for a 2-0 win. It appears that Florida's inconsistent hitting is starting to be a factor late in the season.


No. 4 Oregon is suddenly facing adversity. Oregon dropped two more Pac-12 games this weekend, both at home against Washington. After starting the season with 35 straight wins, Oregon has now lost four of six games. The Ducks need to respond quickly!


These four teams separated themselves as the best in college softball a few weeks ago. Now, the recent No. 1 teams in the country have hit roadblocks.
Texas A&M was poised to get in the conversation for No. 1, but the Aggies' winning streak ended Sunday on the road against Arkansas.
So, what about Minnesota? The Golden Gophers are on a tear with a 38-3 record and just swept Northwestern over the weekend to take sole possession of first place in the Big 10 conference.
Plus, preseason No. 1 Oklahoma is suddenly rounding into postseason form riding a 15-game winning streak. Are the Sooners ready to get back in the conversation?
It's clear that whichever team takes the top spot needs to be careful this season. The curse is real.
No. 14 Utah Softball Stuns No. 1 Arizona, 3-2 https://t.co/njUfvDfBMa #GoUtes #UteFamily pic.twitter.com/6sUPZPrHgs

— Utah Softball (@Utah_Softball) April 15, 2017
@Utah_Softball thank you for having me and @FloSoftball in your house! I will definitely be back in Utah! #GoUtes #dontsleepontheutes

— Chez Sievers (@chezsievers) April 16, 2017
2. Barnhill Mows Em' Down
After Florida lost to Kentucky on Saturday, ace pitcher Kelly Barnhill was tasked to mow down nearly every batter who dared to step in the box.
Barnhill did much more than that, as she threw a no-hitter on the road in Lexington on Sunday afternoon. It was her second career no-no after delivering one in May 2016.
She nearly had a perfect game on Sunday, but she allowed a walk in the bottom of the sixth inning to end her quest for perfection.
Barnhill, apparently highly motivated after giving up the perfect game, found another gear to finish the game. She recorded the last five outs with a strikeout, strikeout, strikeout, strikeout, and, yes, another strikeout to settle for a no-hitter. Her total for the day: 15 strikeouts.
Barnhill is now 18-0 on the season with a miniscule, almost incomprehensible 0.19 ERA.
The Gators' ace pitcher has allowed a grand total of eight runs this season, but only three of those runs have been earned. She has only allowed seven extra base hits this entire season. And, zero home runs.
Barnhill and the Gators' trademark defense are the two main reasons why Florida is a threat for the WCWS this season. But, as evidenced by what happened Saturday when they only scored one run in a loss, their offense remains a concern.
Barnhill throws her second career NO-HITTER and 1st of the season with another 15 STRIKEOUT game against No. 21 Kentucky‼️ #GoGators