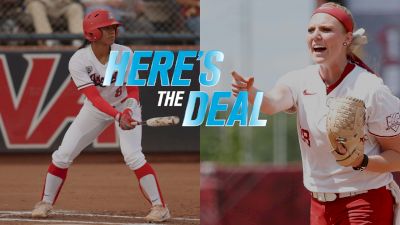 Here's The Deal Episode 4: SEC Or Pac-12?
May 1, 2017
As the calendar turns from April to May in college softball, it's time to start thinking about the contenders and pretenders for conference titles and the NCAA Tournament.
1. Florida Dominates Tennessee for 18 Innings
No. 1 Florida dominated No. 8 Tennessee for two-and-a-half games over the weekend. But, Tennessee got a timely grand slam to win the third game of their weekend series in Knoxville.
Florida took their dominant pitching on the road for a key SEC series. And, Kelly Barnhill and Delanie Gourley were absolutely magnificent against a Vols team that was on a 20-game winning streak just last weekend.
Barnhill shut out Tennessee 5-0 on Friday and Gourley shut out the Vols 9-0 on Saturday. Then, on Sunday, Florida pitcher Aleshia Ocasio was on her way to a third straight shutout when the fifth inning happened.
With Florida leading 1-0 in Sunday's game, Ocasio recorded the first two outs in the bottom of the fifth. Then, with two outs, Tennessee recorded a single, single, and walk to load the bases.
This set up Megan Geer to deliver a grand slam to left field that suddenly put Tennessee ahead 4-1. The Vols added a fifth run to win the game 5-1.
Before that grand slam, Tennessee had not scored a run in three-and-a-half games, including a shutout loss against LSU last Sunday that ended their winning streak. Also, Florida had not allowed a run in 41 consecutive innings.
One swing of the bat changed the entire complexion of the weekend. Tennessee was able to walk off the field on Sunday feeling a little better about themselves heading into their final weekend series on the road against Texas A&M. And, Florida has to regroup before their big rematch against Florida State this Wednesday in Tallahassee.
One thing is clear, though. Florida's one-two punch of Barnhill and Gourley is on fire right now. That has the Gators primed for another National Title run.
HIGHLIGHTS: #8 Tennessee knocks off #1 Florida 5-1 in series finale for 14th win in program history over a top-ranked team pic.twitter.com/MNaY1sYxl7

— Tennessee Softball (@Vol_Softball) April 30, 2017
Florida hadn't allowed a run in 41 consecutive innings...

Then @Vol_Softball's Megan Geer happened ➡️ https://t.co/p6PLKbNuEH pic.twitter.com/uGtj2APzLN

— SEC Network (@SECNetwork) April 30, 2017
2. Florida State Regaining Top Form?
Florida State is now on a 9-game winning streak after sweeping North Carolina in their final ACC series of the year. FSU dominated the Tar Heels 3-0, 8-1, and 6-2 over the weekend to finish the ACC schedule undefeated.
Now that's the way to end a game. pic.twitter.com/DFTXzrUV3e

— FloSoftball (@FloSoftball) April 30, 2017
Since losing to SEC foes Florida and South Carolina in mid-April, the Seminoles have regained their form as one of the top teams in the country and a National Title contender.
Now, they get another shot at in-state rival Florida on Wednesday. What's at stake for FSU? A lot.
For starters, they want national respect again. FSU has dominated inferior competition this season, but they have struggled against top teams out of the ACC.
In this upcoming final week of the regular season, the Seminoles will host Florida before heading across the country to Oregon to face the former No. 1 Ducks in a three-game series. That's four big opportunities to earn respect.
Florida State also wants to finish the 2017 season undefeated at home, which they can accomplish against the Gators. This would be the icing on the cake after setting an ACC record on Sunday by winning 26 consecutive conference games.
Also, Jessica Warren set the program record for Home Runs on Saturday - as a junior. By the end of her senior season, Warren could have the record for good.
After getting back on track, there's a lot on the line for Florida State as they look to finish strong before postseason play.
The Seminoles finish 2017 unconquered in ACC play, going 24-0, after a 6-2 win over North Carolina! #SPARK https://t.co/bOabDkTdYk pic.twitter.com/mXw7TQnJlE

— FSU Softball (@FSU_Softball) April 30, 2017
Junior Jessica Warren sets new FSU career home run record with her 57th HR as the Noles top UNC, 8-1! #SPARK https://t.co/EAJqHEae6O pic.twitter.com/c5N5bSTZ6v

— FSU Softball (@FSU_Softball) April 29, 2017
3. Auburn: Welcome Back...Maybe
Will Auburn push the drama aside? The SEC power has spent way too much time making the wrong kind of news this season. But, the Tigers are back to their winning ways.
Three players were suspended following drug possession charges on April 20. And, two of those players, Haley Fagan and Makayla Martin, played again on Sunday.
Haley and Makayla did not play on Friday and Saturday, though, when Auburn won the first two games of their weekend series against Mississippi State.
Fagan was allowed to play Sunday on Senior Night. And, Martin returned to the circle on Sunday to complete a weekend sweep against Miss. State.
That situation overshadowed Kasey Cooper becoming the all-time leader in RBIs in SEC history with 266. Cooper was also playing her final home game for the Tigers as she tries to lead by example for an Auburn team that has struggled to keep it all together this season.
We'll find out of the Tigers are truly back on track when they finish the regular season next weekend against in-state rival Alabama.
COOOOOOOP!!

The @SEC's All-Time RBI Leader: @AuburnSoftball's Kasey Cooper. #WarEagle pic.twitter.com/QBDyXPwd7z

— SEC Network (@SECNetwork) May 1, 2017
SEC Conference Standings
Florida: 20-3
Texas A&M: 15-5
Auburn: 15-6
Tennessee: 14-6
Alabama: 11-8
4. Pac-12 With Five Legit Contenders?
Suddenly, the top teams in the Pac-12 conference look like they can beat anyone in the country.
No. 2 Arizona lost once against in-state rival Arizona State on Saturday, but the Wildcats won the series by taking Friday and Sunday. In Sunday's 8-0 win, the Wildcats hit four home runs in two innings. Included was a grand slam from Jessie Harper to bring her total to 18 HRs on the season.
OF COURSE the freshman had to hit a grand slam on @UA_Softball senior day!