2019 18U PGF Premier Nationals
Rising Star: Stanford-Bound Infielder Sydney Steele
Rising Star: Stanford-Bound Infielder Sydney Steele
Infielder Sydney Steele shares her recruiting journey from Auburn to Stanford and what it's like keeping softball in the family.
Oct 9, 2018
by Chez Sievers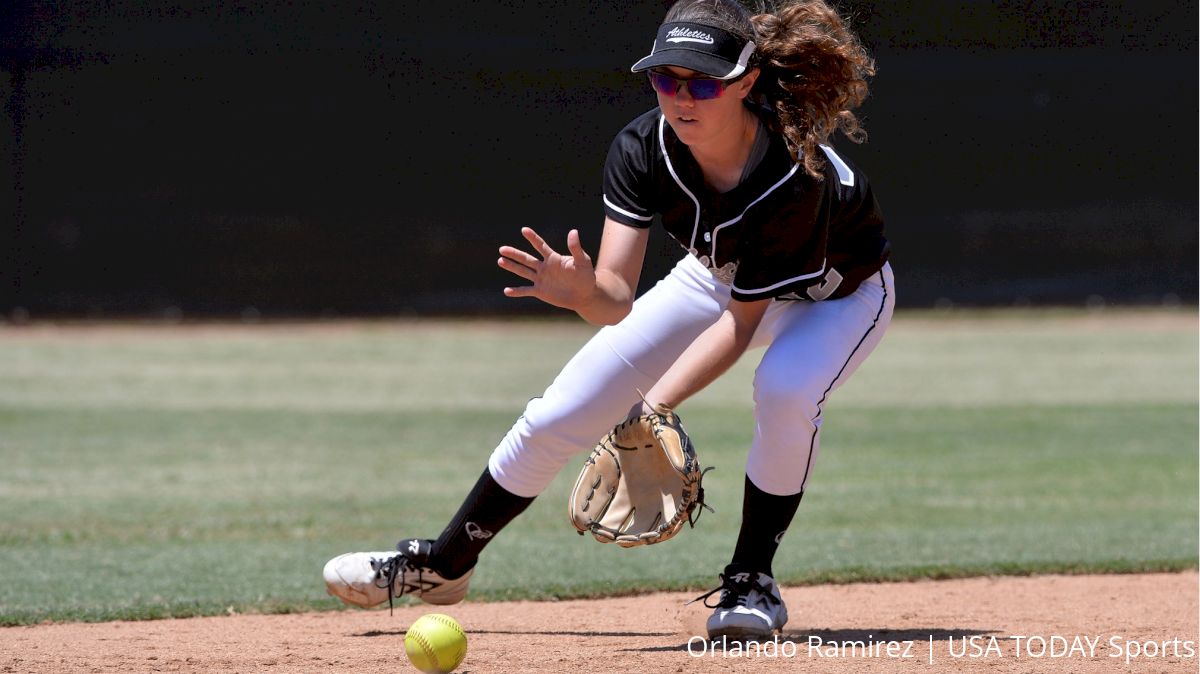 Unlock this article, live events, and more with a subscription!
Get Started
Already a subscriber? Log In
By Hailey Hudson @haileyh412
---
For Sydney Steele, softball is a family affair. Steele, a senior shortstop in high school who's headed to Stanford has been preparing to play Division I softball since she picked up a ball.
"I coached Haley up until her sophomore year," Sydney's mom Marcy Steele said, referring to her older daughter, Haley who played at ASU. "And then I coached Syd."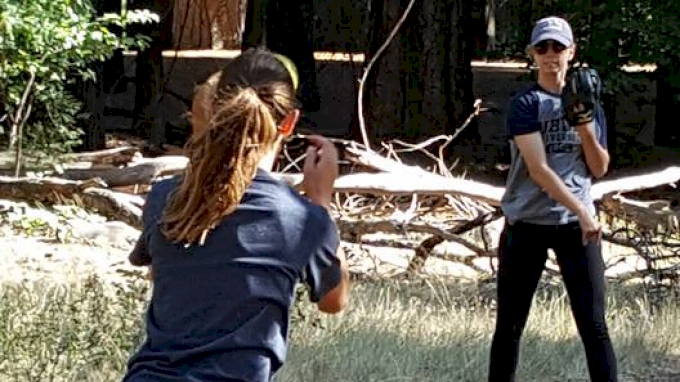 For many families, the recruiting process might seem overwhelming. But after Haley's commitment to ASU, the Steele's were prepared when it was Sydney's turn. "I knew what I was doing!" Marcy laughed. Since Sydney had watched her older sister go through the process already—"I wanted to follow in her footsteps," she said—she knew what to expect.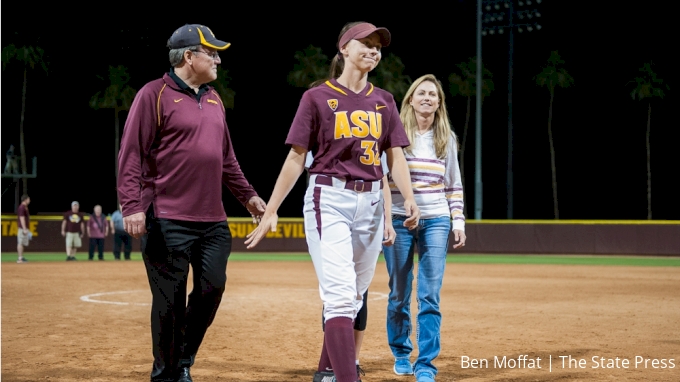 Sydney grew up at the ballfield watching her sister play, and Sydney first put on cleats of her own when she was four. As she got older, travel ball and high school ball and college ball seemed like the natural next steps. And she took them with confidence: Sydney led her high school team with 40 RBI's and was the Palomar League Player of the Year her sophomore year. She also became a national champion with her club team. Initially, Sydney committed to Auburn in 2015, but after Clint Myers left, she switched her commitment to Stanford.
"It felt like a dream come true like it was meant to be," she said. Her mom added, "It was the right choice."
Sydney's work ethic has carried her through high school and travel ball.
"Sydney had to work harder than everybody else all along," said Marcy, citing her daughter's small size. "We're at the field a lot. We work really hard and she's never once complained—she's always wanted to do it. She's always goal-oriented. Her goal is always in mind."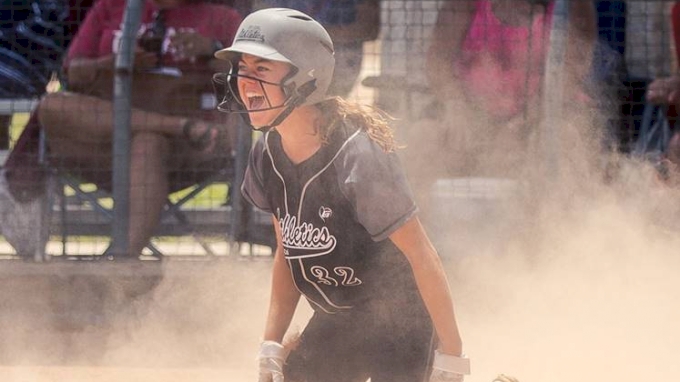 And now one of Sydney's biggest goals—namely, Stanford—is coming up fast. After getting two daughters off to college, Marcy has words of wisdom for other softball moms and players in the same boat.
"Relax and enjoy the process," Marcy said. "Wherever you're meant to go, you're going to go. Go to where you're going to fit in and play, and it's the best education for you. This is a means to an end; this is to get an education. You'll get into Stanford, or wherever you're supposed to go. But you're going to go to school to go to school."
Sydney Steele

Position: SS/2B/3B


Club: So Cal Athletics - Richardson
High School: Poway
Grad Year: 2019
College: Stanford
Hot 100 Rank: No. 60
When did you start playing softball, and what made you want to play?
I started playing when I was four years old. My older sister used to play a lot and I was always dragged around to watch her games. After watching her play and seeing how good she was, I wanted to follow in her footsteps.
How would you describe your family?
My family is a really close family. My sister and I are eight years apart. When I was younger it was a love/hate relationship, but now we're really close; we talk all the time even though she lives all the way in Alabama and I'm in California. I always loved watching her play softball—I was her number one fan—and now, when she can come out, she's my number one fan. We're inseparable now.
Growing up, who was the athlete you looked up to the most?
In sixth grade, I was doing a biography project, and I did my biography on Wilma Rudolph. Ever since then, I've always looked up to her. The struggle she went through shows you can get through anything.
Do you have any superstitions on the field?
Before every inning, I have to do a certain routine on the field. I have to do my first step drill, rub dirt on my hand and wipe it on my pants, and then put my glove on and go to my spot. For hitting, I always have to take a deep breath before I step into the box.
Have you ever had any setbacks that kept you from playing softball, and how did you get over them?
Two years ago, I broke my nose in an Auburn camp, and I got it put back in place and the next day I was back in camp. So it really didn't affect me too much. But I've always been very small for my age. I'm a pretty average size now, but I work out all the time and I have to eat twice as much as everybody else. It's just made me work harder because I had to be twice as good as everybody else so I wouldn't get overlooked because of my size.
What's one of your favorite memories from travel ball?
My sophomore year we won TC Nationals in Texas. We all worked so hard and got really close as a team, and that week we battled through the heat. Winning it was the cherry on top. I've never had that feeling of that win—I almost started crying.
What do you love about playing shortstop?
I play other positions—I play third and second—but I like shortstop best. I feel like I'm a leader; I can just lead the field. They give me the power to call all the plays at short. I feel like I'm trusted by the coaches and the team. It feels like home.
What do you feel are the strengths and weaknesses in your game?
I'm very athletic. If I make a mistake, if I fumble a ball, I can catch it and throw it very quickly and still get them out. I'm very quick and fast for baserunning. My weaknesses would be that I'm shorter than everybody else, and I'm not as tall or big. I'm also a perfectionist—that's a weakness.
What are your short-term and long-term goals with softball?
A short-term goal would be helping my team win a PGF championship this year. A long-term goal would be helping Stanford get back to the World Series and possibly playing for the USA National Team someday.
In 2015 you committed to Auburn. Walk me through your thought process when you verballed there and when you switched your commitment to Stanford.
For Auburn, my sister played for the Myers at ASU, and they moved over to Auburn. I went out and I visited the campus, and I fell in love with the campus—I loved the Myers—and it just felt like home. But when they left, it wasn't the same feeling. I felt like it wasn't the place for me anymore. Then Stanford came along. I visited the campus and I started crying, I fell so much in love with it. It felt like a dream come true like it was meant to be.
What do you plan on majoring in?
I am planning on majoring in bioengineering.
When you're not studying or playing softball, what are you doing?
I like to be involved in my school a lot, so I'll do a lot of school activities. I do a lot of clubs. If I have time, I'll hang out with friends. But mostly it's just softball and school.
What are you bingeing on Netflix right now?
Grey's Anatomy.
What's your favorite motivational quote?
"Greatness is a way of life." –Coach Myers
Do you have a pump-up song you have to listen to before games?
I'm a very old-school kind of girl, so I listen to all the classics, and it just pumps me up and gets me in the zone.