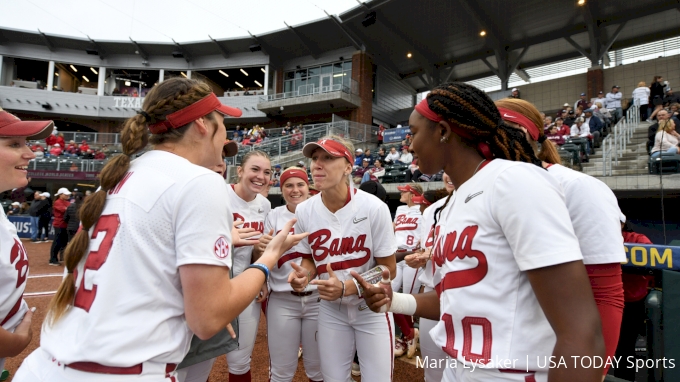 The place to find Alabama softball games, stories, videos, and recruiting features.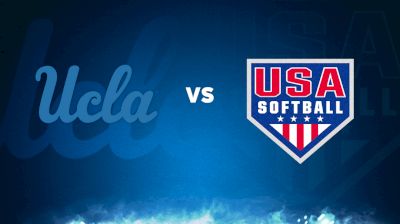 Unlock this video, live events, and more with a subscription!
Get Started
Already a subscriber? Log In
UCLA vs. Team USA - 2020 Mary Nutter Collegiate Classic
Feb 23, 2020
CATHEDRAL CITY, Calif. – Trailing for the first time on the "Stand Beside Her" tour, presented by Major League Baseball (MLB), Team USA overcame a two-run deficit to post a 9-3 win over reigning NCAA National Champion, No. 1 UCLA. With the stands full of a hometown crowd cheering on the Bruins, the U.S. bats stayed hot throughout the seven-inning contest as the offense recorded a hit in every inning played.
It was a special contest as UCLA alum's Ally Carda (Elk Grove, Calif.), Rachel Garcia (Palmdale, Calif.), Bubba Nickles (Merced, Calif.) and Delaney Spaulding (Rancho Cucamonga, Calif.) presented UCLA Head Coach Kelly Inouye-Perez with a commemorative Team USA jacket to honor her role in their Olympic journey.
"Twenty-six days together allows for a lot of things to happen on the softball field," said WNT Head Coach, Ken Eriksen. "Twenty-six days together helps us find our team personality in respect to how we approach this tour, how we approach our training and how we approach our competition. I was excited to see a lot of things come to fruition in the last four days of the tour. We appreciate all that our hosts have done over the last 26 days for us and hopefully we can make them proud going forward."
Home runs by Dejah Mulipola (Garden Grove, Calif.) and Kelsey Stewart (Wichita, Kan.) tied up the ballgame before the U.S. put the game away for good in the top of the sixth inning. Nearly every batter in the game for Team USA recorded a hit in the win, with Ali Aguilar (Orangevale, Calif.), Haylie McCleney (Morris, Ala.), Michelle Moultrie (Jacksonville, Fla.), Janie Reed (Placentia, Calif.) and Stewart having multiple hits.
How they scored:
Top of the first: McCleney led off the game with a double over the left fielder's head and scored on a single to right field by Aguilar.
Bottom of the first: UCLA put up three runs in the bottom of the frame to take a two-run lead. A leadoff single by Kinsley Washington and double by Briana Perez tied up the ballgame until Maya Brady homered over the left field fence to put UCLA up 3-1.
Top of the fifth: Stewart led off the top of the fifth inning with a solo home run to bring the game within one run.
Top of the sixth: The U.S. exploded for five runs to take the lead for good. A solo home run by Mulipola tied up the ballgame and a double by Carda continued the offense with one out. Carda scored on a single by Reed and a sac fly from McCleney allowed Reed to score to make it a 5-3 game.
Stewart singled, advanced to third on a double by Aguilar and a single up the middle by Valerie Arioto (Pleasanton, Calif.) extended Team USA's lead to four runs.
Top of the seventh: A leadoff single by Moultrie and walk to Mulipola put two runners on and a sac bunt by Carda moved both into scoring position. A sac fly by pinch hitter, Amanda Chidester (Allen Park, Mich.), put the Red, White and Blue up by five runs and a single by McCleney made it 9-3 in favor of Team USA.
Notables:
Stewart had a monstrous day at the plate with a 4-for-5 outing, tying a single-game high for hits for the U.S.
After entering in the bottom of the second inning, Abbott dealt straight heat. Striking out 14 batters in six innings of work, Abbott set the single-game high in strikeouts for the U.S. pitching staff.
McCleney continues to be a threat in the leadoff spot in the lineup. Reaching base at least once in each game she's played on the tour, McCleney leads the offense with a .517 average. Aguilar has also been on base in the past nine contests played in the three-spot in the lineup and leads the offense with 19 RBI.
Abbott has amassed 68 strikeouts so far on the "Stand Beside Her" tour, presented by MLB. Averaging at least two strikeouts per innings pitched, Abbott has yet to allow a run to cross the plate in seven appearances in the circle.
#OlympiansMadeHere – Olympic Medals were on the field of play today as UCLA Assistant Coach Lisa Fernandez, a three-time Olympic Gold Medalist, joined 2020 WNT members Abbott, Cat Osterman (Houston, Texas) and development coach for Team USA Kelly Kretschman, as Olympians. In total, five Olympic Gold Medals and three Olympic Silver Medals were represented during the contest.
About USA Softball
USA Softball (USAS) is a 501(c)(3) not-for profit organization headquartered in Oklahoma City, Okla., and is designated as the National Governing Body (NGB) of Softball in the United States and a member of the United States Olympic & Paralympic Committee. One of the nation's largest sports organizations, USAS sanctions competition through a network of Local Associations, which includes all 50 states and select metro associations. USAS is dedicated to providing people of all ages the opportunity to play the game they love at a variety of levels by offering recreational, league, tournament and competitive play for fast pitch, slow pitch and modified pitch. USAS annually conducts thousands of tournaments throughout the country including over 100 National Championships. The USAS umpire program is among the nation's largest and are widely known as the best trained umpires in the game.
As the NGB for the sport of softball, USAS is responsible for training, equipping and promoting the six USA Softball National Teams that compete in events such as the Olympics, Pan American Games, World Championships and other international and domestic events. For more information on USAS, including its founding and history as the Amateur Softball Association of America (ASA), please visit, www.USASoftball.com.