2023 Mary Nutter Collegiate Classic
Top 5 College Softball Takeaways From Week 2
Top 5 College Softball Takeaways From Week 2
The early-season nonconference collegiate softball tournaments aren't going to stop for quite some time, and that means there's surely more havoc to come.
Feb 22, 2023
by Briar Napier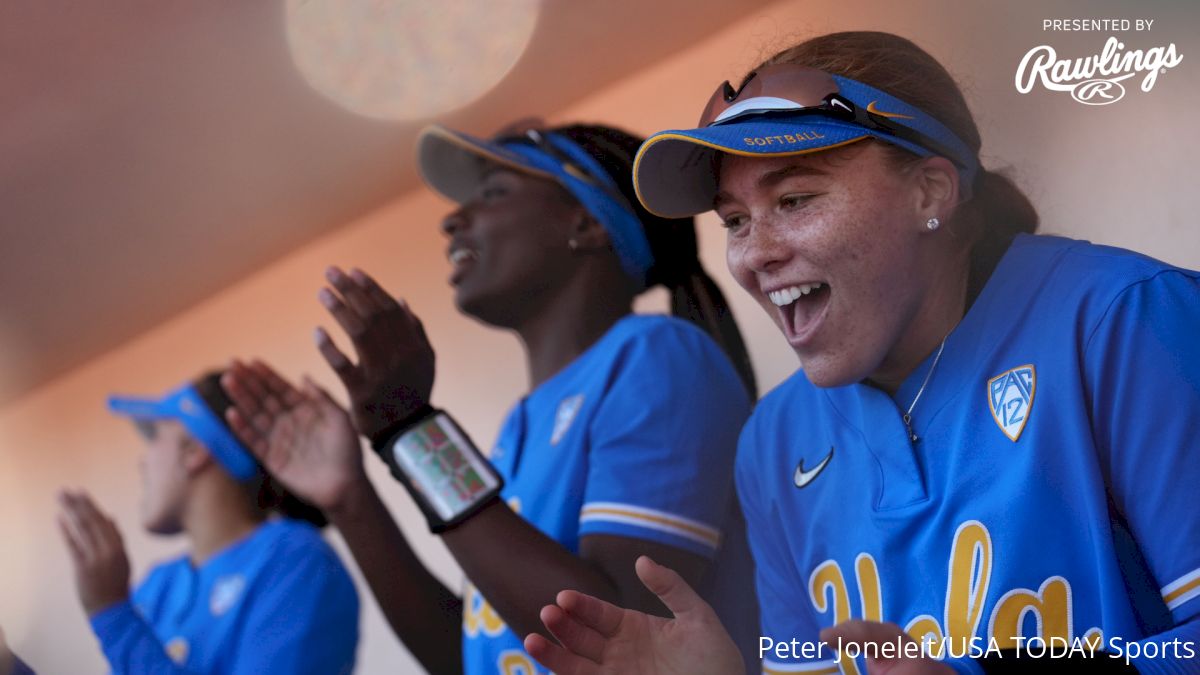 Baylor's Stunner Over Oklahoma Leads Top 5 College Softball Takeaways Of Week
No team in college softball is invincible, even as certain elite programs have tried their hardest to get to that point.
Bad days happen and can come without warning. Even to the two-time defending national champions.
The No. 1 Sooners fell over the weekend (as did a few other top-ranked teams), as the college softball season completed its second week of competition, with the many games featuring a heavy dose of shocking results and top-tier performances.
❝What just happened is extremely valuable. What's valuable is the response, the rebound and the extra work that is going to be put in to make us better.❞ - Coach Gasso

🔗 https://t.co/TJYqcauGyN | #ChampionshipMindset pic.twitter.com/KBf9JipfoK

— Oklahoma Softball (@OU_Softball) February 19, 2023
The early-season nonconference tournaments and events aren't going to be stopping for quite some time, and that means there's surely more havoc to come.
Oklahoma City is a long way away, but those hoping to get there know the importance of a fast start to the season.
As the year gets going, here's a schedule of the upcoming matchups that'll be on FloSoftball.
Here's a look at five major takeaways from the week of college softball that was, with games featuring some of the biggest names and programs streamed live on FloSoftball.
Baylor's Perfect Weekend Sees History Made – In Two Ways
No team in college softball has had a better past few days than Baylor, and though there were plenty of big wins across the sport's landscape over the weekend, the Bears had two defining moments that showcased why their 8-1 start is to be taken very, very seriously.
First, Baylor kicked off its run at the Getterman Classic in Waco with a 3-0 victory Friday over Stephen F. Austin, a result that will be immortalized in the program's history, after junior pitcher Dariana Orme threw the Bears' first seven-inning perfect game.
The Californian and 2022 All-Big 12 second-team selection struck out 10 Ladyjacks batters and only had one three-ball count during the entire game. It was a downright dominant display, though even that was overshadowed by what Baylor did two days later.
Sic 'Em Bears 🐻#NCAASoftball x 🎥 @BaylorSoftball pic.twitter.com/DpjMwYY2Bl

— NCAA Softball (@NCAASoftball) February 20, 2023
With two-time defending national champion and No. 1-ranked juggernaut Oklahoma in town for Sunday's Getterman Classic finale, the Bears stunned the Sooners 4-3.
Baylor scored all of its runs in the third inning off All-American Jordy Bahl, with Orme returning to circle to pick up the win. Aliyah Binford followed Orme, allowing two runs on two hits in three innings to hold off OU just long enough to pick up the save.
It was Baylor's first win over a top-ranked team since 2009 and first over the Sooners since 2017. With their only loss thus far this year coming to top-10 Arkansas, the Bears appear to be for real.
UCLA Picks Up Two Top-10 Wins In One Day, Stays Unbeaten
While Oklahoma had its first misstep of the season, No. 2-ranked UCLA kept chugging along.
The Bruins got through a five-game gauntlet at the TaxAct Clearwater Invitational unscathed to close the second week of the season at 12-0.
A six-inning win over Nebraska on Thursday was followed by a solid 5-3 victory over a ranked Alabama squad Friday, but the Bruins' super Saturday performances were when they really made a statement to the rest of the country.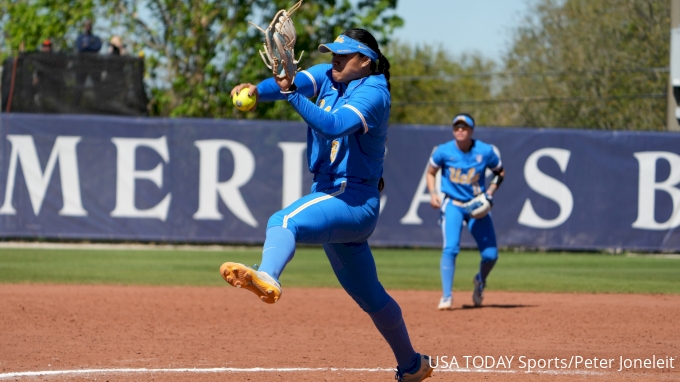 UCLA opened the morning on the East Coast by taking down No. 6 Florida State 6-4 behind ace Megan Faraimo's nine strikeouts over 5 2/3 innings, then beat No. 8 Virginia Tech 8-4 just a few hours later – jump-started by a six-run first inning – to notch victories over two top-10 teams on the same day for the first time since April 2021.
A final win over Louisiana on Sunday closed UCLA's weekend in style, and considering that the Bruins are going to face a trio of opponents that made last year's Women's College World Series (Oklahoma, Florida and Northwestern) at this week's Mary Nutter Collegiate Classic, any and all momentum heading into one of the country's most stacked early-season tournaments is going to be crucial for UCLA as it attempts to keep its unblemished record going.
Charlotte, Cal State Fullerton Secure Notable Power-Conference Upsets
As of late, Cal State Fullerton has loved beating up on the Southeastern Conference.
After defeating a ranked LSU team in the Tempe Regional last season, the Titans won back-to-back games against members of the league on successive days at the Puerto Vallarta College Challenge this past weekend.
Fullerton's victory Friday against Ole Miss was impressive enough on its own, but an epic 5-4 upset of No. 8 Tennessee the next day was the more eye-opening performance of the two, as the Titans' defense came up clutch, twice robbing the Lady Vols of home runs at the outfield wall.
Four combined runs in the fifth and sixth innings gave Fullerton enough insurance to get its first win over Tennessee since 1999.
📸-A little Puerto Vallarta Photo Dump#TusksUp pic.twitter.com/ezxOoZ89na

— Titans Softball (@Fullerton_SB) February 22, 2023
Meanwhile, on Sunday, another SEC team in Georgia found itself picked apart by a mid-major team – and in its own backyard.
Charlotte upset the No. 13 Bulldogs at the Red & Black Showcase in Athens, 6-5, with the 49ers scoring four runs in the top of the seventh inning and outlasting a Dawgs charge in the bottom half to escape with Charlotte's highest-ranked road win in program history.
The 49ers have never made the NCAA Tournament, but as they now possess two wins over top-10 teams in consecutive seasons (Charlotte defeated then-No. 6 Virginia Tech last year), perhaps it's time to consider coach Ashley Chastain's team as one on the rise in the mid-major ranks.
Big-Time Bats Behind Texas Tech's Hot Start
Across 49 games in 2022, Texas Tech softball had a grand total of 36 home runs. Across 11 games in 2023, Texas Tech softball has 23 home runs. That's quite the improvement.
The Red Raiders being the national leaders in long bombs after two weeks probably was not a prediction many had before games got under way, but alas, even while adjusting to a new coach in Craig Snider, Tech is slugging away. Six players have three homers or more.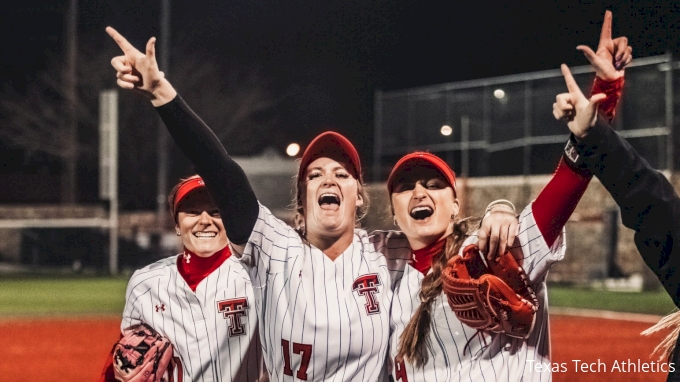 That power is the driving force behind the Red Raiders' 9-2 start to the year, with a single-game program-record of six home runs coming in a 16-14 shootout win over Santa Clara on Sunday to close Tech's six-game winning streak at the tournament hosted by UTEP.
The main caveat to the Red Raiders' start is that they haven't yet played a team that made last season's NCAA Tournament. But with players such as freshman catcher/outfielder Kailey Wyckoff (.550 average, four home runs) and Texas A&M transfer Makinzy Herzog (.395, three home runs) injecting life as new additions into the Tech lineup, there's a new look in Lubbock that likely is getting attention from the rest of the Big 12 Conference.
After Slow Start To 2023, Alabama Has Strong Weekend In Clearwater
Last week, the No. 15 Crimson Tide made headlines for the wrong reasons, after Lehigh shocked the 13-time WCWS qualifiers on opening day.
Since that slip-up, though, 'Bama has done just about everything else right in response.
Coach Patrick Murphy's program has gone 6-1 since, with its only defeat in that stretch coming at the hands of an elite UCLA squad.
Alabama picked up a trio of wins against ranked teams this past week at the Clearwater Invitational. That included victories over No. 16 Duke and No. 20 UCF, with the latter coming via a walk-off, no less.
That's how you break up a perfect game!💪@CahalanKenleigh

📺ESPN | https://t.co/Bdz0cKzgBP#Team27 #RollTide pic.twitter.com/7Oi8v7kqYO

— Alabama Softball (@AlabamaSB) February 19, 2023
Those wins came on each side of the loss to the Bruins (and a run-ruled, 10-0 shutout of Indiana followed) but Alabama's finale in Clearwater – a game against No. 7 Florida State – was exactly the type of defining early-season nonconference triumph it needed.
A pair of solo homers from Kenleigh Cahalan and Bailey Dowling in the fourth inning helped ace Montana Fouts outduel Seminole star Kathryn Sandercock on the mound in a 2-1 win, allowing 'Bama to get back on track in a big way.
Straight Yeeted💣@DowlingBailey

📺ESPN | https://t.co/Bdz0cKzOrn#Team27 #RollTide pic.twitter.com/BQp1v7JzDO

— Alabama Softball (@AlabamaSB) February 19, 2023
An easier chunk of the nonconference slate awaits, before a trip to face WCWS finalist Texas starts March 10. The Tide will play the Longhorns twice, along with Texas State and Wisconsin, over the course of three days.