2023 Mary Nutter Collegiate Classic
UCLA Softball Pitcher Megan Faraimo: What To Know About The Bruins Star
UCLA Softball Pitcher Megan Faraimo: What To Know About The Bruins Star
Megan Faraimo could very likely be on the mound when UCLA and OU face off at the Mary Nutter Collegiate Classic's final day on Feb. 26.
Jan 31, 2023
by Joe Harrington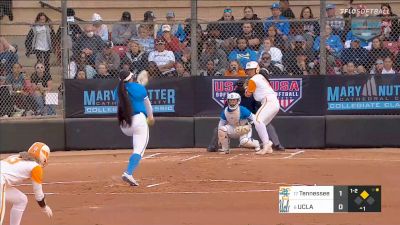 No team came closer to ending the Oklahoma Sooners 2022 softball season than UCLA at the Women's College World Series, and the Bruins enter 2023 as the Sooners' biggest threat to a three-peat.
While OU Softball is trying to join UCLA as the only program in the sport to win three consecutive championships, the Bruins are trying to reclaim the title for the first time since 2019.
And with pitcher Megan Faraimo back on the mound, the Bruins certainly have a chance at doing that.
Faraimo is one of three Bruins named to the USA Softball Player of the Year watch list. After being a top 10 finalist in 2021 and a top 25 finalist in 2022, the fifth-year senior and reigning Pac-12 Pitcher of the Year could be one of the biggest challengers to preseason favorite Taire Jennings of Oklahoma.
Here's what to know about Megan Faraimo.
Megan Faraimo Is Climbing Up The UCLA Softball All-Time Record Book
Thanks to the COVID-19 changes, Faraimo was granted a fifth year of eligibility. But had her career ended after last season, she would have still left UCLA seventh on the all-time career strikeout list with 768.
Faraimo is UCLA's single-season record holder for saves with seven last season and became the 17th pitcher in program history to win 50 games. She has the second-most solo perfect games (3) and total perfect games (4) in program history.
Her 292 strikeouts in 2022 were the seventh-most in the country.
Top 50 Watch List For 2023 USA Softball Collegiate Player Of The Year
Mary Nutter Classic's Best Matchups: UCLA, OU Set For WCWS Rematch
What UCLA Softball Records Is Megan Faraimo Close To Breaking?
Faraimo is likely to pass Lisa Fernandez (784) on the all-time strikeout list. Faraimo had 292 strikeouts in 2022, and if she repeats that feat, she would end her career third all-time in program history.
Angelica Selden, who pitched from 2005-2008 for UCLA, had 1,441 strikeouts. That is the second-most in the history of the sport.
Megan Faraimo Is Trying To Win Her Second National Championship At UCLA
Faraimo helped UCLA win the title in 2019 when she was a finalist for Freshman Pitcher of the Year. Faraimo had a 1.41 ERA with a 16-4 record across 114 innings and 142 strikeouts in 2019.
She was named a third team All-American and was the Pac-12 Freshman of the Year.
2023 Pac-12 Softball Preview: Contenders From Top-To-Bottom
WATCH: Megan Faraimo In 2018 Talks About Her Path To UCLA
Megan Faraimo Vs. OU Softball
Faraimo pitched against OU in the 2019 Women's College World Series Game 1 final. She also pitched against OU in the 2022 WCWS, picking up the win during a 7-3 game. That win pushed Oklahoma, at the time 56-2, to the brink of elimination. Faraimo pitched four innings and struck out one while allowing three runs.
Faraimo pitched in relief in the second game, allowing four earned runs in a 15-0 loss.
Faraimo could very likely be on the mound when the two teams face off at the Mary Nutter Collegiate Classic's final day on Feb. 26 at 12:30 p.m. EST.
How To Watch UCLA Softball & Megan Faraimo At Mary Nutter 2023
The 2023 Mary Nutter Collegiate Classic will be streamed on FloSports.
UCLA plays six games at the event and caps it off with a potential No. 1 vs. No. 2 matchup with Oklahoma on the final day.