NCAA
2023 NCAA Softball Tournament: Oklahoma Begins Pursuit Of Three-Peat
2023 NCAA Softball Tournament: Oklahoma Begins Pursuit Of Three-Peat
Top-seeded Oklahoma is after the first Women's College World Series three-peat in more than 30 years, as the 2023 NCAA Softball Tournament gets underway.
May 16, 2023
by Kyle Kensing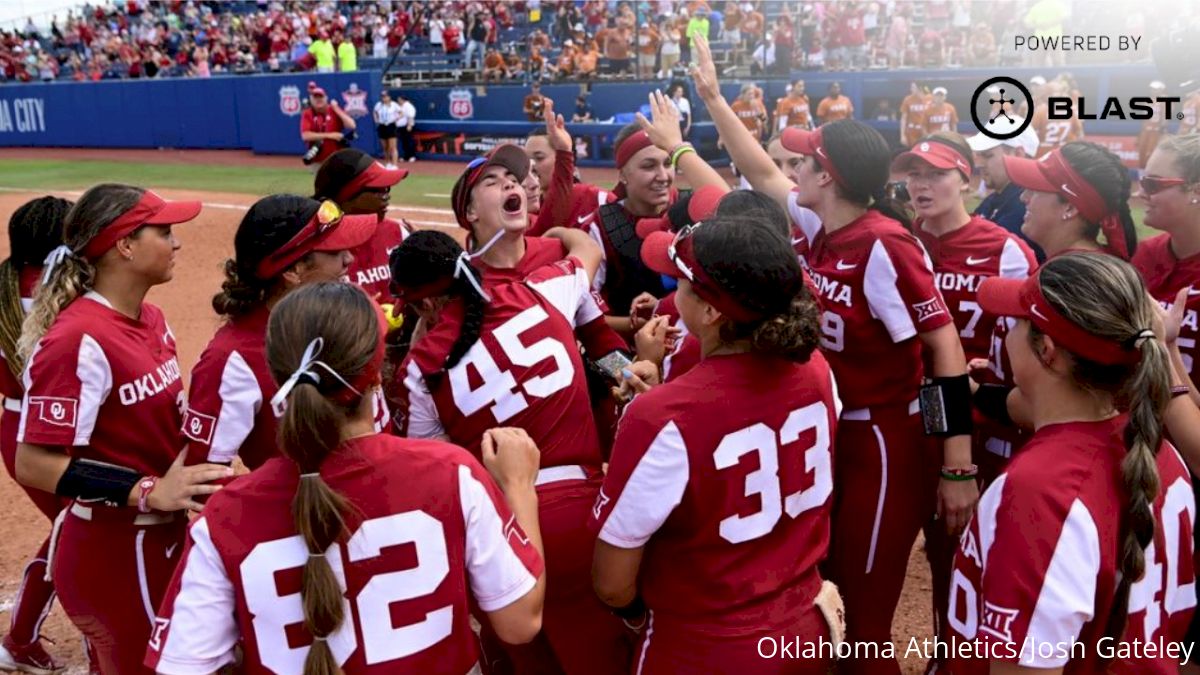 No program before, or since, won three straight national championships after UCLA completed its run of titles from 1988 through 1990.
As the No. 1 overall seed in the 2023 NCAA Softball Tournament, two-time defending champ Oklahoma is positioned to make history.
The Sooners headline the 64-team field, announced May 14. Their chase for another championship also offers a chance at another bit of history: This Oklahoma team can finish with the best record of any Women's College World Series winner - ever.
Plenty of challengers looking to derail OU's pursuit of the record book await. The 2023 NCAA Softball Tournament begins May 19.
NORMAN REGIONAL
𝐍𝐨. 𝟏 𝐎𝐯𝐞𝐫𝐚𝐥𝐥 𝐒𝐞𝐞𝐝.

Norman Regional » OU, Hofstra, Missouri and California. #ChampionshipMindset pic.twitter.com/KniEGiet6Y

— Oklahoma Softball (@OU_Softball) May 14, 2023
No. 1 seed Oklahoma brings an astounding 43-game winning streak into the postseason. The Sooners feature the best team batting average (.370) and team ERA (.85) in the nation, thanks in no small part to the efforts of Alyssa Brito at the plate and Nicole May in the circle.
The two standouts only scratch the surface of the talent on Oklahoma's roster, however.
Three squads will look to take down this Goliath in the regional, beginning with the Sooners' first opponent, Hofstra.
The Pride won a pair of dramatic title-round games over Towson in the final round of the Colonial Athletic Association Championship to advance to the NCAA Tournament. They will look to accomplish the unthinkable behind Meghan Giordano, one of the top home-run hitters in the field, with 13 on the season.
Also in the Norman Regional are at-large qualifiers representing two of the strongest softball conferences in the sport: Cal, out of the Pac-12, and the SEC's Missouri Tigers.
CLEMSON REGIONAL
The upstart Clemson softball program will look to make its first Women's College World Series after nearly advancing to Oklahoma City a season ago.
The Tigers host a tough regional that includes Cal State Fullerton, an at-large selection, after the Titans were upset in the Big West Conference tournament.
Cal State Fullerton participated in high-profile events early in the season, including the Mary Nutter Classic, where the Titans scored wins over Oregon, Oregon State and Florida.
Auburn joins Clemson and Cal State Fullerton in the Clemson Regional, as AU looks to bring some of its outstanding home play to a different location. The Tigers finished 26-4 at Auburn during the regular-season, but just 14-13 in games played away from home.
UNC Greensboro is the Clemson Regional's lone automatic bid, having earned the spot with its run through the Southern Conference tournament.
The Spartans lineup includes a pair of dangerous home-run threats in Jessie Shipley and Maycin Brown, each with 11 heading into the postseason. UNCG is one of the top home-run hitting teams in the NCAA Tournament field.
STANFORD REGIONAL
Host Stanford welcomes a pair of fellow California schools, and from the other side of the country, Florida.
The Gators landed an at-large berth, despite a challenging regular season. UF finished below .500 in SEC play and is 4-9 over its most recent stretch coming into the NCAA Tournament.
Still, Florida has the talent across its roster to make a surprise run. It will have to contend with a regional that features Big West Conference automatic qualifier Long Beach State, a team hot at the right time.
LBSU has won eight straight, due in part to the stellar pitching of Shannon Haddad.
Fellow Southern California automatic qualifier Loyola Marymount also is in the regional, and LMU has no shortage of experience against Tournament-quality competition.
The Lions played one of the most challenging nonconference slates in the nation, with matchups against Oklahoma, Baylor, Utah, LSU and a potential regional preview opposite Stanford early in the campaign.
As for the host Cardinal, Stanford is an excellent 19-3 at home on the season. The Cardinal pitching staff features a pair of starters in Alana Vawter and NiJaree Canady, who each have sub-2.00 ERAs — sub-1.00, in Canady's case.
NiJaree Canady's numbers are unreal 🤯 pic.twitter.com/C60Byc5OVi

— Pac-12 Conference (@pac12) May 13, 2023
DURHAM REGIONAL
New to the scene, but not new to winning, Duke has been a success from its debut. The Blue Devils embark on the 2023 NCAA Tournament at the conclusion of their fifth full season seeking a landmark national championship.
They have home-field advantage all the way to Oklahoma City, if results go as expected.
D'Auna Jennings leads Duke in its pursuit of the WCWS, sporting a robust .453 batting average. She's one of six primary Duke hitters with an average better than .300.
Campbell, Charlotte and George Mason each will vie to stop Duke.
Campbell, winner of the Big South Conference championship, sports a 41-16 record coming into the Tournament. Five Camels are hitting .317 or better in at least 120 at-bats, while the duo of Makayla McClain and Tyra Parker have combined for 46 successful steals.
Hearing our name called for a third-straight season 👏👏👏#OnTheClock | #RollHumps 🐪🥎 pic.twitter.com/PVAk8sGOyg

— Campbell Softball (@GoCamelsSB) May 14, 2023
Few teams in the nation have been more prolific in swiping bases than Campbell — but George Mason is one of them. The Patriots have 2.38 steals per game, good for ninth-best in the NCAA. Six of George Mason's batters have stolen at least 10 bases, paced by Rachel Warrens' 31, which is good for 21st among all Division I players.
Charlotte rounds out the Durham Regional with one of the most fearsome batting lineups in the NCAA Tournament. The 49ers hitters have combined for 75 home runs, 37 of which have come from the trio of Ashleigh Washington, Kassidy Krupit and Bailey Vannoy.
TUSCALOOSA REGIONAL
Fifth-seeded Alabama welcomes Central Arkansas, Long Island University and Middle Tennessee State to Tuscaloosa in regional play. At 44-10 on the season, and boasting some impressive wins on its resume, Central Arkansas is one of the most intriguing dark horses this Tournament has to offer.
UCA knocked off Utah and beat Arkansas twice, proving its ability to beat some of the best in the SEC. Starting pitcher Jordan Johnson and Kayla Beaver form one of the most dominant duos in the field.
Host Alabama, meanwhile, features one of this year's leading home-run hitters in Ashley Prange with her 16 round-trippers on the campaign.
Ashley Prange's 16th home run of the season last Friday moved her into the single-season top 10 at Alabama@a_prange #Team27 #RollTide pic.twitter.com/76wairAQcB

— Alabama Softball (@AlabamaSB) May 15, 2023
MTSU arrives in Tuscaloosa with a potent 1-2 punch at the plate - Laura Mealer (.386 batting average, 10 home runs, 51 RBIs) and Amaya Harris (.388 average). Mealer and Shelby Echols have combined for 54 stolen bases.
LIU, winner of the Northeast Conference, heads into the NCAA Tournament with starting pitcher Lindsey Cowans boasting 160 strikeouts on the season, tied for 56th among all Division I pitchers.
EVANSTON REGIONAL
A breakthrough story of the 2022 postseason, Northwestern aims to return to Oklahoma City in 2023.
The Wildcats host a tough regional that includes a Kentucky team with designs on Oklahoma City in its own right, featuring two of the best players in the SEC in Erin Coffel and Kayla Kowalik.
The Wildcats from Lexington will try to best the Wildcats out of Evanston, champions of the Big Ten Conference.
Northwestern pitchers Danielle Williams and Lauren Boyd have ERAs of 2.19 and 2.00 and have combined for 242 strikeouts on the season. NU's Angela Zdeka, meanwhile, has hit 11 home runs to pace the Northwestern offense.
The Evanston Regional includes another standout home-run hitter — one of the best in the nation, in fact — in Miami's Karli Spaid. Spaid's 21 homers in the regular season ranked third in all of Division I. Right behind her, with 17 apiece, are Allie Cummins and 2023 Mid-American Conference Player of the Year, Jenna Golembiewski.
🎥: Miami 3B Karli Spaid (2-4, 2-run HR) discusses how she's found success at the plate so far this week@MiamiOH_SB | #MACtion pic.twitter.com/kGIFNLMcb4

— #MACtion (@MACSports) May 12, 2023
Rounding out the field in the Evanston Regional is Ohio Valley Conference champion Eastern Illinois and OVC Pitcher of the Year Olivia Price.
AUSTIN REGIONAL
Last season's national runner-up, Texas, returns to the postseason, but it's a tough road between Austin and Oklahoma City for the Longhorns.
Texas brings plenty of firepower into the NCAA Tournament, including .390 hitters Mia Scott and Ashton Maloney and a quartet of pitchers with ERAs less than 2.70: Citaly Gutierrez, Mac Morgan, Sophia Simpson and Estelle Czech.
But Texas isn't the only loaded lineup in the Austin Regional.
Seton Hall won the BIG EAST behind a balanced batting order with five Pirates boasting 31 or more RBIs and a quartet of hitters with averages of .333 or better — among them, Kelsey Carr, who is also an electrifying starting pitcher.
Seton Hall is the regional's lone participant from outside of the Lone Star State. The Pirates join host Texas, longtime Longhorns rival Texas A&M and Texas State out of the Sun Belt.
Texas State, making the short trip to Austin from San Marcos, earned an at-large bid. The Bobcats lean on ace pitcher Jessica Mullins, who has a 1.94 ERA and 164 strikeouts on the season.
Texas A&M's pitching trio of Shaylee Ackerman, Emily Leavitt and Emiley Kennedy, meanwhile, come into Austin with 275 combined strikeouts on the season. Julia Cotrrill, a first-team All-SEC honoree, leads the Aggies with a 3.54 batting average and 43 RBIs, including 10 home runs.
KNOXVILLE REGIONAL
SEC Tournament champion Tennessee earned a No. 4 overall seed with its impressive showing in Fayetteville last week. Kiki Milloy has been nothing short of sensational throughout the season, sporting a .421 batting average with 23 home runs, most in the nation.
All-SEC first-teamer Kiki Milloy has more home runs (23) than 118 Division I teams this season. pic.twitter.com/xwX84wyjXT

— Tennessee Stats & Info (@Vol_Stats) May 13, 2023
Tennessee also features the nation's leader in ERA, Ashley Rogers. Rogers' astounding 0.70 ERA over 119 1/3 innings of work has produced a 16-1 record for the Lady Vols ace. Tennessee doesn't lose anything from No. 2 starter, Payton Gottshall, who is 13-1 with a 1.70 ERA and has 109 strikeouts in 86 2/3 innings.
The Knoxville Regional also features Indiana and the nation's second-most prolific home-run hitter, Taryn Kern, the 2023 Big Ten Player of the Year, and Louisville, with Taylor Roby. Roby's 22 homers heading into the postseason match Kern for second nationally.
Northern Kentucky rounds out the Knoxville Regional. The Norse completed a dark-horse run to the Horizon League championship.
LOS ANGELES REGIONAL
No. 2 overall seed UCLA powered through a 52-win regular season and nearly swept the Pac-12 Conference awards. The Bruins dugout features Pac-12 Player of the Year Maya Brady, Pitcher of the Year Megan Faraimo, Rookie of the Year Jordan Woolery and Coach of the Year Kelly Inouye-Perez.
After loading up the trophy case in the regular season, UCLA looks to add more by bookending Oklahoma's national championship run. The Bruins won the 2019 WCWS, marking the last time a program other than OU claimed the top prize.
That journey begins with a regional featuring Grand Canyon out of the Western Athletic Conference, San Diego State from the Mountain West and Liberty from the ASUN.
Grand Canyon packs plenty of the punch at the plate with the duo of Kristin Fifield, who has 21 home runs and Ramsay Lopez with 18 home runs.
San Diego State's Mac Barbara has 13 home runs and is one of five Aztecs with a batting average of .313 or better in at least 130 at-bats. SDSU also features Allie Light, a starting pitcher with an ERA of 1.86.
For Liberty, ace Karlie Keeney does much of the work with an astounding 240 1/3 innings to her credit this season.
SALT LAKE CITY REGIONAL
A memorable season for Utah softball reached a crescendo when the Utes won the Pac-12 Conference tournament. That earned Utah the right to host a regional in the program's first NCAA Tournament appearance since 2017.
Utah feeds off one of the most collectively consistent batting orders in the nation, with five Utes sporting batting averages of .338 or better in at least 142 at-bats. Julia Jimenez and Aliya Belarde lead the group at .371 and .393.
Julia Jimenez is HER. 🤩

📺 ESPNU
📱 https://t.co/tR3ssRUCd9#Pac12SB x @Utah_Softball pic.twitter.com/hnS9QmHYbM

— Pac-12 Conference (@pac12) May 13, 2023
Utah faces one of the most potentially treacherous regionals in the tournament field, thanks to the presence of power-conference at-large qualifiers Baylor and Ole Miss from the Big 12 and SEC.
Ole Miss' Tate Whitley was named to the SEC All-Defensive Team, and her .326 batting average is tops on the team.
Baylor features two of the top pitchers in the NCAA Tournament, RyLee Crandall and Dariana Orme, both of whom earned All-Big 12 recognition.
Rounding out the Salt Lake Regional, Missouri Valley Conference champion Southern Illinois went 36-18 in the regular season with a strong overall batting order that includes home run-hitting standout Jackie Lis. Lis has 17 round-trippers in 2023.
BATON ROUGE REGIONAL
One of the top defensive teams in the country, LSU, hosts Prairie View A&M, Omaha and Louisiana in the Baton Rouge Regional.
LSU's lineup accounts for almost half of the entire SEC All-Defensive Team: Raeleen Gutierrez at first base, Taylor Pleasants at shortstop and Ciara Briggs and McKenzie Redoutey in the outfield. The Tigers also have four primary batters with averages of .331 or better.
Looking to topple the hosts is a group headed by a dangerous Louisiana team.
The Ragin' Cajuns have a 46-13 record and are winners in 12 straight coming into the NCAA Tournament. ULL has wins this season over LSU, as well as fellow Tournament teams Indiana, Ole Miss and Florida.
Karly Heath and Lauren Allred have combined for 26 home runs, and both are among four ULL hitters producing at .360 or better averages.
Louisiana's first opponent in Baton Rouge, Omaha, earned an at-large bid, after falling short in the Summit League Championship. Ace pitcher Kamryn Meyer has been outstanding for the Mavericks with a 1.47 ERA and 266 strikeouts — good for fifth nationally.
SWAC champion PVAMU dominated conference play at 22-2 with a corps featuring the league's Rookie of the Year, Aerin Talley and All-Conference honorees Biviana Figueroa, Cailin Massey and Mia Nunez.
SEATTLE REGIONAL
Washington's Baylee Klingler did not replicate last year's Pac-12 Triple Crown, but not for lack of effort. The Huskies veteran leads the No. 7-seeded UW into the NCAA Tournament sporting eye-popping numbers of a .406 batting average, 44 RBIs and 11 home runs.
Along with pitcher Ruby Meylan, Washington has the leadership necessary for a run to Oklahoma City. Standing in the Huskies' way is a contingent of Minnesota, McNeese and Northern Colorado.
Minnesota rides the arm of the Big Ten Pitcher of the Year, Autumn Pease. Pease went 26-7 in the regular season with a 1.45 ERA, an opponent batting average of .190 and a whopping 256 strikeouts.
McNeese features its own impressive pitching with starters, Whitney Tate and Ashley Vallejo, sporting ERAs of 2.19 and 1.35,respectively, in 150 and 131 innings of work. Offensively, McNeese complements its strong starting pitching with effective small ball, producing 140 stolen bases on the season.
Northern Colorado, champion of the Big Sky Conference, has won nine of its last 10 ahead of the NCAA Tournament. Alyssa Wenzel's .373 batting leads the upset-minded Bears.
STILLWATER REGIONAL
Oklahoma State aims to stay close to home in the coming weeks with a trip to Oklahoma City. The Cowgirls are at home for as long as they remain in the NCAA Tournament, holding the No. 6 seed, after a 41-14 regular season.
First-team All-Big 12 honorees Rachel Becker and Kelly Maxwell lead Oklahoma State. Becker' .457 batting average ranks sixth among all Division I players, and Maxwell boasts a 1.89 ERA with 197 strikeouts over 122 innings pitched.
The Cowgirls welcome Nebraska, Wichita State and UMBC to Stillwater for the regional.
With a trio of All-Big Ten first-teamers - Billie Andrews, Brooke Andrews and Katelyn Caneda - Nebraska is an intriguing upset candidate to watch. Billie Andrews hit 15 home runs in the regular season, while freshman Caneda hit a team-leading .373.
But if there's an even more intriguing upset pick from the Stillwater Regional, it's Wichita State - in part because the Shockers already have proven capable of beating its fellow Tournament teams. Wichita State took two from both Minnesota and Oklahoma State in the regular season, along with wins over Arkansas, Omaha, Texas State and Northern Colorado.
Put on your dancing s̶h̶o̶e̶s̶ boots, it's time to go to work.@NCAASoftball x #SelectionSunday pic.twitter.com/XVWteWFb7D

— Wichita State Softball (@GoShockersSB) May 14, 2023
Sydney McKinney, the nation's leader in batting average at a staggering .519, paces a dangerous Wichita State batting order that also features home-run hitters Addison Barnard (14 home runs) and Zoe Jones (13 home runs).
UMBC rounds out the Stillwater Regional after winning the America East Conference title. Pitchers Courtney Coppersmith and Kya Matter come into the NCAA Tournament each with sub-2.00 ERAs.
FAYETTEVILLE REGIONAL
Arkansas is one of five SEC representatives hosting a regional after a 38-win regular season.
The Razorbacks went to extra innings in two of their last three games, a testament to the conference's all-around gauntlet. And, from that gauntlet, Chenise Delce, Hannah Camenzind, Kristian Foreman, Cylie Halvorson, Rylin Hedgecock and Reagan Johnson all emerged as All-SEC honorees.
Delce, the team's sole first-team selection, heads into the postseason with a 1.86 ERA and 183 strikeouts. At the plate, Hedgecock is one of the Tournament's most dangerous long-ball hitters with 20 home runs on the season.
The Razorbacks welcome a stacked field to the Fayetteville Regional with Oregon out of the Pac-12, Notre Dame from the ACC and Ivy League champion Harvard.
Karin Gaskins and Joley Mitchell both earned first-team All-ACC recognition for Notre Dame, combining to hit 24 home runs. With Lexi Orozco adding another 14, the Fighting Irish have no shortage of power at the plate.
Oregon offers its own home-run power to the Fayetteville Regional with Allee Bunker, a near-.400 hitter in the regular season, boasting 10 on the season; and Terra McGowan, who knocked out 12 in the regular season.
The Ivy League's Harvard Crimson produced the conference's top newcomer in Riley Flynn and a quartet of first-team All-League selections - Madi Mays, Trina Hoang, Megan Welsh and Finley Payne.
ATHENS REGIONAL
Georgia landed the No. 14 seed and regional-hosting duties, but the Bulldogs face a tall task defending their home field with an excellent Virginia Tech team coming to Athens.
The Hokies nearly reached the WCWS a season ago with a lineup largely in tact this year.
Four Hokies — Kelsey Brown, Emma Lemley, Bre Peck and Emma Ritter — earned second-team All-ACC recognition, with both Peck and Ritter playing key roles in Virginia Tech boasting the nation's second-most prolific home run-per-game average. Only Oklahoma hit more than Tech's 1.76 per game.
Virginia Tech owes its overall home-run hitting to five batters knocking out 10-plus, making this lineup a real difficult one to pitch to.
Georgia will aim to solve the Hokies lineup with a pair of outstanding starting pitchers in Shelby Walters and Madison Kerpics. The two shared duties throughout the season, without the Bulldogs missing a beat no matter who was in the circle.
Walters heads into the postseason with a 1.36 ERA, while Kerpics has an ERA of 2.40 with 130 strikeouts over 137 innings of work.
The Athens Regional also features MEAC champion North Carolina Central, which emerged through the conference tournament, and a Boston University team with 51 regular-season wins.
Boston U's Kayla Roncin is one of the Tournament's most consistent hitters with a .429 batting average, and she leads a contingent of six Terriers with at least 104 at-bats to hit .308 or better.
The @PatriotLeague Player of the Year is @TerrierSoftball's Kayla Roncin.@NCAASoftball @espnW @BU_Tweets pic.twitter.com/cyoiDarqOg

— Patriot League on ESPN (@PatriotLeagueTV) May 9, 2023
TALLAHASSEE REGIONAL
ACC Pitcher of the Year Kathryn Sandercock ranks among the most electrifying starters the 2023 NCAA Tournament has to offer. Sandercock, with a 1.16 ERA and opponent batting average of .176 through 151 innings pitched, leads No. 3 overall seed Florida State into a postseason that begins with FSU hosting its ninth straight regional.
The Seminoles' bid for the WCWS begins with a matchup against MAAC champion Marist.
The Red Foxes won four straight in the conference tournament to climb over .500 on the season and earn the automatic bid. Maddie Pleasants, a .344 hitter for Marist, has nine home runs on the season.
The Tallahassee Regional also features South Carolina out of the SEC and UCF from the American.
UCF played a challenging nonconference schedule, which prepared the Knights for a run through the AAC Tournament en route to the NCAA Tournament berth.
Sarah Willis, 18-3 on the season with a 1.88 ERA, paces UCF from the circle.
South Carolina will try to get its bats going when it opens the regional opposite the Knights. Brooke Blankenship at .313 is South Carolina's sole hitter with more than 100 at-bats to produce at an above-.300 clip.