Hot 100 2016s: #10-1
Hot 100 2016s: #10-1
Pictured: Miranda Elish, the Oregon-bound pitcher who plays for the Beverly BanditsWe conclude our look at the top 100 players in the 2016 class after spotl
Oct 30, 2015
by Brentt Eads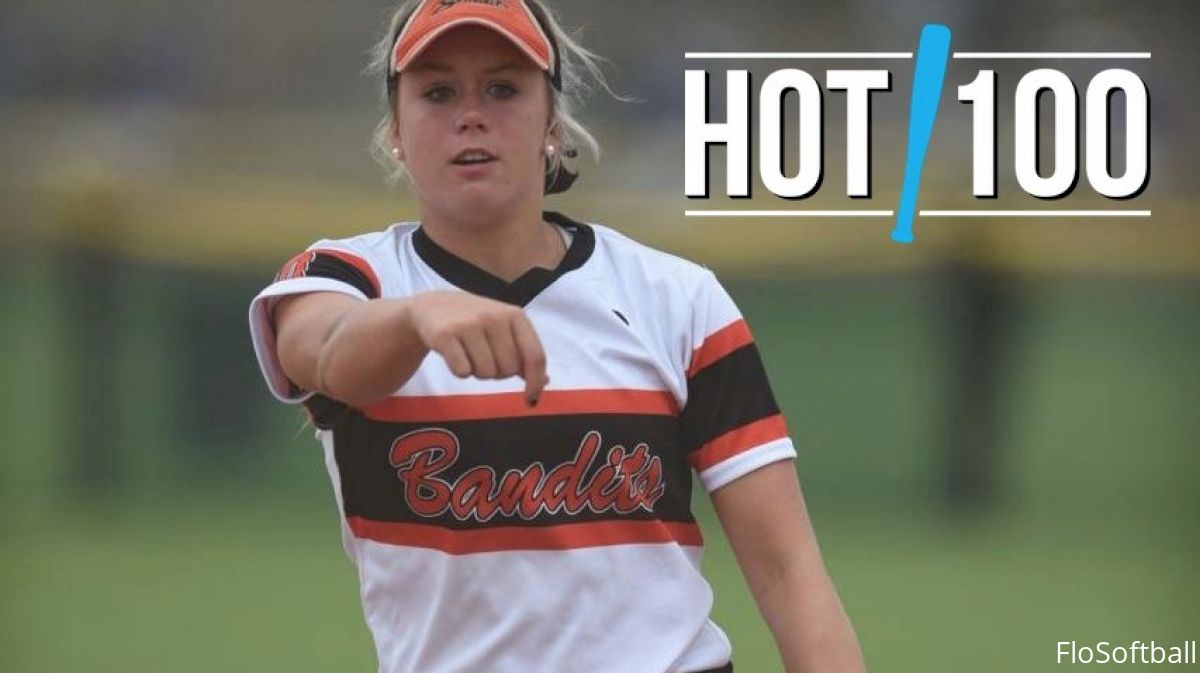 Unlock this article, live events, and more with a subscription!
Get Started
Already a subscriber? Log In
Pictured: Miranda Elish, the Oregon-bound pitcher who plays for the Beverly Bandits

We conclude our look at the top 100 players in the 2016 class after spotlighting 10 prospects each day for the last two weeks as part of our countdown from No. 100 to No. 1.
Today, we wrap up those who make the Top 10 on the list!
The current seniors were chosen based on input and feedback from college and club coaches. Criteria for choosing and ranking the players includes
performances at the club and high school levels and projecting how they will play at the collegiate level.
Here are the players ranked No. 10 through the top spot and includes standout players ranging from every part of the country — California, Indiana, Texas, and Pennsylvania!
Check out more of 2016's HOT 100:
100-91, 90-81
, 80-71, 70-61, 60-51, 50-41, 40-31
, 30-21
,
20-11

No

Player

Position

Club

College

10


Alyssa Barrera


OF/2B


Firecrackers - Rico

Utah






Alyssa is a player who has really upped her game over the last year to the point that many club and college coaches speak highly of her as one of the elite players. Why? The word "professional" came up in several conversations, as she's a professional-minded hitter in her approach to an at-bat. She hit .427 with 30 RBI at the high school level as a skilled batter who uses the entire field, but her success is based as much, if not more, on the intangibles she brings to a team. The results are evident in that she has won two National Championships including one two years ago on the Team Mizuno-Campbell team that won the PGF 14U Nationals. The other word that kept coming up is "presence," meaning she sets the tone for how her teams will do.
9


Mariah Lopez

P


OC Batbusters - Haning/Stith


Oklahoma






Perhaps the most controversial placement of this Hot 100 is moving Mariah down from the No. 1 spot which she rightfully received last year, but the reason is simple: injuries. The power pitcher got dinged in high school last spring which continued into the summer even though she was part of the OC Batbusters team that won the PGF 18U Nationals. Can she move up as high as the top spot when she's healthy? Absolutely, but like anything in sports it will have to be earned. Still, when she's on top of her game, Mariah is a franchise player who is tough and competitive with an unmatched desire to win. An intimidating presence on the mound, she has a great variety of pitches including a mid 60s fastball that is made even better by tough off-speed pitches and a screwball that can be unhittable. Before getting hurt, the So Cal hurler had limited opponents to a .193 batting average this spring; the previous year she was 15-2 with a 0.59 ERA and 170 K's in 94 2/3 innings.
8


Mackenzie Boesel

SS


So Cal A's - Richardson

South Carolina






Mackenzie, nicknamed "Mac," is a steady three-year starter for the powerhouse So Cal A's and has grown into a senior leader who consistently is solid in all areas of her game. A heady player who controls the defense and has great athletic skills, Mac once was solely a slapper but now can can hit with power and a high average. She hit .462 with 37 RBI for her So Cal high school team to earn 1st Team All-Orange County honors and has such a good eye that she only struck out two times in 113 plate appearances. Tough and a leader by example, she played for a month as a sophomore with a broken finger and led her team in almost every offensive category. Because she's so good in so many areas, look for the Gamecocks to find a spot for her somewhere in the line-up early in her freshman year.
7

Hannah Edwards

OF


PA Chaos
Pittsburgh






A 1st Team FloSoftball All-American this year, Hannah is a game-changer in so many ways. She's a dangerous lefty slapper with great speed (2.60-2.65 home-to-first) and destroys opponents in the short game as she can bunt, chop or soft slap. Hannah already holds the Keystone State career steal record with 140 steals and still has a year yet to go. She set the single-season mark with 57 thefts this year and put herself into a position to do so with a .687 batting average and .726 on-base percentage. The three-time All-State pick also only struck out once in 95 at-bats. A great all-around athlete, she's also a standout field hockey player and has earned All-Area honors in that sport, but her skills in softball make her one of the most exciting players in the game at her level.
6

Shannon Rhodes

3B/SS


Texas Glory

Oregon






One coach put it best about Shannon, a standout infielder with pop in the bat: "You can't say enough about this kid." The Texan batted .485 as a junior with 11 home runs and also stole 28 bases to earn 1st Team All-District and 1st Team Dallas-Ft. Worth All-Metroplex honors as well. A steadying force on the left side of the infield, she has a solid glove and an excellent arm. Her strength, though, may be her leadership and work ethic which inspires her teammates to elevate their game. Shannon was playing in high-level national 16U tournaments in the 7th and 8th grade when she first drew the attention of Oregon and major colleges in every big conference. Her physical tools were so apparent, she could have named where she wanted to go.
5

Dejah Mulipola

C


OC Batbusters - Haning/Stith


Arizona






Dejah's strength had always been her defense as she has a great release and strong arm, but her bat has come around to make her one of the very elite backstops in the nation. Dejah has benefitted from being coached at the club and high school levels by one of the best catching coaches in the nation, Mark Campbell, and scouts rave about how solid Dejah is behind the plate. Said one coach, "She's such a rock, she could catch 100 games in one day and be as good in the 100th as she was in the first." The So Cal senior earned 1st Team All-Orange County honors at the prep level and was a major force for the National Champion OC Batbusters – Haning/Stitch team that won PGF 18U Nationals. Splitting time with current Washington freshman Morganne Flores, Dejah was lights out at Nationals, hitting .450 in seven games and led the team with nine RBI and behind the plate had 62 put-outs and four assists with no errors.
4

Maggie Balint

P


PA Chaos


Oregon






No one in the 2016 class has had more of a meteoric rise over the last year than Maggie who repeated as the Pennsylvania Gatorade Player of the Year, but it was her dominance at club ball play that rose her to the top. She helped the Chaos make it to the Boulder IDT finals and in the prestigious event went 10-1 (only loss was to the champion Beverly Bandits) with 65 K's in 49 innings and only eight earned runs in the 11 games. The 5-10 senior also played with the Chaos 23U team at the Women's World Series in July and against a loaded VA Legends 23U team that included Haley Fagan (Auburn) and Sami Fagan (Missouri) she had 7 K's in the game including K's against both sisters. A power pitcher with movement and spins too, she pitched a 2-0 eight-inning win last spring where all 24 outs were by strikeout but her most impressive stats of all may be these: in her career, her high school ERA is 0.60, in club ball it's 0.87.
3

Bailey Hemphill


C


East Cobb Bullets - Schnute

Alabama






Bailey is a franchise catcher, the type you build a program around. She repeated as a FloSports 1st Team All-American and though her Louisiana high school team fell short in trying to three-peat for a Class 4A state title, Bailey did earn All-State honors and her third All-District selection. A fundamentally sound hitter with great mechanics, Bailey can drive the ball to all fields with power (nine HRs) and has a high on-base percentage--.758 last season— in large part because she has a selective eye—she drew 49 walks in 25 games, but of course many were because opposing pitchers were avoiding her like the plague. Two years ago, before word got around how dangerous she was, Bailey hit .630 with 17 homers. Defensively, she has all the skills you'd want as a backstop: a cannon for an arm, great blocking skills and a quick release to nail runners foolish enough to test her.
2

Madilyn Nickles

P/UT


All American Sports Academy

UCLA






Here's all you need to know about Madilyn, or "Bubba" as she's better known: 43 elite softball players were invited to tryout in January for the 2016 USA Softball Women's National Team and Bubba is the only high school player invited… and that's before she takes the field for her senior year of high school ball! Bubba played for the Jr. National Team this year as the only prep player to make that squad and what makes her so coveted is her versatility. She can pitch at an elite level with the ability to play the infield and outfield as well. Last year at the prep level she won 22 games and compiled a 1.18 ERA with 287 K's in 178 innings while batting .526 with eight homers and 46 RBI. Those accomplishments earned her a 1st Team FloSoftball All-American spot and her second year being honored as the Central California Conference MVP. Bubba is the rare player that makes everyone around her better and her leadership skills are equal to her physical tools that include a quick release and strong arm when she's on defense and a short compact stroke that generates massive power when she's at the plate.
1

Miranda Elish

P


Beverly Bandits

Oregon






And then there was one… as in No. 1. Miranda is the epitome of a big game pitcher and the bigger the moment, the more she wants the ball handed to her. She was a 1st Team Flo Softball High School All-American for the second time this year and also captured her second straight Gatorade State Player of the Year award. In her prep career she's gone 58-3 with one loss coming in each of the last three years. A power with pitcher who keeps the ball down and is very effective going inside and out, she's a tough competitor who stays calm, cool and collected no matter how high the stakes. But her success in the circle is just half her game—she's also an outstanding hitter with power as a lefty and she even runs well too. In fact, one elite national club coach says of Miranda, "She is truly exceptional, you have her pegged right. Her offense has developed so much in the past year that she has become a great pitcher and offensive player. She has owned us the last 12 months." Surprisingly, she hit leadoff for her strong Indiana high school team and batted .479 with 32 RBI and 12 doubles. Miranda led the Bandits to the Boulder IDT title this summer, pitching the championship game win, and at PGF Nationals she went 2-1 with a 1.90 ERA and 21 K's against elite competition like the OC Batbusters and So Cal Choppers. Her only loss was an eight inning 3-2 defeat to the Firecrackers-Rico team. And at the plate, Miranda led the Bandits with five RBI in six games. A final note: the No. 1 player for the 2014 Hot 100 was also a Beverly Bandit who chose the Oregon Ducks: infielder Jenna Lilley who had an All-American year as a freshman in 2015 and was a finalist for National Freshman of the Year. Miranda and Jenna are good friends and next fall will be playing together once again as they reunite on the field, this time in Eugene. Duck fans have to hope lightning strikes twice with another Hot 100 No. 1 player switching out the Bandits orange for the Ducks green on the softball field.