2023 Mary Nutter Collegiate Classic
Mary Nutter Collegiate Classic 2023 Schedule include OU Softball, UCLA
Mary Nutter Collegiate Classic 2023 Schedule include OU Softball, UCLA
OU softball and UCLA and six other 2022 Women's College World Series teams will play at the Mary Nutter Collegiate Classic. Here's Mary Nutter schedule
Feb 22, 2023
by Joe Harrington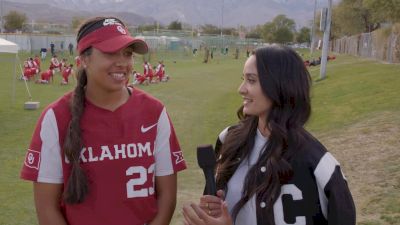 The 2023 college softball season begins in February as teams from across the country will play their first slate of games before conference season begins. Many of those games will take place at preseason events such as the Mark Campbell Collegiate Invitational, the Puerto Vallarta College Challenge and 2023 Candrea Classic.
One of the marquee events in February will feature five of the eight teams who reached the Women's College World Series in 2022, including two teams who many project as the No. 1 and No. 2 entering the season.
The 2023 Mary Nutter Collegiate Classic is from Feb. 23-26. The event features more than 30 teams, including seven Pac 12 teams, four SEC teams, three teams from the Big Ten and three teams from the Big 12.
One of those Big 12 teams is the reigning national champion Oklahoma, the preseason favorite to win the 2023 title, which would be their third in a row.
Here's what to know about the 2023 Mary Nutter Collegiate Classic.
How To Watch 2023 Mary Nutter Collegiate Classic Softball Event
Where Is Mary Nutter 2023?
The Mary Nutter Collegiate Classic is in Cathedral City, California at the Big League Dreams Complex. The complex features five fields:
Pawtucket Field
Fenway Field
Yankee Field
Wrigley Field
Des Moines Field
How Can I Watch the Mary Nutter Tournament? Is Mary Nutter 2023 Streaming?
Yes. The Mary Nutter Collegiate Classic is streaming on FloSports. FloSports is available on streaming platforms such as Roku and Apple TV and the app can also be downloaded on your phone.
Video footage from the event will be archived and stored in a video library for FloSoftball subscribers to watch for the duration of their subscription.
When Does OU Softball Play At Mary Nutter 2023?
Oklahoma, the 10-time defending Big 12 champion who was selected by league coaches as the preseason favorite, will play its first game at Mary Nutter on Feb. 24 against Cal State Fullerton at 3:30 p.m. EST.
Here's the Sooners' full Mary Nutter Schedule:
Friday, Feb. 24:
Oklahoma vs. Cal State Fullerton, 3:30pm ET, Wrigley Field
Oklahoma vs. Texas A&M, 6:00pm, Wrigley Field
Saturday, Feb. 25
Oklahoma vs. Utah, 12:30pm, Wrigley Field
Oklahoma vs Loyola Marymount, 3:00pm , Wrigley Field
Sunday, Feb. 26
UCLA vs. Oklahoma, 12:30pm, Wrigley Field
Megan Faraimo, UCLA Softball Vs. Jordy Bahl, OU Softball: What To Know
The Bruins may be the biggest threat to Oklahoma's three-peat quest in 2023.
UCLA is led by standout pitcher Megan Faraimo, who is 72-13 overall with a 1.45 ERA and 768 career strikeouts entering the season. She was the 2022 Pac-12 Player of the Year.
UCLA hasn't won a national championship since capping its own three-peat in 1990. They are the only program in the sport to do that.
The showdown, played on the final day of the Mary Nutter Classic, is a rematch of a semifinal series in 2022 Women's College World Series. Oklahoma beat UCLA 7-3 and 15-0 in those games.
Oklahoma is led by a star pitcher as well. Two, in fact.
Sophomore Jordy Bahl, who threw a perfect game at last year's Mary Nutter, was the ace for last year's OU team and was 22-1 with 1.09 ERA and 205 strikeouts as a freshman. Oklahoma's other ace is junior Nicole May, who was 15-1 with a 1.30 era in 2022.
While pitching matchups have not been announced, there should be a good chance that Bahl and Faraimo will face off on Feb. 26
SEC Softball: Team-By-Team Preview: Can The Hogs Get To Oklahoma City?
Big Ten Preview: Northwestern Looks For More After WCWS Run
ACC Softball Preview: Upstarts Duke, Clemson Look To Challenge Old Guard
Which Softball Teams Are Playing At Mary Nutter 2023?
The Mary Nutter Collegiate Classic is loaded with some of the best teams in the sport. A recent top 25 ranking by D1 Softball had eight top 25 teams competing in the event, including No. 1 Oklahoma and No. 2 UCLA.
The event also features two more teams that made the top 10 preseason ranking, Florida and Northwestern.
Mary Nutter 2023 Schedule
Here is the complete schedule of games at the Mary Nutter Collegiate Classic. (Updated Wed. Feb. 22)
Feb. 23: Day 1 Of Mary Nutter Classic
Feb. 24: Day 2 Of Mary Nutter Classic
Feb. 25: Day 3 Of Mary Nutter Classic
Feb. 26: Day 4 Of Mary Nutter Classic
Who Is Mary Nutter?
Mary Nutter was an All-American softball player and a pioneer in the sport.
She was a coach at Pittsburgh State and was inducted into the NAIA Hall of Fame in 1988 and the National Fast Pitch Coaches Association Hall of Fame in 1997.
Nutter died in 2012.
2023 Mary Nutter Collegiate Classic is presented by Rawlings