Create a free account to unlock this article!
Get Started
Already a subscriber? Log In
By Tommy Deas
---
She attended college on a basketball scholarship. She had planned on becoming a lawyer when her playing days were over.
So it's something of an oddity that Alyson Habetz ended up being a softball coach. Now 45 years old, she enters her 19th season as an assistant at the University of Alabama.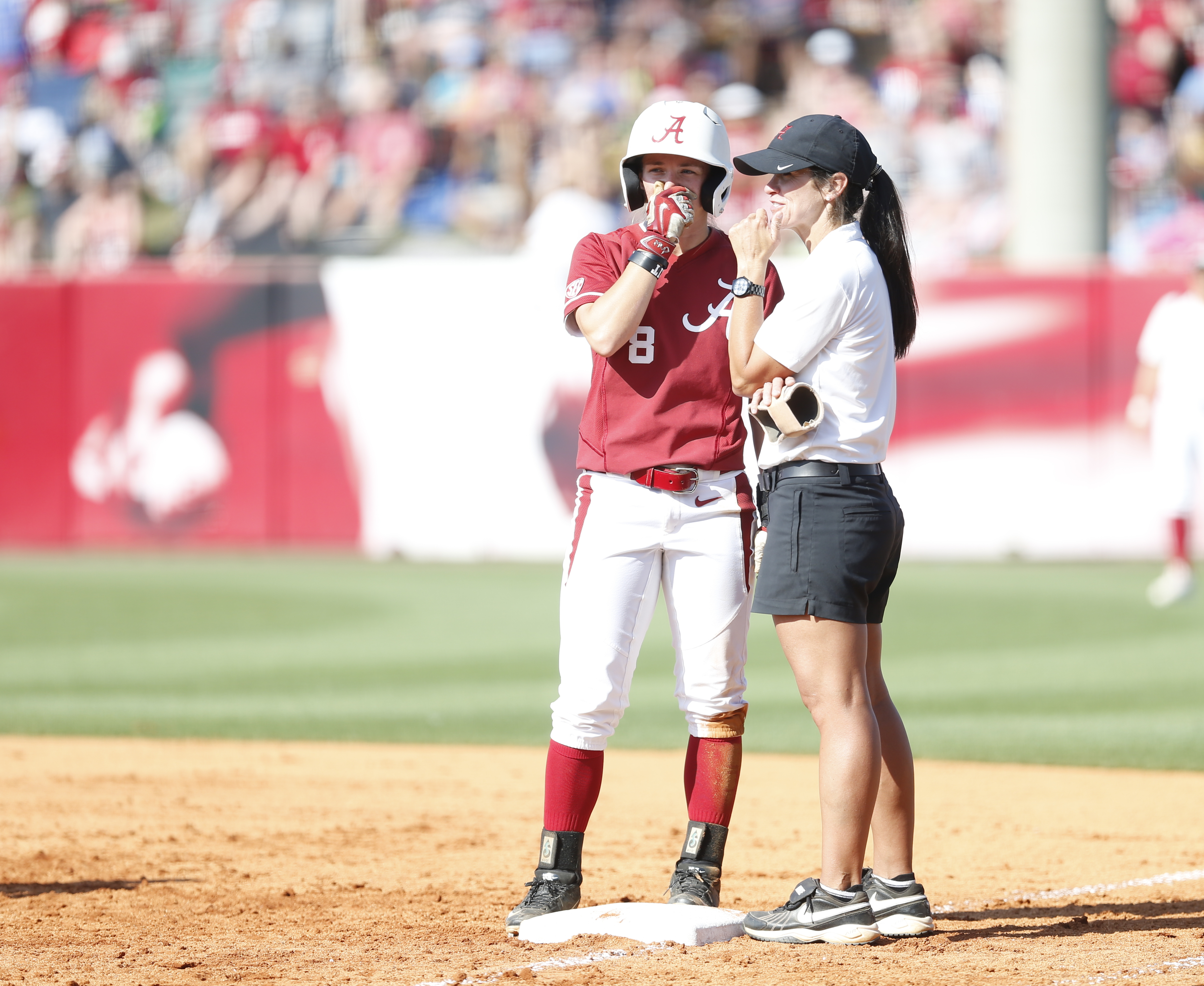 Habetz has been associated with teams that have won one national championship and 10 Southeastern Conference titles, made 11 trips to the Women's College World Series and made 18 consecutive appearances in the NCAA Tournament.
And to think she never set foot on a softball field until she was in college.
Not only that, she has become very possibly the best outfield coach in the sport without ever having played an out on grass in her entire life.
The Other Diamond
Habetz grew up in rural Crowley, Louisiana, about 20 miles west of Lafayette. There was no fastpitch softball youth program. Her athletic interest was elsewhere.
"I had four older brothers," she said. "I'm the youngest of eight. I had a dad who coached baseball, so baseball was the family sport. I fell in love with baseball."
She began playing T-ball at age 7 and came up through the ranks all the way to American Legion ball. Her high school had no fastpitch program. She wanted to play baseball. She discovered that the state high school athletic association had a rule against girls playing on boys teams, so she wasn't allowed to play.
The school's baseball coach and principal asked for a rule change and were denied.
"I was devastated," she said. "I wanted to play for the Dodgers because I met Tommy Lasorda when I was 10 years old." Habetz sued for the right to play. Lasorda provided moral support through letters of encouragement. Eventually, she prevailed.
"After two years, I was able to play baseball," she said. Habetz became a pitcher and first baseman.
Southwestern Louisiana—a school now known as Louisiana-Lafayette—offered her a basketball scholarship. Playing guard, she went on to score more than 1,000 career points for the Ragin' Cajuns.
Discovering Softball
One day in the fall of her freshman year, she was walking to class and discovered something that would change the course of her life.
"I saw what looked like a miniature baseball field," Habetz said. "And I was very intrigued. This is nice."
It was the Southwestern Louisiana softball field. She decided to try out. Head coach Yvette Girouard and her assistant Patrick Murphy had heard there was a young woman on the basketball team who had played baseball. They weren't sure what to expect.
"Both of us were a little leery at first," Murphy recalled.
"I was fortunate to make the team as a walk-on, and the rest is history," Habetz said.
First, however, she had to learn to play the game. Habetz knew she wouldn't be able to make the adjustment to pitching underhanded, so she settled at first base. At her first practice, she lined up deeper than the bag. Way deeper, like a baseball player. The coaches urged her to set up closer to the plate. She took a step forward.
"No," the coaches said. Waving at Habetz, they said, "Come in."
Habetz still didn't understand: "I'm like, bunt coverage, this is nice. And they said, 'No, come in. Even with the bag.'"
She finally figured it out.
But there was more history to come. Habetz went on to earn All-America honors but had to work at the adjustment from baseball, especially as a hitter. Hitting underhanded pitches was different.
Murphy recalled, "She would call me at night and say, 'Will you come pitch to me?' Fortunately, I only lived about five or six minutes from the ballpark. So twice I week I'd meet her and turn on the lights and throw her a couple of buckets of balls."
Defense came more easily.
"It was immediately a natural thing," Murphy said. "She had one of the most natural splits I've ever seen. It's the same game: catch the ball, hit the ball, throw the ball. It's just a little different strategy and positioning."
Pro Ball
Habetz would never get to play for the Dodgers, but she found another way to break into professional baseball. She spent three seasons in the 1990s with the Colorado Silver Bullets—a traveling women's baseball team that played against male all-star and semi-pro teams.
She heard about the club during her senior season of college.
"My uncle called and said, 'Turn on the TV, there's girls baseball,'" Habetz said. She called Lasorda to see what he knew about it. The hall of fame manager called Phil Niekro, the Silver Bullets' coach, and got her a tryout. She landed a spot as a right-handed pitcher.
"We barnstormed the country and played baseball," she said. "It was a dream come true."
She played in Fenway Park, Jacobs Field, Atlanta-Fulton County Stadium, and Kauffman Stadium as the Silver Bullets were often an opening attraction before major league games. She met the likes of Ken Griffey, Cal Ripken Jr., and Mark Grace.
What she didn't get to do was hit. Niekro, the knuckleball-pitching legend, wouldn't go for it.
"Knucksie was old-school," Habetz said. "You pitched, you ran, and you did abs. That's all. We played American League rules. I didn't hit."
Becoming A Coach
Around the time Habetz's baseball career was coming to a close, Murphy accepted a job as an assistant coach at Alabama, a startup program that fielded its first team in 1997. After two seasons, he was promoted to head coach.
He needed someone to fill his spot on the staff. Murphy called Habetz.
"She told me one time that she wanted to motivate people," Murphy said. "I said it's time to hang up the spikes and motivate."
Habetz had other plans but was willing to put them on hold.
Her thought at the time: "Murphy's a good guy. I'll go down there and help him out a couple of years and then I'll go to law school."
Almost two decades later, she still hasn't cracked open a law school textbook.
"Possible career choices, coaching was never on there," she said. "I never realized how fulfilling it could be to help someone else achieve something."
Murphy had seen qualities in her as a player that he thought would translate to coaching.
"When she played, everybody loved her," he said. "She said the right things. She was a really good communicator; she majored in communications."
The Grass Becomes Greener
Outfield was an acquired skill and interest. Neither as a baseball player nor in her four years of collegiate softball had Habetz ever played in the outfield. She was accustomed to first base and pitching. She played on dirt.
Yet Murphy made her the outfield coach. She didn't just embrace it. She attacked it.
"She's very resourceful," Murphy said. "She's going to be the first one to say: 'I'm not sure about that, but I'm going to find out.' And she will do whatever it takes to find out. I knew that was going to be the case with outfield."
Habetz watched videotapes. She called other coaches. She read books. She also sought out sources who were closer at hand.
"I grow as a coach learning from my players," she said. "Just from having a conversation, asking how does that feel, you can learn."
When former UA player Jessica Smith tore her ACL on a pivot, Habetz evaluated how she was teaching and changed the pivot motion to make sure it didn't happen again.
She also drew on her own experiences. She is able to teach the outfield from a different perspective.
"I benefit from being a pitcher in baseball," she explained. "I would set up hitters based on where the defense was, try to throw pitches based on the best probability of where they're going to hit it. You learn from hitters based on their swing. I think I learned a lot of that in baseball."
The Technician
Habetz takes a technical approach to coaching outfielders. At Alabama, outfielders master their pivots and steps and angles to the ball. Habetz teaches shifting and shading to increase those probabilities of being where the ball is going to end up.
When former Alabama player Jennifer Fenton committed, she told Murphy that she had watched a lot of practices on recruiting visits and that Alabama's were different. It's typical to see outfielders running during the infield practice. Crimson Tide outfielders did drills.
Habetz has coached seven All-American outfielders, many of them multiple-time selections. Some of them had never played outfield before arriving at Alabama. Kayla Braud had been a lifetime infielder. She played second base as a freshman. The next year, she moved to the grass.
"I had played shortstop from when I was 6 years old until I was 18," Braud said. "I had no depth perception, no conception of how difficult outfield is."
Habetz had lobbied from the start to get Braud in the outfield, coveting her athleticism.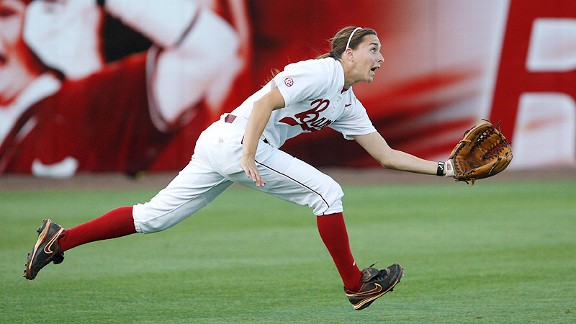 The transition wasn't easy.
"You may only get one ball a game, and a lot's riding on that because there's no one to back you up," Braud said. "I had a lot of fear that a ball was going to be hit to me and I was going to miss it, and it was going to cost us two or three runs and we were going to lose a game."
Habetz taught Braud to focus on probabilities. The outfielder learned how to approach each type of ball off the bat to give herself the best chance of success. High flies, line drives, dying ducks all require different reactions.
The learning curve was lessened by Habetz's commitment to conversation.
"She would ask what's the hardest ball for you to judge," Braud said. "And she would hit you like 100 of those in practice that day."
Habetz also teaches calculated aggression: how to lay out to make highlight-reel catches and how to make a sliding basket catch. Braud became a specialist at the sliding basket catch in foul territory behind third base, using her speed to get in position and her technique to make the out to cut at-bats short.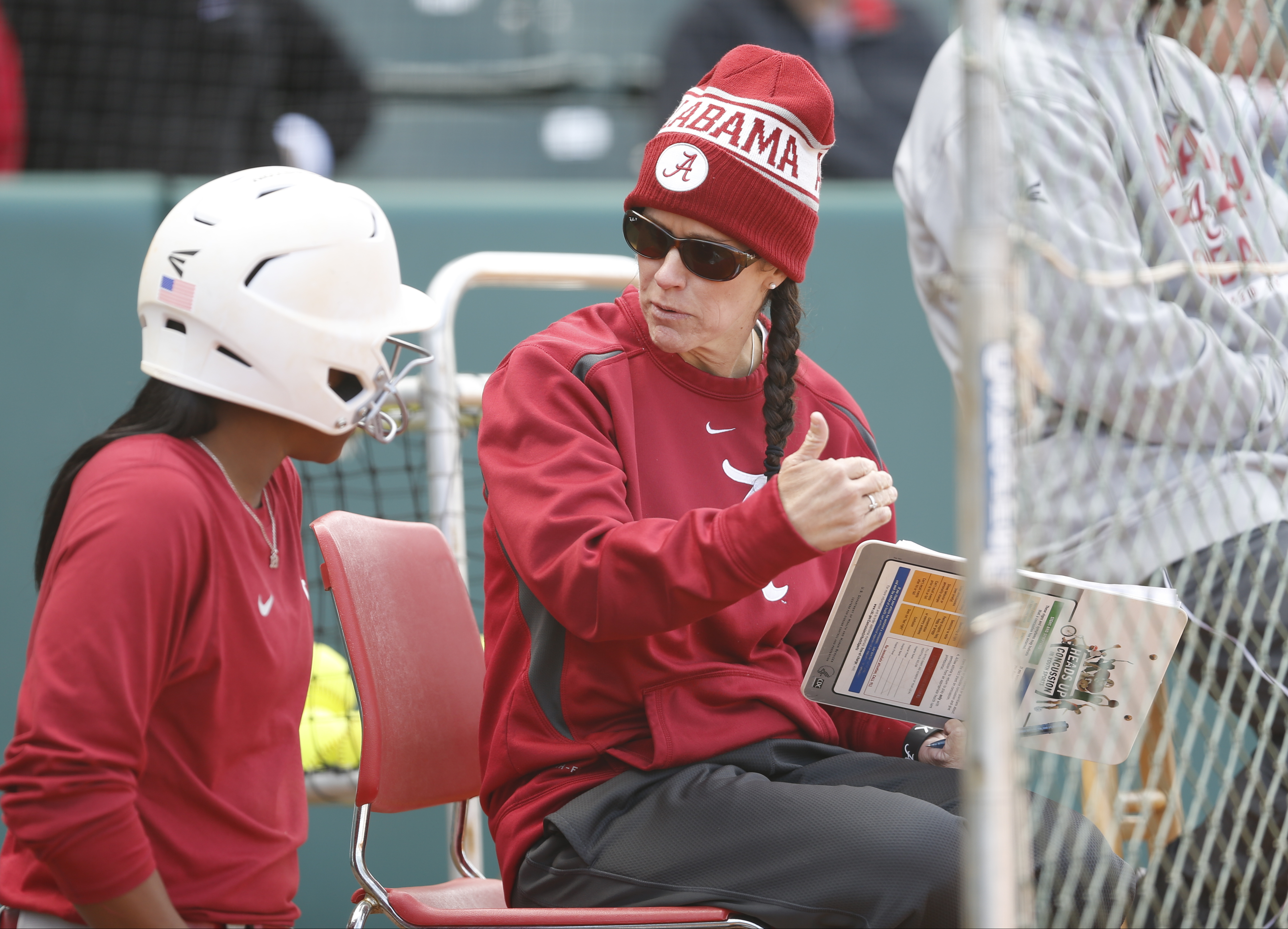 "It's like a figure-four slide," Braud said. "Aly taught us there were two ways to dive, on your stomach or in a sliding position. Basically, it's all about the trajectory of the ball. If it's a high ball you want to dive on your stomach because it's not going to go anywhere. If you slide, you want it to be more of a line drive."
It's not all about fielding. Habetz also drills players on cutoffs and throwing technique.
"I had more of an infield throw, which is a short throw, so we had to change my throwing motion," Braud said. "She's very technical. We work a lot on cutoffs and relays. You think through the situation ahead of time on each pitch so you know who's on base and where."
Murphy is confident that having Habetz gives Alabama an edge.
"Very rarely does one of our outfielders make a wrong turn and get burned. I think with a lot of teams, it's neglected that position. You used to just recruit six shortstops and put three in the infield and three in the outfield. You can see in a hurry who has a good outfield coach and who doesn't put a lot of work into it," Murphy said. "She is the best outfield coach in the country."
When You Learn, You Teach
The softball coach with the baseball background and who dreamt of a career as a lawyer has no regrets about her career choice. And she has grown comfortable with the outfield.
"I love the grass," she said. "I've learned so much. So much ground to cover, there's just so many great plays you can make in the outfield: from robbing a home run to making a diving catch to throwing a runner out at the plate."
The real joy, she has learned, is in teaching.
"To watch their face when they finally get it, or they do it in a game, it's so fulfilling," she said. "The most fulfilling part, too, is oftentimes I find with females especially they don't think they're that good. You don't find many who are cocky, who think they are better than they are. To bring out in them something they never thought they could do is really rewarding."