2019 TC/USA Nationals
Rising Star: Why Jahni Kerr May Be Florida State's Next Phenom
Rising Star: Why Jahni Kerr May Be Florida State's Next Phenom
Florida State-commit Jahni Kerr is the next phenom to enter the Seminoles softball program. Here's why.
Dec 27, 2018
by Todd Grasley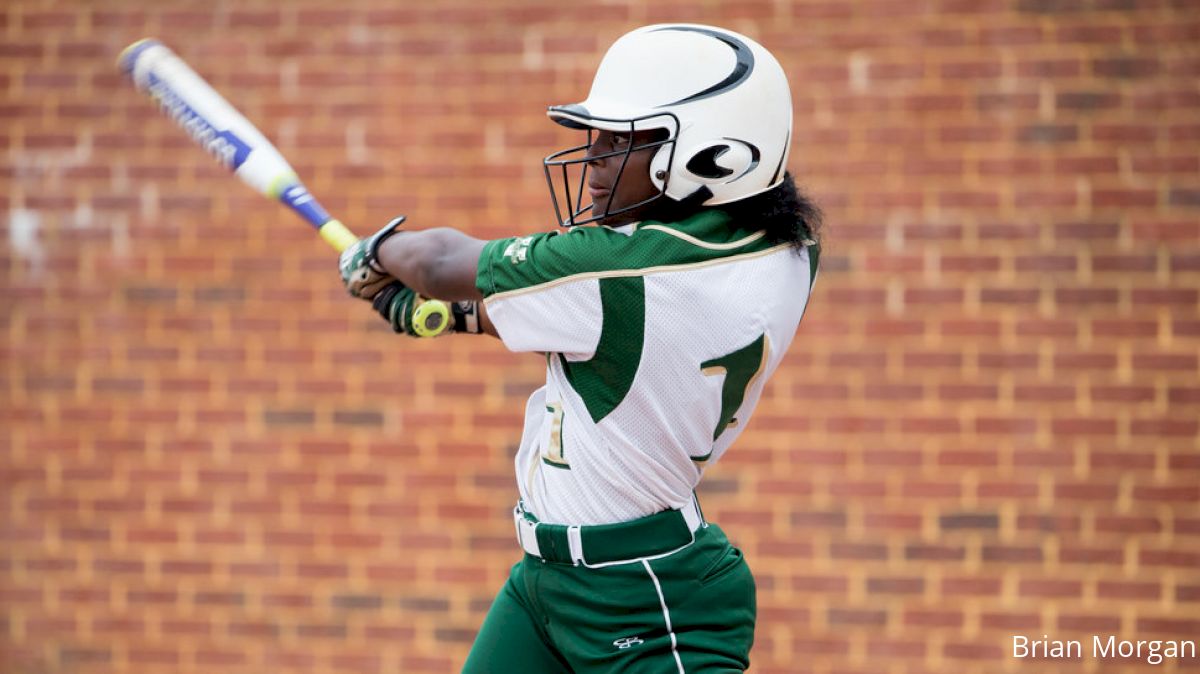 Jahni Kerri is a true rising star in the softball world. Also a track star for Wesleyan High School in Georgia, the Florida State-commit shines brightest on the diamond.
"Jahni is a very special athlete and person," said her club coach Jason Holbrook of the Atlanta Vipers. "She loves competition and is a true gamer. She constantly pushes herself to get better in all aspects of the game and is never satisfied. She wants to be the best."
Kerr remembers spending countless hours at the park when her sister played and helping them out during practices. She admits when she first joined the Vipers she wasn't very good, but over time the coaches pushed and challenged her. 

"I did things I wasn't used to and during practices I worked to fix all of those things to make myself a stronger player and asset to the team," Kerr explained.
Her skill set lies in her speed. During her junior season for the Wesleyan, she batted .596 with 7 home runs, 23 RBIs, 10 doubles, 7 triples, 48 runs scored, a 1.749 OPS, and 35 stolen bases. She led her team to back to back Class A private school state championships.
When she approached the plate, the defense didn't know how to defend the triple threat.
"I don't really even know what I want to do at the plate, but based on how I'm playing the day or that game is usually how I pick what I want to do," she explained. "My speed definitely helps, I like to play with the catchers. A lot of times having fun on the base paths turns into a run for the team which makes it even better."
Holbrook chimed in that Jahni's speed isn't an understatement, she is a rare breed of FAST.

"There are fast kids, but the ones with the instincts, reactions, and speed of Jahni is a rare find," he explained. "She has mastered the drag, slap, and is one of the leading home-run hitters on our travel team as well. On defense, as far as the outfield, my advice is don't hit it out there because chances are you are out!"
That talent was on display at a high school game last season. Kerr turned a triple play.
"The triple play happened so fast," she said. "At first, I thought I wasn't going to get to the ball or I was going to have to lay out. My speed helped a lot because I ended up just having to slide for it. Then I saw Reece jumping at second telling me to throw it, so I threw it and she caught it, then I was screaming 1-1-1."

The combination of raw speed, athletic ability, and defensive prowess, led her to a plethora of college scholarship offers. SEC, ACC and schools from the west coast all vied for her services and a chance to have her on campus for an unofficial visit prior to the rule change. In the end, Kerr chose to stay in the south and commit to the defending WCWS Champs Florida State.
"When I picked Florida State I knew I wanted a school that allowed me to be reasonably close to home and gave me a homey feel," Kerr said. "While visiting camps and games at FSU, just looking around, and seeing how happy all the players were there it was contagious. I wanted to get to experience four years in that type of environment, getting to know and love the people I'll be spending all my time with."
Thanks to everyone that has supported me through the recruiting process. I want to let everyone know that I have committed to FSU!! pic.twitter.com/cgWQbRjibm

— Jahni Kerr Softball (@KerrSoftball) August 19, 2017
Her bond with head coach Lonni Alameda and the rest of the coaching staff was also key. She noted the coaches were so easy to talk to and that the players all had nothing but positive experiences in their time in Tallahassee.
"Coach A is a really genuine person and I was glad to get to know her, from talking with her on and off the field, her smile and positivity is so radiant it's hard not to be happy when you get the chance to talk to her," she explained. "And, her hugs are the BEST! The other coaches are THE BEST, they're so easy to talk to. Learning from the players and the other coaches was so cool to me, and then learning from film was super helpful."
Holbrook knows his pupil will fit in just fine with the reigning champions.
"She loves hard work and competition," he added. "FSU recruits some of the best players In the country and I think Jahni will work to contribute in whatever way she is needed in the program. She will push herself and those around her to compete for the National Championship every year. I think Jahni has a real chance to be an All-American and hopefully hold a few records at FSU."
Jahni Kerr

Position: Outfield


Club: Atlanta Vipers - Holbrook
High School: Wesleyan
Grad Year: 2020
College: Florida State
Current Hot 100 Rank: No. 16
What songs pump you up before games?
I can't really say that I have one. It really depends on the mood for the game.
Do you have a favorite motivational quote?
Luke 6:27-28 "But I say to you who listen: Love your enemies, do what is good to those who hate you, bless those who curse you, pray for those who mistreat you."
What is the best advice anyone has ever given you?
Be patient. Good things come to those who wait.

Do you have any pet peeves or superstitions?
I always wear my visor.
Do you have a favorite memory during your travel ball and/or high school career?
In travel ball, I like getting to travel and spend time with my teammates, If I didn't play travel ball I wouldn't be traveling as much during the summer. During school ball, I enjoy getting to know people in different grades and getting to see them in the halls and say hello. I also grow closer to the coaches and when I have them as teachers as well it makes it easier to ask for help.
For pre-game at State, we played music for warm-ups and during the semifinal game, we came out with our speakers and were hype. We could tell by the looks on the other teams face across the field, that as long as we had love and trust in each other we would come out with the win.
Another moment from school ball was from last year when Reece Holbrook hit the walk-off home-run to win the game for us. Off the bat I knew that was gone, I came out of the dugout screaming and jumping like a crazy person. It was the best feeling ever, I was so happy for her and the way she stepped up when she was just a freshman.
What do you love most about playing outfield?
I love getting to be alone, but also getting to run with all I have just to do my job and help the team out. I also find it fun, all the hype we (as outfielders) get for diving plays, tracking down balls, and robbing home-runs. My travel teammate and I, Aaliyah, love hyping each other up when we rob home-runs and we do fun motions for each out. The bond that us as outfielders have, is one I feel like is so special, and one you'll only know if you play the position.
What do you enjoy outside of softball?
A lot of people don't know that I like to sing and watch basketball. I also like to ride four wheelers and hang out with friends.