Rising Stars: From Club To College Softball
Rising Star: 2022 Catcher Maci Bergeron Is Slugging Her Way To The Top
Rising Star: 2022 Catcher Maci Bergeron Is Slugging Her Way To The Top
The top freshman leading the country in home runs is none other than 2020 No. 1 LSU recruit Maci Bergeron.
Apr 22, 2019
by Christopher Girandola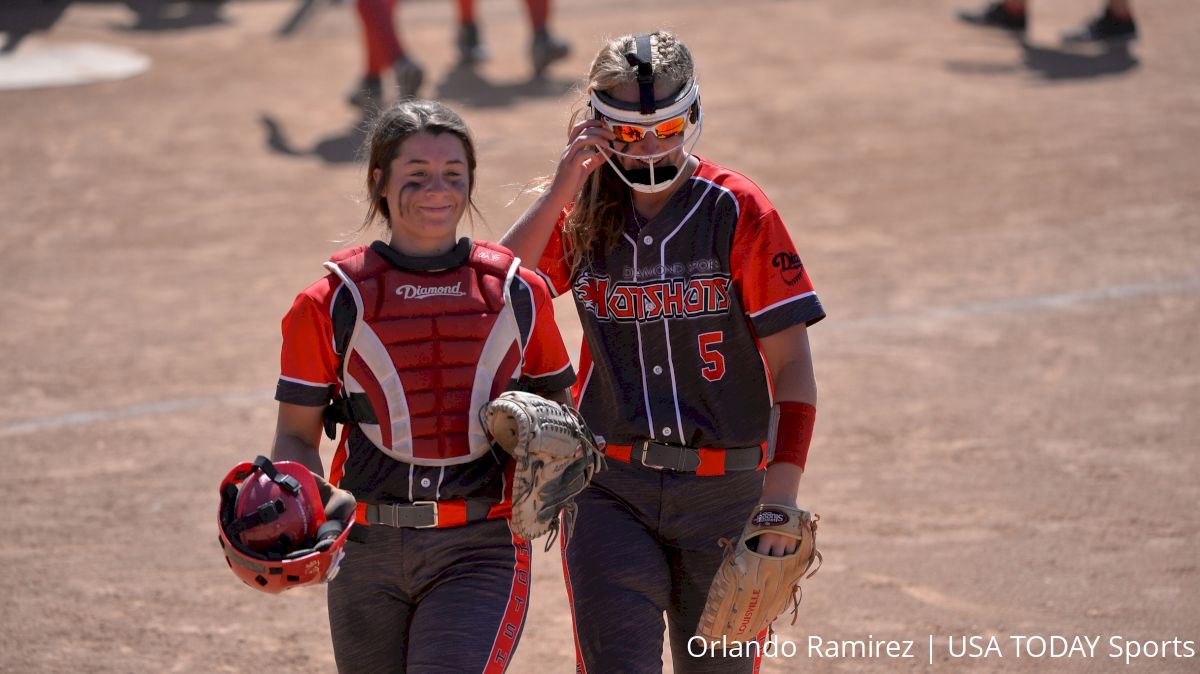 When does greatness begin? At birth? Once a person starts playing a sport? When he or she gets to high school?
For 2022 LSU-commit Maci Bergeron, it probably sprouted as soon as she picked up a plastic bat and swung it at a plastic ball at the ripe old age of two.
"She's loved the sport literally since she first started hitting a plastic ball off a tee," said Dain Bergeron, the father of Maci who has also served as her primary hitting, fielding and throwing coach over the years. "We knew she had the gift early on. She would constantly say, 'Let's go out and hit, hit, hit.' And when it seemed like we were all done, it was 'Let's hit some more.'"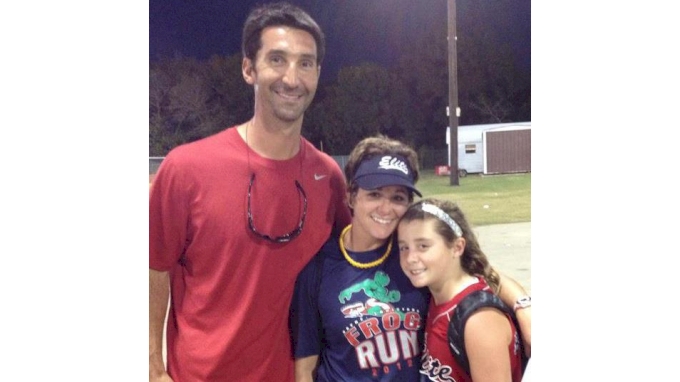 Since those early days, Maci Bergeron's passion for hitting has helped blossom her into one of the best players in the nation. She has been a dominating force on the club circuit, smashing 20-plus home runs a season while being an integral part of a championship-winning Diamond Sports Hotshots team based in Houston.
Now, as a freshman at Notre Dame High School in Crowley, Louisiana, she is proving her worth in the prep game, surpassing 20 home runs and keeping her batting average near .600 throughout a season in which Notre Dame has gone undefeated, a performance good enough to get her nominated for the Gatorade High School Player of the Year.
While time will tell whether Maci will ascend to greatness, she checks off several criteria that makes one fairly confident she will continue on the path.
The Drive
For many kids, the age of screens and instantaneous gratification, the passion to practice sports can often time be infused in a painstaking manner by parents. For Maci, there has never been any coaxing.
"She's incredibly self-driven," said her father, who played collegiate baseball at Texarkana College. "We knew she was athletic from an early age. We didn't know the route she was going to take but we never have had to push her to want to get better. She has always had this inner competitive spirit. She was picked No. 1 player in the class and you'd think that would weigh on her, especially if people talk negative about her but it motivates her. She wants to be the best ever, not just the best ever out of Louisiana, but in the country."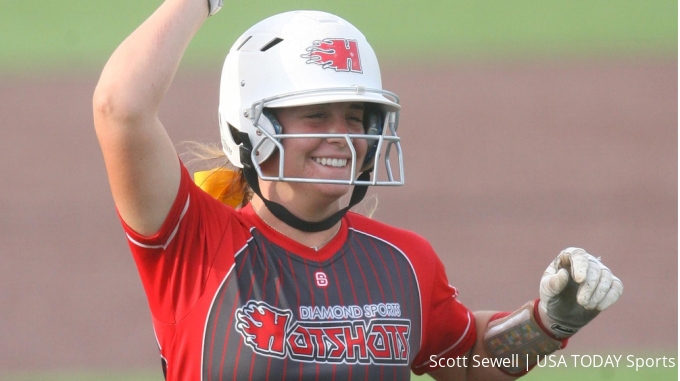 She is competitive to the point that Maci and her cousin fought over everything at an early age "from trying to win in games like checkers to see who would get to play with certain toys first."
"Her grandparents would always laugh because it was incredible to see how much she wanted to be first, even in the simplest ways," said Ky Bergeron, Maci's mother.
Another big component of the drive extends itself to her parents. Because both parents played sports in a competitive nature -- Ky played several sports growing up, including softball, they have an inkling of what it takes to succeed.
"I have always wanted to follow in their footsteps," said Maci, who initially started playing baseball before switching over to softball. "My earliest memory was of my dad and me going to the field to work on skills. Our earliest conversations were about what it takes to be great."
The skill set was molded in a repetitive manner yet with variety.
"Games are important but I'm a big advocate on building good habits and creating positive muscle memory on the practice side," Dain said. "I try to challenge her all the time in practice. I keep it game-oriented. I'm competitive. She's competitive. We keep it fun but work hard. I have a lot of people in my corner, which I think is important for a kid's growth and development. I'm able to lean on different people in terms of training, hitting, catching, and who help coach me through a lot of things. But I think it's important to keep things flowing, try not to do the same thing over and over and over again but try to eliminate the things that don't work too well and find drills that work."
The Multiplicity
Dain and Ky also knew it was important to let Maci figure out which sport was "the one."
There is increasing evidence that competing in multiple sports during one's youth enhances the chances of success at the top level. For example in a sport like football, more than 90 percent of the 106 players taking part in Super Bowl LIII between the New England Patriots and Los Angeles Rams were multi-sport athletes in high school, according to Tracking Football.
Shortly after signing a $325 million contract in 2016, former Miami Marlins outfielder Giancarlo Stanton, who now plays for the New York Yankees, emphasized how important it was for his development as a baseball player to also play basketball and football as a youth.
For Maci Bergeron, her parents attribute a large part of her fluidity behind the plate and in her swing to the participation in multiple sports.
This has included:
Gymnastics, once a week, for three years.
Basketball, in recreational leagues, for three years
Volleyball for five years from age 8 to 13.
Dance for at least five years.
"Dancing and gymnastics have definitely helped her with her agility and her movement and coordination," Ky said. "She has loved doing all of those sports and activities and I really think it has helped with her success in softball."
Ky also emphasized creating and maintaining the balance between introducing a sport and letting the child ultimately choose his or her fate.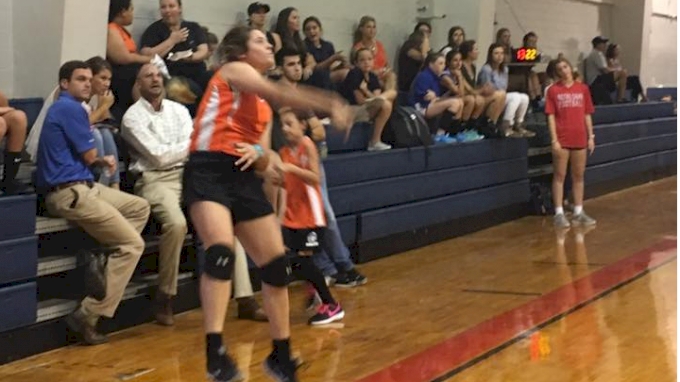 "At a certain age, they have to want it themselves," said Ky, who is an elementary school teacher. "She always has liked going to hit and train has liked the specialized workouts, hitting, doing something every day related to softball."
With SEC All-Americans picked in the NPF Draft, the possibility of playing professionally can become a reality for young players.
"I didn't have the same opportunities in female sports that Maci and her peers have today," said Ky, who also played volleyball and basketball in high school. "It is eye-opening to see how much the sport has grown over the years. There weren't any opportunities for me to play travel ball when I was younger. Now, the amount of teams and the amount of tournaments and players is just incredible."
The Responsibility
Being a catcher takes on responsibilities unlike any other position on the diamond. There are certain leadership roles one has to assume. There are connections one must build and mold, from one with the pitcher to the entire team to the conversations with the umpire.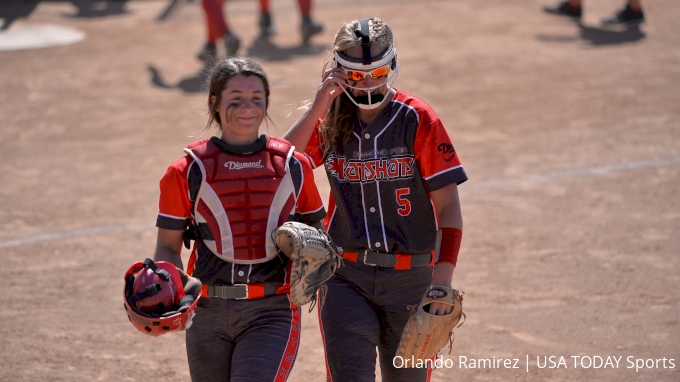 Ironically, Maci's behavior off the field has helped transform her into an elite catcher.
Maci, an only child, began having a daily chore list around eight years old which included taking out the trash, taking the dogs (Millie the Jack Russell and Maggie the Labrador Retriever) for a walk, filling the dogs' food and water bowls, loading and unloading the dishwasher, and doing her own laundry.
"Her responsibilities at home may have influenced her keen sense of playing catcher," Ky said.
Although Maci began as a pitcher, like her mom and dad, she eventually chose to catch.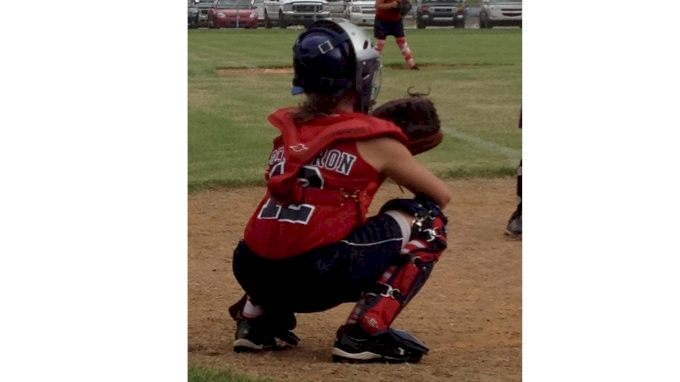 "She likes having the ball in her hand as much as possible, like a pitcher, but I think she wanted to have her own identity," Ky said.
She also calls her own game at times.
"My coach allows me to call the game every so often," Maci said. "It has helped with my understanding and knowledge of the game."
The Education
Young athletes today have a resource of education and training completely removed from what older athletes had at their disposal.
Over the years, Dain has watched Major League Baseball games with Maci and discussed the art of hitting with her. She has a leg kick similar to Yankees slugger Aaron Judge.
"I love Aaron Judge," Maci said. "His swing is perfect."
"I want her to hit like a Major Leaguer," said Dain, who befriended Aaron Judge's hitting coach at a clinic a few years ago and often leans on him for advice. "I teach her to swing like a baseball hitter. She's learned the proper way to load the body, to create resistance in the swing, Maci isn't a big kid. She's only 5-foot-6 but she can hit it with the best of them, at an elite level."
The approach focuses on barrelling up "at least 95 percent of swings," and allow the bat to be an extension of the hands. With the leg kick, Maci keeps her foot in the air as she's launching the barrel and simultaneously slams the foot into the ground as the bat flies through the zone, "creating as much power as possible," according to Dain.
Maci also "catches like a Major Leaguer," which has helped separate her from the competition.
"Her arm strength, her positioning, the way she frames pitches is unlike any other young catcher I have seen," said Hotshots coach Nathan Nelson, who has led the club to six national titles since coaching it at the 10U level. "Her ability to contain runners at first base is elite. She could go 0-for-3 at the plate, which she hardly ever does, but still contribute defensively by saving runners from getting into scoring position. That ability is part of the reason why she has become so special."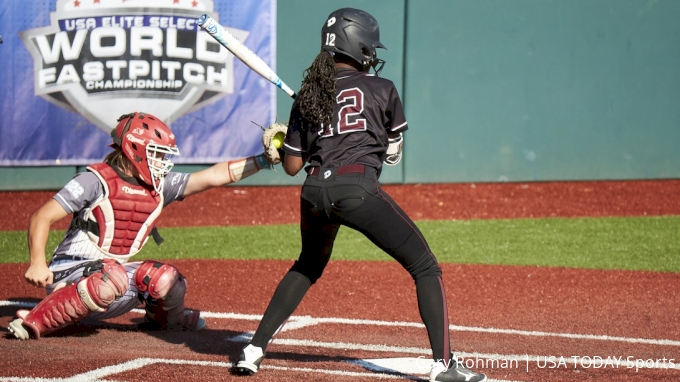 Additionally, Maci has been able to stay injury-free, which is quite remarkable considering her position. Part of the reason is her training regime, which includes attending the Unlock Training and Performance Center in Lafayette.
The center "integrates sports science, clinical application and cutting-edge technology" in a specialized manner for each athlete using a four part customized assessment which allows the trainers "to make physical/postural/movement adjustments to the athletes' abilities by prescribing corrective exercise via the Fusionetics self-care platform and personalizing weight-room exercises based on their movement signature."
In essence, it is next generation stuff and includes testing an athlete on their force plate and range of motion, where the athlete is weak and strong so as to correct mistakes in movement and identify if an athlete is using the arms, hips, back, or knees too much.
It also includes Maci following a ritual at home after any workouts or games which utilizes a foam roller for stretching every major muscle of the body, something she does on her own at least five days a week.
"I'm going to do what I can to keep her from getting injuries," Dain said. "I think it has really helped her flexibility and her range of motion as a catcher. It definitely has helped the fluidity in her swing."
Maci Bergeron

Position: Catcher
Club: Diamond Sports Hotshots Gold - Nelson
High School: Notre Dame
Grad Year: 2022
College: LSU
Current Hot 100 Rank: No. 1
Top Honors/Accomplishments: 2015 10U Triple Crown National Champions, 2015 10U PGF champions, 2017 12U USA Select Elite Champions, 2017 12U PGF Champions, 14u 2018 USA Elite Select championship, 2018 FloSoftball No. 1 in the 2022 class
High school stats/honors:
.592 average 20 HRS 60 RBI
Female Athlete of the week Daily Advertiser 3/21/19
1st team All District catcher honors
Nominated for Gatorade National High School Player of the Year
Club teammates who have verbally committed:
Madyson Manning - Oklahoma
Savannah Geurin - Oklahoma
Leah McAnally - Oklahoma
Emma Strood - LSU
Kennedy Powell - UCLA
Cecilia Vasquez - Louisiana
Lauren Harris - Louisiana
Ashlyn Jones - Texas A&M
Quickfire
Why do you wear the number 12?
Because of former Louisiana-Lafayette outfielder Christi Orgeron (a Team USA member who led the NCAA in RBI in 2011 and 2012). We would go to the games all the time and I loved the way she hit home runs and the energy she played with.
The best part about having her dad as your hitting coach?
Well, he's always around to ask for advice and if I want to go hit, we can.
Favorite MLB hitter:
Aaron Judge
Favorite MLB catcher:
Yadier Molina
Attended any MLB games?
Yes, once in Houston and twice at Anaheim when the travel team was at the PGF Nationals.
What is most helpful when watching an MLB game?
Definitely how they hit for power. The types of swings they have. There are a lot of different hitting styles. I like watching the catchers, watch the transfer and how they throw to second and how they frame a pitch or how they set up.
Why'd you choose LSU?
Almost like family to me. They are really helpful. The players have been awesome and offer great advice. The college games at LSU are incredible. I love the campus and the energy at LSU.
Favorite tournament?
PGF in California
Favorite memory in softball?
Winning PGF
What do you like so much about those types of competition?
I think the competition is just awesome. It keeps you in check. Pitchers get better every year and make you keep working harder.
Favorite television show?
American Idol, watched about 10 seasons.
Most recent movie?
Twilight
Most recent movie in theaters?
Unplanned
iPhone or Android?
iPhone
Playlist?
Rap
Top musician?
Drake
Favorite app?
Snapchat
Text or Snap?
Depends on how important it is
Pre-game or Post-game meal?
Whatever I can find
Best place to go to after the game? Item?
McDonald's chicken nuggets