2023 Mary Nutter Collegiate Classic
OU Softball Aiming For 3-Peat: Who Else Has Won 3 NCAA Titles In A Row?
OU Softball Aiming For 3-Peat: Who Else Has Won 3 NCAA Titles In A Row?
The Oklahoma softball team heads to Mary Nutter Collegiate Classic with a three-peat on their mind. What other college teams have won three straight titles?
Jan 19, 2023
by FloSoftball Staff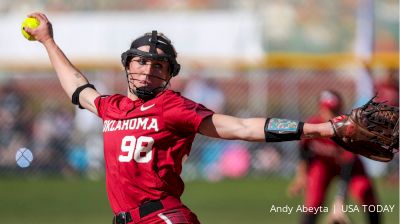 Oklahoma softball won the national championship in 2022.
The Sooners also won it in 2021.
And they start the 2023 softball season as a heavy favorite to win it again.
But how hard is it for a college team to three-peat? The answer... well, it depends on the sport, but yes. It's not easy.
OU softball, though, just may have the talent to do it.
The Sooners went 59-3 and 17-1 in conference play in 2022. They had a powerful offense with the nation's leading home run hitter and were led by a standout freshman pitcher in Jordy Bahl. Bahl went 22-1 with a 1.09 ERA and when she wasn't the only ace. Nicole May went 15-1 on the mound and had a 1.30 ERA.
The Sooners also have the preseason national player of the year in star Tiare Jennings. The junior infielder hit .401 with 29 home runs and 87 RBI in 2022. Jennings was even better in 2021 as a freshman when she hit .462 with 25 doubles and 27 homes with 92 RBI.
Watch Tiara Jennings Talk About Last Year's Mary Nutter Collegiate Classic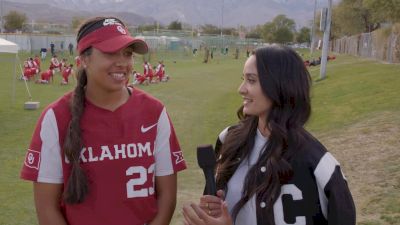 So, Oklahoma is loaded again as they prepare for a February that includes a trip to the Mary Nutter Collegiate Classic from Feb. 23-26. At one of the premier preseason tournaments, the Sooners will face the team many feel will challenge them for the title, UCLA. It fits the narrative, as the last team to win three-straight titles in softball was the Bruins from 1988-1990.
But the Sooners also have a game with Texas A&M scheduled at Mary Nutter.
Oklahoma has a tough schedule, and that should help them if they want to win a third straight national championship. Here are the Division-I college teams to win at least three championships in a row:
College Teams That Won At Least Three Consecutive NCAA Championships
Baseball: USC 1970-1974
Men's Basketball: UCLA 1967-1973
Football: Minnesota 1934-1936; Army 1944-1946
Men's Water Polo: USC 2008-2013
How Many Times Has A Women's Basketball Program Won Three Straight Titles?
Division-I women's basketball has seen three three-peats (and more) since 1996.
Tennessee won three-straight from 1996-1998. A few years later, UConn began it's three-peat from 2002-2004.
The Huskies did it again, but this time for four years in a row from 2013-2016, a run that also included the longest winning streak in basketball history.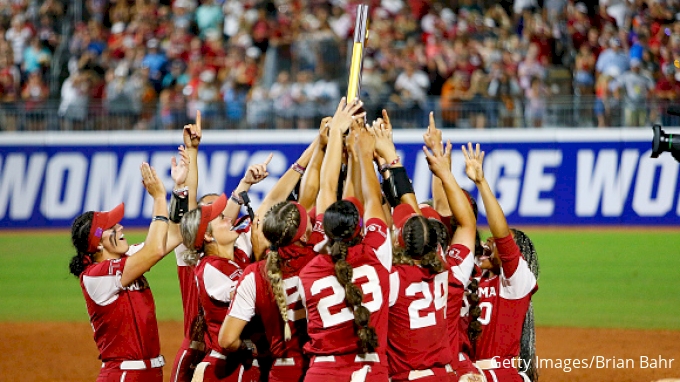 What College Sport Has The Most Three-Peats?
That would be cross-country. Here's who did it:
Drake: 1944-1946
Villanova: 1955-1968
UTEP: 1978-1981
Arkansas: 1990-1993
Arkansas: 1998-2000
Northern Arizona: 2016-2018
How Many Championships Does The Texas Men's Swimming And Diving Team Have?
While Oklahoma may be aiming for history in softball, its rival in Austin has a program that may be the most dominant college program in the nation. The Texas Men's Swimming and Diving team has won 15 NCAA championships since 1981 and won four titles in a row from 1989-1991 and did the same again from 2015-2018. The Texas Men's Swimming and Diving team has won 41 straight conference titles.
How Many Big 12 Titles Has Oklahoma Softball Won In A Row?
The Sooners are in the middle of another long streak.
OU softball has won 10-straight Big 12 titles in softball. The run of dominance is similar to the Kansas men's basketball team's run of 14-straight conference titles. The Sooners have not lost a conference series since 2011.