2023 Mary Nutter Collegiate Classic
Tiare Jennings Of OU Softball: Four Things To Know
Tiare Jennings Of OU Softball: Four Things To Know
In two seasons, OU softball star Tiare Jennings has hit 56 home runs and driven in 179 RBI. She's looking to help OU softball to the program's first 3-peat.
Jan 26, 2023
by Joe Harrington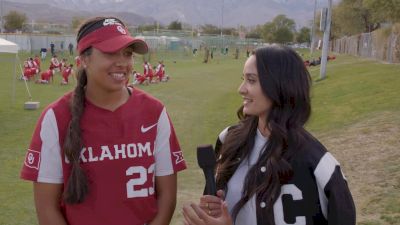 Oklahoma infielder Tiare Jennings enters the 2023 college softball season as the front-runner to win National Player of the Year.
After her standout sophomore season, it would be hard to imagine anyone else entering the season with that distinction.
Jennings' first two seasons of college softball have been historically good for the powerhouse Sooners program. In two seasons, Jennings has hit 56 home runs, batted .433 and she's driven in 179 RBI.
Jennings has helped OU Softball win back-to-back NCAA championships, and the Sooners are trying to become the first program to win three-straight titles since UCLA in the late 1980s and 1990s.
But the 2023 Sooners will look a little different, and Jennings will carry more of the burden on offense after Jocelyn Alo, who won 2022 WCWS Most Outstanding Player and the 2022 Softball Collegiate Player of the Year, graduated.
Here's what to know about Oklahoma star junior Tiare Jennings.
Tiare Jennings & Jocelyn Alo Were Quite The Duo
Jennings hit 29 home runs in 2022 and was somehow second on her own team in home runs. That's what happens when you play with Jocelyn Alo, who hit an NCAA-leading 34 home runs. Jennings was third in the nation (Addison Barnard of Wichita State hit 33). Jennings, though, did lead the nation in RBI with 87, which was only two more than Alo's 85.
OU softball went 59-3 in 2022 and 17-1 in the Big 12 conference.
Mary Nutter Collegiate Classic's Best Hitters Feature Plenty Of Power
OU Softball, UCLA Headline Mary Nutter 2023 Schedule
Big 12 Softball: Team-By-Team Preview: OU Has Eyes On 11th Straight Title
Tiara Jennings Has Already Broken OU Softball Records
As a freshman, Jennings' 52 extra-base hits set an Oklahoma record, and her 25 doubles in 2021 was also a program record. Her three home runs against UTEP as a freshman tied an OU softball record for homers in a game, and those are just Oklahoma softball records.
Jennings' 92 RBI is the most ever by a freshman in college softball history and 10th all-time.
Jennings set Women's College World Series records for RBI and home runs—15 RBI and 5 home runs—and set the WCWS single-game record for most total bases with 11.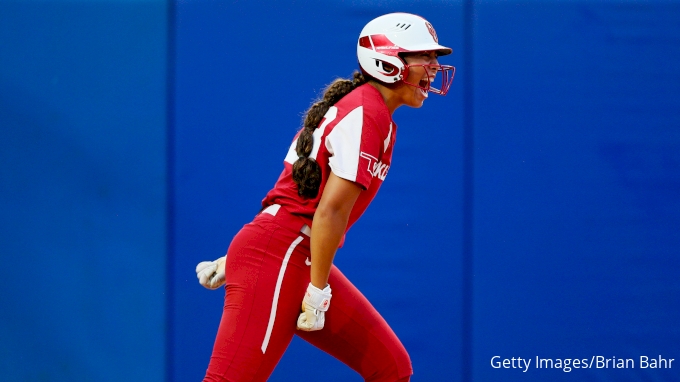 Tiare Jennings Chose OU Over UCLA Softball
Jennings is from San Pedro, Calif. and her success at Oklahoma may not be that big of a surprise. Jennings was the 2019-2020 Gatorade Softball Player of the Year in California. She was the No. 4-ranked recruit by FloSports and she helped the 2019 18U USA softball team win the USA World Fast Pitch Championship.
She picked Oklahoma over other powerhouse softball programs like Alabama, Arizona and, of course, UCLA, the program that enters this season just behind Oklahoma in many preseason rankings.
Top 10 Sluggers In College Softball For 2023: Jennings, Klinger Among Best
Biggest Moments From The 2022 Women's College World Series
Watch Tiara Jennings, OU Softball Vs. UCLA At Mary Nutter 2023
Jennings and the No. 1 Sooners face No. 2 UCLA on the final day of the Mary Nutter Collegiate Classic, one of the most anticipated preseason college softball events in the country.
Oklahoma lost only three games in 2022, but it was UCLA that came the closest to ending the Sooners' season without a championship. UCLA beat OU 7-3 in the WCWS. On the brink of elimination, Jennings' first-inning three-run home run set the tone as OU bounced back in the next game against UCLA and won 15-0. The win moved OU to the championship series where the Sooners beat Texas 16-1 and 10-5.
Oklahoma and UCLA at the Mary Nutter Classic can be streamed on FloSports at 12:30 p.m. ET on Feb. 26.