2023 Mary Nutter Collegiate Classic
Mary Nutter 2023 Loaded With WCWS Hopefuls Like OU Softball, UCLA, Florida
Mary Nutter 2023 Loaded With WCWS Hopefuls Like OU Softball, UCLA, Florida
Mary Nutter 2023 schedule includes some of the best teams and players entering the college softball season. What to know about the Mary Nutter Classic.
Feb 8, 2023
by Briar Napier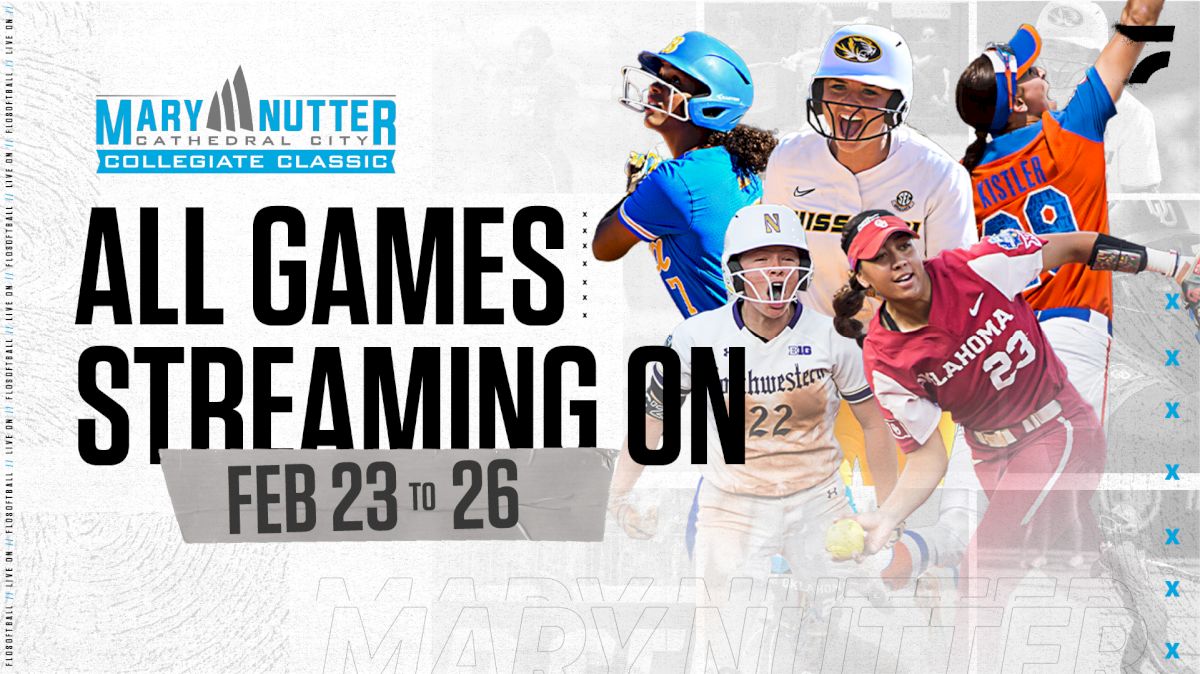 The place to watch the best college softball being played on the planet is the Women's College World Series, but there's no closer equivalent during the regular season than the Mary Nutter Collegiate Classic.
Skeptical? Just look at the powerhouses and juggernauts that make up the names participating in the four-day event — there are multi-time national champions, Olympian-producing programs and All-American factories in the mix.
The Mary Nutter has a sustained reputation of excellence and being a battleground for some of the nation's best teams to duke it out in an elite setting. Teams playing within it often have massive goals in mind, up to and including national titles in that same season.
Simply put, if you want a look ahead of Oklahoma City in February, look no further.
Here's a look at all you need to know for the Mary Nutter Collegiate Classic, which is Feb. 23-26 at the Big League Dreams Complex in Cathedral City, California, and is streaming live on FloSoftball.
Where do you even begin to talk about the teams to watch out for at the Mary Nutter?
Of the 30 teams participating in the Mary Nutter this season, 15 made the NCAA Tournament a season ago, five made the WCWS and one, Oklahoma, came home from Oklahoma City with a national championship. It's routinely (and almost without question) the most stacked opening-month event in all of college softball, showcasing itself as a preview show for who'll be the main contenders across the sport's landscape for the upcoming year ahead.
The obvious main attraction are the Sooners — as back-to-back national champions gunning to be the first team to three-peat in over three decades, everyone is chasing coach Patty Gasso's juggernaut but few have the horses to keep up. OU is coming off possibly the greatest season in the sport's history: 59 wins, 155 home runs, and eight no-hitters made for a mind-boggling year of epic proportions boosted by a NCAA-record 38-0 start, but one of the three teams to take down the Sooners last year is in the Mary Nutter field, too.
That program is UCLA, which likely isn't taking kindly to the fact that if things keep up as they are, there's a serious challenger approaching its record number of 12 national titles in the NCAA era. But as the Bruins have made seven straight WCWS appearances to date, they're almost always going to stand in the way and put up a fight to prevent that from happening.
Northwestern, Florida and Oregon State are the other programs in the Mary Nutter field following trips to Oklahoma City, while former national champions Texas A&M (1983, 1987), Cal State Fullerton (1986), Cal (2002), Arizona State (2008, 2011) and Washington (2009) add some further pedigree to the stacked field.
OU Softball vs. UCLA: History Of The Bruins And Sooners Matchup
Six Breakout College Softball Pitchers To Watch In 2023
Puerto Vallarta College Challenge Features Oklahoma State Softball, Oregon
OU Softball Star Tiare Jennings, UCLA Pitcher Megan Faramino And Other Players to Watch
Again, where to start?
Numerous reigning All-Americans, all-league performers and further standouts are going to be on the Mary Nutter diamonds throughout the four days, with the best and brightest in college softball coming out to show off their stuff against some of the very best programs in the country. What's not to like there?
In the near-impossible task that players to watch must be named, Oklahoma's Tiare Jennings has got to be at or near the top of the list. The junior second baseman blasted onto the scene immediately by finishing with a single-season freshman RBI record with 92 in 2021, then hit .401 with an absurd 29 home runs and 87 RBI to follow it up — a statistical performance that included a WCWS-record five homers and 15 RBI on Oklahoma's way to the national title.
Want some high-level pitching instead?
You don't have to look far on the Sooners' roster with sophomore sensation Jordy Bahl, as the Nebraskan right-hander only closed the book on her freshman season by going 22-1 with a 1.09 ERA and winning the title-clinching game over rival Texas.
Don't wish to watch OU, and want to get acclimated with what the rest of the field brings to the table instead? That's no problem, there's plenty more talent at the Mary Nutter.
In the batter's box a season ago, Washington's Baylee Klingler won the Pac-12's hitting triple crown. Kentucky's Erin Coffel returns after a 20-homer season. Arizona State's Yannira Acuna slashed .430/.562/.852 for the Sun Devils. Meanwhile, on the mound last year, Northwestern's Danielle Williams is coming off a 333-strikeout season. UCLA's Megan Faraimo was the 2020 Softball America Pitcher of the Year and Loyola Marymount's Jenna Perez only allowed hitters to average .148 against her.
Stacked field, indeed.
For National Newcomer Duke, Winning Is A Joyride
Puerto Vallarta College Challenge: Oklahoma State, Oregon, Vols Headline
BIG EAST Softball: Team-By-Team Preview: Villanova Has Three-Peat Hopes
Mary Nutter Collegiate Classic 2023 Games to Watch
Washington Softball vs. Kentucky, 3 p.m., Feb. 23
Though Klingler and Coffel are unquestionably the stars of the Huskies and Wildcats, it's not fair to boil this matchup down to just being one featuring two of the best returning hitters in college softball.
For starters, all of Washington's top four home-run hitters from last year are back in the fold for 2023, with Klingler's 24 leading the way. But an interesting factor is that two members of that list — Olivia Johnson and Kinsey Fiedler, who each smashed 11 homers last year — were freshmen. The duo could be in-line for a breakout year for the highly-regarded pair of 2022 All-Pac 12 Freshman.
At Kentucky, catcher Kayla Kowalik is a force at the plate who has batted .419 for her career with the Wildcats. Kowalik and Coffel were the main pieces behind a lethal UK offense that was the best in school history last year to the tune of a team .333 average and 381 runs.
Missouri Softball vs. Oregon State, 6:30 p.m., Feb. 24
Oregon State got hot at the right time in 2022, and now it's up to the Beavers to prove their late-season charge wasn't a fluke.
With a paltry 9-15 record in the tough Pac-12 Conference, OSU was certainly battle-tested heading into the NCAA Tournament last year. But to take down Tennessee and Stanford in their own backyards on the way to a stunning WCWS run? That was a little more unexpected.
Alas, thanks to a 4-1 postseason from freshman (and returning) hurler Sarah Haendiges and the all-season performances from All-Pac 12 First Team pick Frankie Hammoude (.384 average, 15 home runs, 40 RBI), the Beavers did what they needed to do for their first WCWS appearance since 2006.
Missouri should make for a good early-season test as the Tigers have started to find a groove under coach Larissa Anderson. The Tigers have posted a winning record in the brutal Southeastern Conference in each of her first three full seasons in charge with a regional win in 2021 to boot.
Top 50 Watch List For 2023 USA Softball Collegiate Player Of The Year
Division-I Softball's Dark Horses Of 2023: Under-The-Radar Teams To Watch
Mark Campbell Invitational 2023 Schedule, College Softball Teams At Event
Florida Softball vs. Oregon, 1 p.m., Feb. 25
Being tabbed as the SEC's preseason favorite instantly means huge expectations for Florida. But as the Gators were also the league's only representative in Oklahoma City last season, they've more than deserved the honor and respect.
Three Preseason All-SEC selections lead the Gators. Skylar Wallace was the only known player in Division I history to ever have a 70-hit, 70-run, 50-RBI and 50-stolen base season. Meanwhile former All-American Charla Echols and super sophomore Kendra Falby (85 hits last year) should be the main weapons behind Florida's charge to make it consecutive WCWS trips. Oregon is one of the programs that Florida could potentially see on the way as the Gators duel the Ducks in a February clash.
Oregon's still waiting to win a regional with coach Melyssa Lombardi, who took the reigns after Mike White took the Texas job following the 2018 season. Redshirt senior catcher Terra McGowan (both an All-Pac 12 First Team and All-Defensive Team pick despite missing 22 games due to injury) and Loyola Marymount transfer Alyssa Daniell (a two-time All-West Coast Conference First Team nominee) make up some of the talented names on likely the strongest roster Lombardi has had.
UCLA Softball vs. Oklahoma, 12:30 p.m., Feb. 26
Obvious? Sure. But when two giants of the sport like the Bruins and Sooners collide, it's a must-watch game no matter the time, date or place.
Fresh off their intense WCWS semifinal showdown where UCLA forced Oklahoma to respond after triggering an elimination game (which OU did in a 15-0 rout before it secured another national championship), the two blue-bloods meet again on the final day of the Mary Nutter in what could easily be a national championship series preview.
With a combined 18 NCAA national titles between them, there's a little bit of added tension in this year's meeting as Oklahoma is trying to become the first program to win three consecutive softball crowns since the Bruins did it from 1988-90 — a feat that only UCLA has ever accomplished.
But with plenty of offensive firepower back from OU's legendary 2022 season including All-Americans Jennings and Grace Lyons, the Sooners may be destined to match the best dynasty in college softball history. That is, unless a crew of pitching standouts on the Bruins' roster like Faraimo and Brooke Yanez have something to say about it.